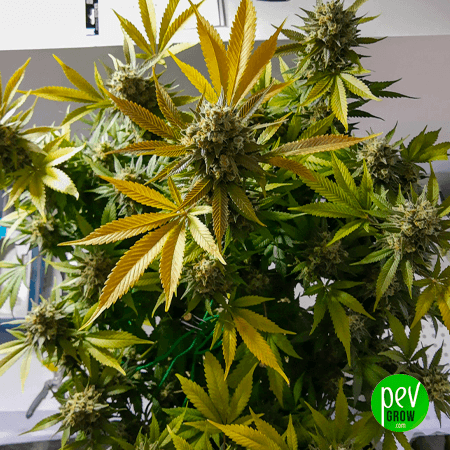 The Blue Cookies feminized marijuana seeds from Spain Bulk Seeds are an excellent choice for all types of growers, as they are easy to grow but offer benefits that are difficult to match. If you thought that marijuana strains could no longer surprise you, take a look at this description and you will see all the qualities of this cannabis.
What is the genetics of these seeds from Spain Bulk Seeds?
It is a cross between Blueberry and Girl Scout Cookies , so they represent the fusion between the Blue family and the Cookies lineage, 2 of the best in history. The genotype of these seeds is very balanced, containing approximately 45% sativa versus 55% indica.
How is Blue Cookies morphologically speaking?
It is extraordinarily beautiful, with a striking presence due to the combination and contrast of the colors it acquires when temperatures are low. It remains compact and bushy during growth, with a short distance between nodes, many shoots, wide leaves, and a good thick trunk.
During flowering it can triple its size, shrub-shaped if the main tip is not pruned. The buds are of extreme density, with a ball shape and a velvety appearance due to the exaggerated production of glandular trichomes. When temperatures are cold, the creation of anthocyanins increases, giving it dark tones, which can range from purple to absolute black.
How are these seeds grown indoors and outdoors?
In indoor cultivation you can choose to leave them as is or prune the central shoot, which will enhance its branching and lateral growth. If you don't prune them, you can make a SOG species, with 16 plants / m2 in 7-liter pots, with 3 weeks of vegetative growth. On the other hand, if you prefer to prune, you can apply the SCROG method with 9 plants / m2 in 11 liter containers, with 4 weeks of growth.
For outdoor cultivation we recommend apical pruning or FIM, otherwise Blue Cookies will form a huge main bud, but more vulnerable to fungi. If you want it to reach the maximum size or yield, try to germinate the seeds as soon as possible, and that it does not lack substrate, food, and especially sun.
When are the Blue Cookies harvested?
It must be said that not all are harvested at the same time, there may be a variation of 1 week or 10 days between the fastest phenotypes and those that need more time to mature correctly. In indoor cultivation takes about 8 or 9 weeks to complete its flowering, and outdoors it is harvested at early October normally in the northern hemisphere. Growers in the southern hemisphere will cut it in early April.
How much do these feminized seeds produce?
As a general rule with Blue Cookies you can produce indoor productions that are around 14.1 oz per 3x3ft - 17.6 oz per 3x3ft (400-450 grams / m2). Outdoors each seed of this variety grown without limiting factors can easily yield between  24,6 to 31.7 oz/plant (700 and 900 grams) easily.
The quantity and quality of the resin that it produces makes it a perfect genetics for making cannabis concentrates, with returns that exceed 25% with solvents, 20% in Rosin , or 15% in mechanical extractions.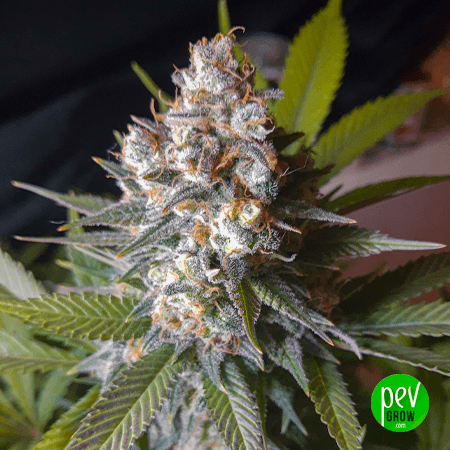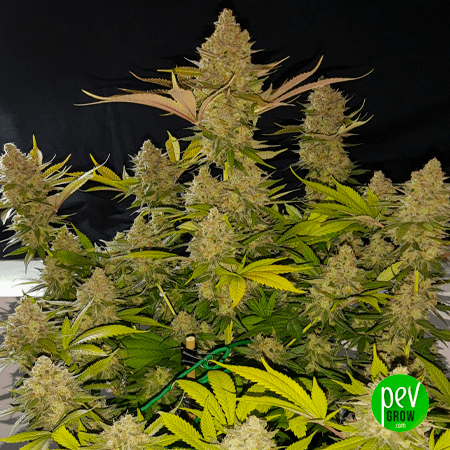 How is the aroma and flavor of Blue Cookies?
One of the things that we liked the most when we tested this strain is its ability to merge the 2 genetics of the parents that make it up, and this is appreciated above all in its aroma and flavor.
It smells a lot during flowering, of those penetrating odors that permeate the environment, very intense fruity. After curing its fragrance acquires the feature of Cookies, sweet pastries with notes of berries. The flavor is very addictive, to give you an idea I will tell you that it is like taking a bite of a fruit cake
What type of effect does its consumption cause?
Although its THC content does not reach 20% in some cases, this marijuana is not for everyone. It takes a modicum of tolerance to cope with the power of Blue Cookies, with an immediate effect, which starts out very cerebral but leaves you plunged into a deep balloon with intense physical relaxation in a matter of minutes.
Buy feminized seeds Blue Cookies from Spain Bulk Seeds at the best price online
It is a very complete variety wherever you look at it, beautiful, productive, tasty, and with an impressive effect. If you want to be among the first in Try it, one thing you can be clear about, at Pevgrow we guarantee the best quality / price ratio, and the best service in general.
You may also be interested in: