Pevgrow has available the feminized hybrid seeds from Pink Plant, a resulting combination of well-known genetics such as the sativa High Level and the indica TNT Kush , from them this variety of loaded sativa dominance is born. of an energetic and cerebral effect.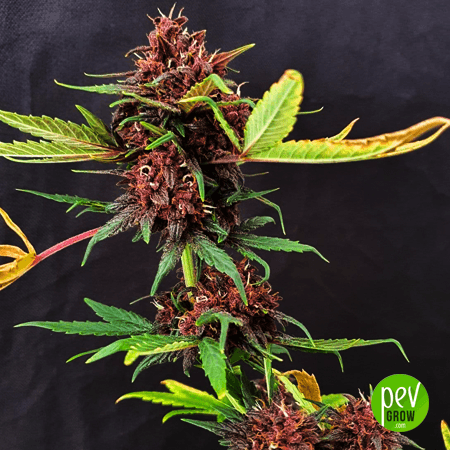 How is the Pink Plant?
This plant grows with great vigor, with good ramifications, it reaches a considerable height if you do not control its growth, with the help of apical pruning and cultivation techniques such as SOG and SCROG you will achieve good results.
The buds are compact, large, loaded with precious resin, they reach all their splendor in the flowering stage.
You will understand the name of the plant when you notice the purple hue and the beautiful pink pistils. A not so intense medium aroma emanates from it, can be your accomplice when you need discreet crops in terms of smell.
What does Pink Plant taste like? And what is its smell?
Lovers of fruity notes will find a refuge in this variety, evokes the medlar with hints of eucalyptus.
Its buds give off fragrances of wild and fresh fruits, the pleasant forest smell that can be easily camouflaged with conventional crops.
What effect does Pink Plant have?
Its cerebral effect is a bit amazing that later becomes relaxing and very pleasant, ideal to enjoy a meeting with friends, its medicinal gifts are well recognized, indicated to stimulate appetite, combat stress, improve states of mood, depressive and anxiety states.
How is Pink Plant grown?
Grown indoors by applying pruning techniques it is possible to get plants that do not exceed 60 cm in height during the photoperiod, then they are stretched up to 80 cm in the flowering phase.
You can place 9 plants for each square meter if the pots are 11 liters.
If you are going to grow them it is a good decision as it develops very productive tall specimens. The only thing it will ask you for is some sunlight during the day, as it is a photo-dependent variety.
How much does Pink Plant produce?
It is a good producer, in indoor growing it can produce between 12,6 oz per 3x3ft to 22,2 oz per 3x3ft  (360 and 630 grams per m2), outdoors it is much more generous will give you between 35.3 oz/plant to 70.5 oz/plant (1000 and 2000 grams per plant) .
Buy Pink Plant feminized seeds at Pevgrow now!
You can get the best seeds at Pevgrow, like Pink Plant, an energizing hybrid.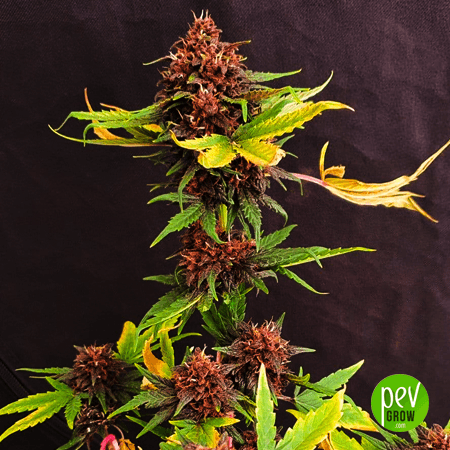 You may also be interested in: