Reading Time
7
minutes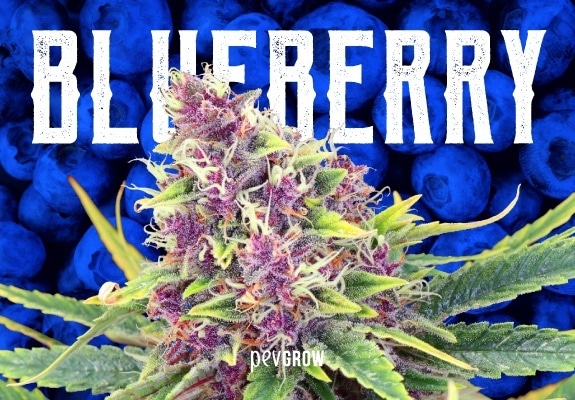 Daniel John Short (DJ Short) is one of the longest living cannabis breeders in history. He began his career in the 70's on the west coast of the USA, more specifically in Oregon, where he gathered some of the Landrace genetics that were starting to reach this country.
He was a big fan of the effect of sativas, especially from Thailand, but all the equatorial ones, so he worked with Thai Chocolate, Highland Thai, Colombian, Panamanian and Mexican among others. But those varieties had a problem in the latitude where he grew them, as they did not usually mature properly because the cold came before they finished their flowering cycle, except the Mexican ones that always ended perfectly.
For this reason he began to cross the Thai with the Mexican ones, and quickly found that the offspring in addition to maturing very well was better than the parents of the crossing separately, this is how a work of genetic handcraft began that still continues to improve nowadays.
✅ Genetics that make up the Blueberry variety
DJ Short's favorite plant at the time was Oregon Purple Thai, which was a cross between Thai Chocolate and Highland Oaxaca Gold Mexican, which showed very striking purple colors and a spectacular effect. The powerful effect of the Highland Thai and its tropical fruity taste fascinated him too, but he had to find a way to bring those qualities together in a strain that could be grown without problems in his land, so he thought of crossing both with some fast flowering plant.
It was 1979 and at that time were acquiring much fame indica varieties, plants that brought the hippies from their travels through the Himalayas and were a revolution, as they finished flowering long before the sativas, were more homogeneous, produced more and were easier to grow. 
Daniel John saw clearly, it was necessary to cross his precious sativas with these new varieties to get all the desirable features of each of them in plants that everyone could grow, and he set to work.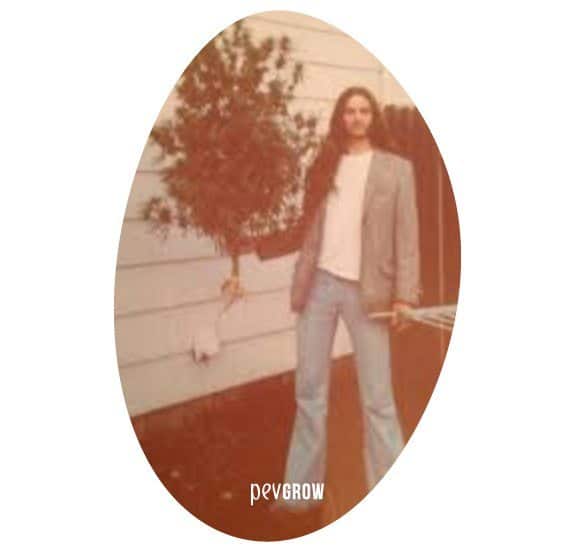 This is how the Oregon Blueberry was born
Initially, he crossed a male from Afghanistan with both the Oregon Purple Thai and the Highland Thai, which at that time had already changed its name to "Juicy Fruity Thai". From the first crossing he took out a line that he called "Floral", and among the offspring of this combination between Oregon Purple Thai and Afghani he found a new variety that has also gone down in history, the Flo.
This "Floral" line was crossed at F3 with the other combination between the Juicy Fruity Thai x Afghan, and from there came the Blueberry line, from which other great varieties would later come out, such as the Blue Moonshine.

🔥 Seeds of the Blueberry variety
During the 80's and early 90's DJ Short refined both the "floral" and "Blueberry" lines. At the beginning he did not offer seeds of these genetics, at that time it was complicated to work quietly in the United States by its federal laws regarding cannabis. For these reasons he decided to emigrate to Europe in 1993, and take a chance in Holland, where the cannabis business was in its golden age.
He first worked for Sagarmatha Seed Company with Tony, another great breeder who offered to include some of his varieties in the catalogue, Flo, Blueberry and Blue Velvet. The idea was to germinate 25 seeds of each variety to select 2 good parents by genetics and from the cross of them get the seeds that would offer the bank. The problem was that he was not allowed to get too involved in the parental selection process, so DJ Short decided to change companies, and went to Dutch Passion together with Genk.
Dutch Passion's Blueberry
In Europe they are certainly the best known Blueberry seeds, but that does not mean that they are the best. This time 50 seeds of each variety were grown, but just like in Sagarmatha, the DJ was excluded from the selection of parents, so he decided to leave as well.
The Blueberry contributed greatly to Dutch Passion's international reputation. At that time the bank had copies of Skunk, Northern Lights and few others, but once the blue varieties were included in the catalogue sales shot up. Nowadays it is still one of the most demanded seeds of this Dutch brand.
Blueberry de PEV Seeds
Blueberry from PEV Seeds, offers you a high quality effect, an exquisite taste, and the most striking colors you can imagine in a cannabis genetics…
Features
Type: Feminized
Bank: PEV Seeds
Genetics: Blue, (Purple Thai X Juicy Fruit) X Afghan
Phenotype: Hybrid
Harvest ext. H.N: Mid-October
Harvest ext. H.S: Mid-April
Indoor prod.: 500 gr/m2
Outdoor prod.: 700 gr/plant
Int. flowering period: 60-70 days
THC: 19-22%.
Partnership with Spice Of Life
Between 1999 and 2001 Mr. Short travelled several times from Holland to Switzerland, where the permissive cannabis laws had attracted great breeders like Shantibaba, Neville or Steve from Spice Of Life, and there he was amazed by the way they worked. Shortly afterwards he decided to move there to collaborate with Steve on a serious breeding project.
This was the first time he felt important in the old continent, he was able to make great selections and was given the responsibility he deserved as a father of the blue family. From this collaboration came varieties such as Blue Satellite, Moonshine Rocket Fuel or Rosebud, but unfortunately the Swiss laws became more complicated in 2002 and they had to leave the project in the Helvetic country.
🎯 Blueberry Sativa on its way back to America
Daniel John Short decided to return to the American continent after his experience in Europe. This time he went to Canada to collaborate with breeders like Chimera or Red from Legend Seeds, who used a very special Blueberry sativa male to pollinate many of the great clones that were around at the time.
The stallion Blueberry sativa was also known as B130, and he brought the best qualities always to the crosses. This male died, but left an immortal legacy which includes strains such as F-13, True Blueberry or Legend Ultimate Indica among others.
From the breeder's own point of view, Blueberry Sativa is the best expression of the hybrid he imagined when he started breeding his favourite plants. You could say that he had found his holy grail, but that doesn't mean he gave up the Blueberry cannabic breeding at that time, absolutely not…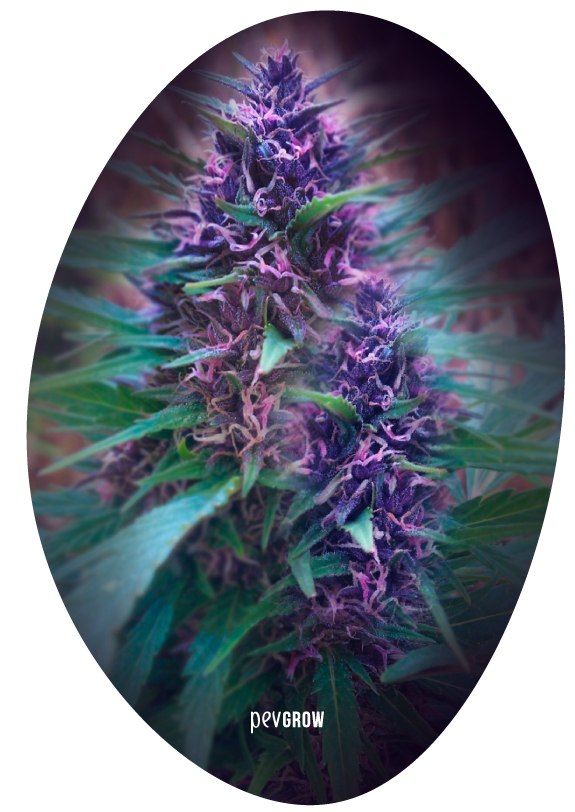 Blueberry F5, DJ Short Blueberry, F-13 and Vanilluna
Nowadays DJ Short continues his journey with the Blueberry, right now sharing a job with his son (JD Short) at the Old World Genetics seed bank. Among the genetics they offer, the Blueberry F5 and the Original Blueberry stand out, although the Vanilluna (a cross between two different Blueberries) and especially the F-13, the breeder's own favourite strain, are also succeeding.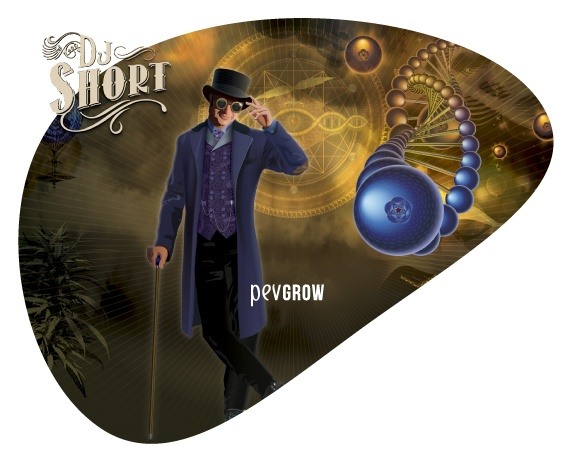 👾 Growing the Blueberry indoors and outdoors
Crossing and backcrossing both on the same genetic line has caused some inbreeding degeneration in some of the Blueberry seeds offered nowadays. Dutch Passion's Blueberry, which is the most widely sold in Europe, tends to grow slowly, it is difficult to root and usually produces deformed phenotypes.
In indoor cultivation it is a good variety to apply the SOG method, placing about 16 plants/3x3ft in 2.9 US gal (11 liter) pots with about 3 weeks of growth. During the pre-flowering usually doubles its size and the resin begins to appear from the third or fourth week of this cycle. It does not like excess moisture in the substrate, so it is good to wait for it to dry out before watering again, and admits average doses of fertilizers, which it prefers to be of organic origin.
Outdoors it behaves better, adapting to different environments without problems. Ideally, it should be planted in the ground, but if not, at least it should have more than 6.6 US gal (25 litres) of quality substrate. Grown with the help of the sun it performs better with several prunings and it can assimilate greater amounts of nutrients. When night temperatures drop below 50º F (15º C.) the Blueberry shows beautiful dark tones, reds, purples, magenta, etc. Being one of the most photogenic cannabis strains in history.
Blueberry variety flowering time
Generally the flowering cycle of the Blueberry is between 9 and 10 weeks, although some specimens may come out faster, as some plants may need a few extra days. It also depends on the conditions of the crop and the hand of the grower, because when it has no limiting factors usually finishes earlier.
Outdoors or in a greenhouse it is cut throughout October in the northern hemisphere, and during the month of April in the southern hemisphere. You can delay or advance the harvest of the Blueberry to adjust the kind of power to your preferences, since being an indica/sativa polyhybrid the effect varies depending on its ripeness, the more mature it is the more sedative it will be.
Indoor and outdoor performance
It must be said that production is not the Blueberry's strongest point, but it is also true that it compensates for this with the quality of the final product. In indoor cultivation you can get around 15.8 oz per 3x3ft (450 grams/m2), a bit more if you are an experienced grower, but it will never be the yield of a Skunk or Haze hybrid.
On the other hand, each Blueberry harvested outdoors can give you more than 35.3 oz (1 kilo) of weed, as long as they are planted in early spring and cultivated without restrictions of any kind.
Blueberry THC level
Very high, above 20% in some cases. This trait is inherited from the Thai plants, and is now very common, but 20 years ago it was unusual to find an indica shaped cannabis plant with such THC levels. This, combined with its unique terpenic profile, gives it a quality of effect that is highly valued by both medical and recreational cannabis users.
This is a special weed to enjoy at night, because it calms, brings peace, happiness and well-being but not too much laid-back.. The perfect company to watch a movie or chat with friends, enjoy a good book or listen to music.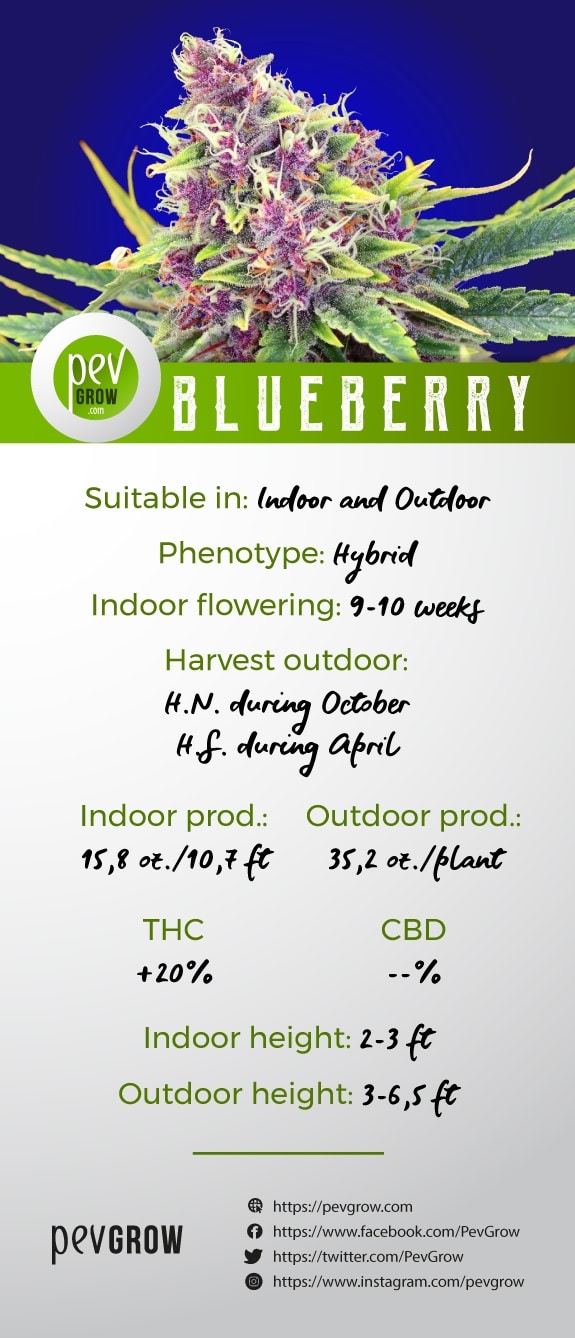 🧐 The Blueberry lineage, quality genes in all its crosses
Many cannabis breeders have used Blueberry genes to improve the qualities of other plants. The seed banks where DJ Short worked have continued to cross this plant with many others, and even nowadays there are many companies in the industry that offer this variety or mixtures of it in their catalogues. Let's take a look at some of the best Blueberry crosses in history:
⚠️ So, what's the best Blueberry?
That's very difficult to say, since everyone has their own particular preferences. From our point of view it is the Original Blueberry, although we have tried old selections from the 90s of the Blueberry from Dutch Passion that are very good too. For the breeder the best one is the F-13, even if it is not exactly Blueberry, but the many variations of this genetic line have created a wide range of possibilities that allow him/her to succeed with all kinds of users, so everyone would have a favorite Blueberry.
Who could have imagined that more than 40 years after he started crossing his favourite plants, DJ Short would continue to work on them? Probably no one, but they are still there, and what is clear is that he has left a legacy that will never die, especially the great Blueberry.
Cannabis Sinsemilla. Qu'est-ce que c'est, qui l'a inventé, comment est-il fabriqué et de quelles variétés s'agit-il ? →