Reading Time
15
minutes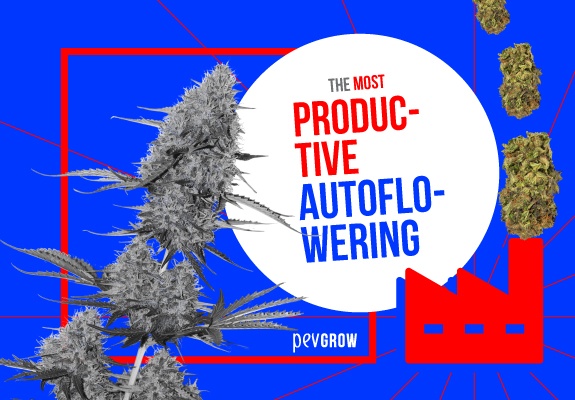 Dear reader, welcome back to Piensa en Verde, PevGrow's blog and the place where every cannabis lover comes to solve all their doubts and get all the information, be aware of all the news in the world.
On this occasion, I have selected for you the 10 best autoflowering varieties to grow . For this I have used my own experience with more than 15 years as a professional breeder, as well as the experience shared by thousands of regular customers of PevGrow…
You want to get to know them better, don't you? Well, let's get to it !?
Northern Light x Big Bud Auto by World Of Seeds
A very special weed, known worldwide for being the autoflowering variety with the most medicinal value of all, also awarded at the Canary Islands Cannabis Cup 2013. It is in this classification because indoor, you will be able to take out its maximum version, for it you can use flowerpots of 11 liters, with a focus HPS of 600w being able to collect up to 600 gr by m2.
Its taste is a marvelous, offers a mix between citrus and sweet very pleasant to the palate, slightly reminiscent of fruits such as orange. Its effect is very relaxing, medically highly recommended to combat insomnia or lack of appetite..
Haze XXL autoflowering by Pev Bank Seeds
This strain has been chosen by our customers, and the most outstanding qualities of it, is its ease of cultivation, perfect for beginners, as well as its high productivity. Indoors, it is advisable to use a good substrate, which has at least 30% coconut fiber so that you can make less substantial watering, but more constant. With pots of 11 liters you will be able to place up to 9 specimens per m2 and obtain a productivity of between 400 and 500 gr per m2.
Its organoleptic properties are magnificent, enjoying a taste and aroma incensed and citrus, with small nuances of barrel, which will make your taste buds dance in ecstasy of pleasure. Its effect is marked by its indica genetics, which provides a very relaxing experience, and that medical marijuana users appreciate remarkably, for its ability to fight insomnia.
Big Bud Automatic by Sensi Seeds
The autoflowering version of one of the most productive strains in history, and in indoor cultivation was not going to be less, a real factory of buds, which in 70-80 days will produce up to 450 gr per m2, placing it at 20 hours of light from the beginning with a LEC lighting system of 315w.
Its organoleptic properties are marked by a delicate taste and aroma reminiscent of its Afghan and skunk ancestors, with sweet, spicy, fruity and musky notes that are combined with strong touches of hashish, simply crazy.
Its effect is powerful, reaches immediately to the head, and is accompanied by a body relaxation that you will begin to notice with a slight shiver in the arms and then will invade the rest of your body, a joy!
Auto Blueberry by Spanish Seeds
Fast and productive, very robust and of medium height, she behaves like a real champion in indoor crops. Under the intensity of a 400w HPS light bulb you will feel at home, being able to harvest up to 400 gr per m2.
Its woody aroma and citrus taste with notes of incense, are a spectacle for the senses. When you smoke it, you will notice a very relaxing and sedative effect, highly recommended to treat insomnia and states of anxiety.
Monster Mash Auto by Exotic Seeds
Direct descendant of Black Domina, has a good size to be an autoflowering, and its flowers are very fat and are covered with a layer of spectacular resin. Indoors, it will be ready in only 8 weeks from when you plant in earth, the seeds that have germinated in the humid napkins and you will be able to collect between 450 and 500 gr per m2.
The taste is totally kush, but its genetics Black Domina has given a sweet touch to the sea of attraction, an excellent smoke without a doubt. From the first moment, when you smoke it you notice an intense cerebral rise, in combination with a corporal relaxation of equal intensity, reason why it is what is known in the slang like "Night weed".
Extreme Impact Auto by Heavyweight Seeds
In this selection could not miss one of the most outstanding creations of Heavyweight Seeds, a variety that will be ready in just 8 weeks and has a very good production capacity. Indoors, it's very simple because it doesn't need too much care, just select a good substrate, place 14 litre pots and put it at 20 hours of light from the beginning with a 300w LED spotlight, and you'll be able to collect up to 500 gr per m2, the marijuana monster!
Its aroma is spicy, and is accompanied by a very dense smoke that will envelop the whole room and make the experience even more intense, all combined with a flavor with a few notes of lemon-lime and a traditional hashish base, one of my weaknesses!
The effect it produces is marked by very high THC levels, close to 21%, providing a very powerful mental experience, followed by a very top body relaxation, Direct chin hook and you'll be KO on the sofa!
Black Domina Auto CBD by Worldpharma
One of my favorites without doubt, and that could not miss in our selection. When you grow cannabis indoors their behavior is extraordinary and has everything a cannabis grower looks for. In the first place, a very beast productivity, which reaches 500 gr per m2, using 7 litre pots with which you can place up to 14 specimens per m2, keeping the temperature and humidity of the growing space stable.
Its taste is fruity, very pleasant in the mouth, with notes of pepper and a woody aroma, which undoubtedly make it a weed worthy of the best of Michelin star restaurants. Its effect is medically very beneficial, as it has been tested as a good antidepressant and anti-inflammatory.
Auto Purple by Pyramid Seeds
In 55-60 days, with 20 hours of daylight you will have this wonderful weed ready to harvest up to 450 gr per m2, for which you will simply have to dedicate a good substrate such as Top Crop Complete Mix, which has everything necessary to face the stage of growth and flowering with total guarantee, simply worrying about watering. You will have to get a good active carbon filter, since its aroma is very intense and you do not want to attract the attention of your neighbors, right?
Its sweet taste of must and fruits of the forest, is a real pass, worthy of the most exquisite palates. I tried it by chance and I sure did… Impressive! It's the perfect weed for a good night's sleep, and stay totally relaxed!
Auto Dark Devil by Sweet Seeds
It can reach a height of 1.30 m, a real beast considering that we are talking about a weed autoflowering, and whose productivity will leave you speechless. In only 8 and a half weeks, you will be able to collect between 400 and 600 gr per m2, for which you will have to place it in pots of 11 liters, since it will need space for a correct root development, placing it to 20 hours of light from the beginning, under a HPS focus of 600w.
When you try this wonderful strain, you won't want to try another, because its taste is sweet in combination with fruity touches with citrus notes, which are a real spectacle for the senses. When you smoke it, you feel an energizing sensation that activates your mind and awakens your creativity, perfect for smoking every day!
Critical Kush Auto by Barney's Farm
A fantastic option if you are looking for several crops a year, as it has a growing cycle of less than 3 months, and is characterized by a tremendous ease of cultivation, which makes it a good option for those who are just starting in the world of cannabis cultivation. Its aroma is very strong from very early, so I use ozonators in the key area of the house and especially in the windows closer to the common area, but I never place them inside the cultivation room. You can collect between 400-500 gr per m2.
Its organoleptic properties are marvellous, with an earthy taste with kush nuances and light touches of pine. Its effect is powerful, more mental than physical, it won't make you sleepy, but it's perfect for relaxing reading a good book or doing a marathon throne game..
Moby Dick Auto by Dinafem Seeds
This is one of the most productive varieties of Dinafem Seeds, in addition to one of the cannabis world classics that more followers drags around the world. Its taste and aroma is truly legendary, incensed and with a touch of noble wood, which provides a unique sensory unforgettable experience.
Its effect is very strong, since it has a high THC concentration, which causes a mental stimulus with a very pronounced psychoactivity, accompanied by a very top body relaxation. In short, a very cool high! Its external productivity can reach between 40 and 180 gr per plant, for which I have a series of little tips you can't miss.
Gorilla Glue Auto of Fast Buds
Gorilla Glue Auto by Fast Buds is one of the most powerful strains. ever created, with THC levels reaching 24%, a genuine to be an autoflowering variety. Outdoors it is one of the the most chosen because its flowering speed is only of 8 weeks, and its resistance to pests and fungi attacks is very good, and of course… You can harvest up to 500 gr per plant!
Its organoleptic properties, are characterized by fresh and sweet taste, with some final pine reminiscences, which give a touch of very top exclusivity. Some smokers also notice a balsamic touch, but a very pleasant sweetness usually prevails
Its effect is mixed, highly recommended at a medicinal level to treat chemotherapy side effects or boost your appetite.
Northern Light Auto by Pev Bank Seeds
The cannabis legend version, from the point of view and with our breeders' touch, and believe me it is not on this list because it is a version of our seed bank, but because many clients and personal friends, have confirmed me that it is an authentic spectacle.
They recommend it, because it is easy to grow outdoors, where you can get to collect up to 150 gr per plant in just 75 days.
Another captivating aspect of our version of Northern Light Auto, is its wonderful taste and aroma, sweet and fruity, undoubtedly some delight for the most sybarite palates. Its effect is very relaxing and physical, perfect to take at the end of the day and enjoy a pleasant and restful sleep.
Chronic Monster XXL Auto from Victory Seeds
Exclusive in all its aspects, known and loved above all by the impressive quality of resin large quantity that produces, perfect for BHO extractions and marijuana concentrates. Outside their behaviour it is magnificent, producing between 60 and 190 gr per plant, with a top quality worthy of the best palates.
Its aroma and taste are sweet, ideal for the most greedy smokers, who look for that sensation in the palate that invites to smoke it over and over again without stopping. Its effect is mixed, with an initial rise Sativa with a mental touch, followed by a relaxing descent that is very typical of the Indicas.
Auto Super Bud by Spanish Seeds
One of the most productive genetics on the market, which maintains its condition in its autoflowering version, with a vigorous growth of medium size, which will be ready in just 70 days from germination.
Its organoleptic properties win the hearts of lovers of old greats, as it is the typical Skunk flavor lemony with touches that will take you back to the '90s. Its effects are really narcotics, ideal for relaxing mind and body, widely used as medicinal marijuana for those who suffer from insomnia episodes.
Blue Auto Mazar by Dutch Passion
This weed is a real scandal, and outdoors is where it acquires its greatest expression, where with a good incidence of direct sunlight, will give away a production of up to 100 gr per plant, without too much amount of food, but be careful and don't water it too much.
Its aroma and flavor is very intense, earthy, but with more fruity touches than the Original Mazar, thanks to its Blueberry genetics which gives it those exclusivity and so tasty notes. Its effect is powerful, as a good Indica, soft on mental level and very narcotic on physical level, perfect for sleeping after smoking it.
Magnum of Buddha Seeds
It was born to be cultivated outdoors, where it will give its best version, being able to reach a meter and a half height, very easy to use. In the case of an autoflowering variety, who said that the Auto were so small? Their productivity is excellent and they can harvest up to 200 gr per plant, and its resistance to pests is bestial, don't worry!
The organoleptic properties of Magnum are a delight, marked by by an incensed and sweet taste, accompanied by a very long-lasting and dense smoke, simply amazing! Its effect is very powerful, with an immediate high. You'll be the life of the party!
Auto Black Banana by Mr Hide Seeds
Its ease of cultivation is tremendous, as it does not ask almost anything in exchange and delivers a good handful of buds, covered with precious crystals of the most very aromatic resin. Its height can reach up to 1.5 meters, but for it provide it with a definitive pot or plant it directly on the mother earth.
Its aroma is its perdition, because it attracts numerous insects so you will have to use a good organic insecticide such as Canna Cure de Canna and you will be able to Collect up to 140 gr per plant.
Its taste is very sweet, it reminds me very much to a well ripened banana, making my mouth water just by thinking about it! Its effect at first it's soft, but as you smoke, the relaxation will take over and you'll be totally sleepy, perfect for smoking late in the day.
Black Haze Auto by Exotic Seeds
As a good autoflowering plant, it needs many hours of sunshine a day and a good orientation to get its best version, being ready in this case between 70 and 80 days. The height will oscillate between 70 and 100 cm and its productivity can reach 80 gr per plant.
Its taste, is very achieved thanks to its meticulous genetic selection, incensed with light sweet touches, in combination with a floral and fresh aroma. Its effect is very cerebral, perfect to consume during the day, as it activates the mind and favors creativity, so you will be able to enjoy it at any time without fear of falling asleep.
Cheesy Auto by Philosopher Seeds
Fast, productive, tasty. These are some of the attributes that characterize Philosopher Seeds' Cheesy Auto, and as not one of our favorites to grow outdoors. They can be cultivated practically in any latitude and altitude, as it is very resistant to all weather types. It is a perfect option for guerrilla cultivation, as it does not exceed 100 cm in height, being able to harvest up to 100 gr per plant.
Its taste is amazing, blue cheese as well as its aroma, with some final touches to very tasty wild berries. Its effect combines an active brain state, with a strong sensation of body relaxation, perfect for promoting creativity.
I hope you liked the selection, if you comment on your experience and opinions in the comments section, you can exchange information with the community and get fantastic rewards redeemable in PEV Grow, Happy smokes cannalover!??
Marijuana strains to laugh a lot →