S.A.D. Sweet Afgani Delicious S1®
Offer!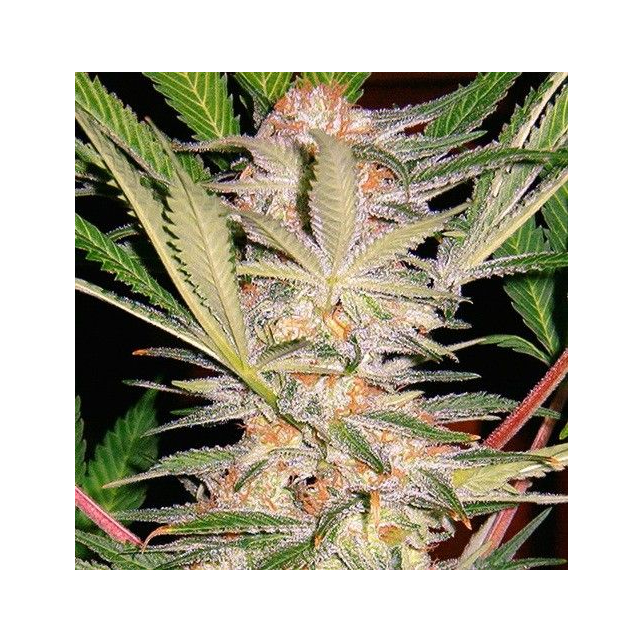 Description
A self-pollinated Indica dominant inbred line (IBL) selected from the finest mother, Black Domina. This mother was bred with stock from 1998 and produces dense resinous buds with sweet earthy tones not easy to forget.
The strain S.A.D. S1 seed allows for homogeneous regarding the unusual characteristics described below. It features sweet intense aroma with a musky flavour, inherited from its lineage of parents, both Afghanica and Hash Plant. The THC has been lab tested and measures between 15% - 20% THC. It also has a cannabinoid profile of 1.8% CBD. It's an easy strain to grow and another benefit, its resistant to pests and fungus. What is interesting about this strain is its yield, up to 550 grams can be yielded off 1 plant which means its a great strain as a cash crop for seasoned growers. S.A.D. S1 is a straightforward strain to grow for any cannabis cultivator. The high is intense, and will put you down leaving you relaxed and calm ready for an evening indoors.
S.A.D. S1 has established itself as a well-known strain around Valencia as it was awarded the 2nd place at the Cannabis Cup organized by Maria Barraca in 2004. This is certainly not the only award its won, and this strain is slowly making a name through its accolades around the world. After a quick growing turnaround, harvest your crop early rather than later.
This strain is highly recommended by many top professionals not just for its yield but also its smoke.
AWARDS:
1er Award - Copa del Plata 06 - Buenos Aires - Argentina - 2006 1er Award - Semilla del Millón - X Bella Flor - Malaga - 2007 3er Award - Semilla del Millón - XI Bella Flor - Malaga - 2008 1er Award - Indoor Bio - Cannabis Champions Cup - Barcelona - 2009 1er Award - Indoor Bio - 3ª Coppa Italia Antiproibizionista - Roma - 2009 3er Award- Outdoor - "I Cannabis Cup Nature Grow" - Barcelona - 2011
More info
Bank: Sweet Seeds.
Phenotype: 90% Indica / 10% Sativa.
THC: 15-20%
CBD: 1.8%
CBN: 0.5%
Indoor yield: 400-500 g/m2
Foreign production: 350-550 gr / plant
Flowering indoor: 8-9 weeks
Outdoor harvesting in the Northern Hemisphere: late September
Outdoor harvesting in the southern hemisphere: late March.
Data Sheet
| | |
| --- | --- |
| Genetics | Afghani |
| Features | Cannabis Cup |
| Flavor and aroma | Earthy (earth) |
| Banks | Sweet Seeds |
| Type | Feminized |
| Weather | Sunny/Mediterranean climates |
Send us your questions! We are happy to help you.
There are no questions about this product, be the first to ask!
---