Seeds rich in CBD have become a favorite among medical cannabis consumers, and it is that over the last decade this type of marijuana seeds have aroused the interest of science due to the innumerable properties of cannabidiol , and that has caused more and more people to study this magical cannabinoid.
What is a CBD seed?
They are seeds of the cannabis varieties that produce high levels of CBD . In the marijuana chemotype, the main cannabinoid is usually THC, but CBD seeds stand out because they form plants that produce greater amounts of cannabidiol. CBD seeds can be autoflowering, feminized, regular , or known as "Fast version", and within these they can be indica or sativa, although most are polyhybrid.
For a seed to be considered CBD it has to have at least 4% concentration , from there you can find strains that reach up to 30% practically. There are many types of CBD seeds, and to differentiate one from the other we rely on the THC: CBD ratio of each one, that is, the ratio they have between these cannabinoids. The majority ratios are 1: 1, 1: 2, and 2: 1, but there are up to 1:60 or more.
If you are interested in this topic of the different ratios between THC and CBD , we have an article that talks about the best CBD seeds with different ratios that you will surely like.
Where do CBD marijuana seeds come from?
CBD seeds have always been there, in fact there are some landraces or pure varieties that are rich in cannabidiol . Even industrial hemp varieties contain more CBD than THC, although they usually do not exceed 2% or 3%, with the exception of Carmagnola and some others that can exceed those amounts.
But the vast majority of commercial CBD seeds today are descended in one way or another from Juanita la Lagrimosa from Reggae Seeds , mother of the famous Cannatonic, which is one of the most used genetics to create new seeds of genetics rich in cannabidiol.
CBD Crew seeds
When the CBD Crew appeared on the scene, this new seed format was made official in some way, because it was they who laid the foundations for the whole movement that would come later. This project was carried out thanks to the collaboration of Resin Seeds with Mr. Nice Seedbank and the Canna Foundation.
Jaime from Resin Seeds contributed the genetics that transmit cannabidiol to the offspring, Shantibaba from Mr. Nice Seedbank contributed the breeding knowledge and some of their mother plants, and Iñaki from the Canna Foundation provided the laboratory to carry out the numerous analyzes they needed, as well as his wisdom and experience with the gas chromatograph.
The CBD Crew served many commercial banks as CBD seeds , making medicinal versions of dozens of varieties. Today they continue to be a benchmark in the world of therapeutic cannabis rich in cannabidiol.
Who are high CBD seeds for?
They are perfect for people who need to treat different diseases for which cannabidiol has proven to be an effective treatment. Seeds with a THC: CBD ratio 1: 1 or 1: 2 are also very good for those consumers who do not have much tolerance to high-THC cannabis , such as fashionable varieties that can exceed even 30%.
The latest trend in seeds high in CBD are those that contain less than 1% THC , which due to their zero psychoactivity have been very interesting for the medicinal market. These genetics are succeeding in some countries thanks to the fact that they do not place, and that allows smokers to consume this herb as if it were tobacco, but enjoying the different flavors of marijuana, and taking advantage of the benefits of cannabidiol.
How to plant CBD seeds?
The cultivation of cannabis seeds rich in CBD is exactly the same as that of the rest of the varieties, since the chemotype does not intervene in the growth, flowering, or any other phase of the cultivation. If you know how to grow marijuana plants, you will have no problem harvesting a quality product with CBD seeds, and if you don't know, I recommend that you subscribe to our blog.
The only thing that can change would be in the case of wanting to obtain the most medicinal product possible, and in that case it is advisable to grow organically , not use chemical pesticides, do a good washing of the roots, and a slow drying and curing of the yerba .
In the case of wanting to keep THC levels as low as possible, it is advisable to feed the plants with very light fertigation, give the minimum vegetative growth time, and try not to receive UV radiation, since these factors can increase the tetrahydrocannabinol concentration.
What are the best CBD seeds?
Below you can see the ranking with the best seeds with high CBD content on the current market. In this top 10 there are genetics with different ratios, but all of proven quality.
CBD Time : One of the most sold high CBD and very low THC seeds in our shop in recent years. Its effect does not place the brain, but its therapeutic power is considered miraculous.
CBD Therapy : Possibly the best work of the CBD Crew, because it is a stable chemotype in seeds that do not exceed 0.5% THC and normally give more than 12% CBD.
Juanita la Lagrimosa : The forerunner of the entire CBD wave in Europe, mother of Cannatonic and with Queen Mother x New York City Diesel genetics. In addition to being interesting for the cannabidiol it contains, it must be said that it is very good.
Cannatonic : It is surely the most famous CBD-rich seed in the world, because the promotional work it carried out was brutal. These seeds have been cultivated on 5 continents, and have helped millions of sick people.
CBD 99 : Seeds with a 1: 1 ratio between THC and CBD, with a delicious tropical fruit flavor, great bud production, and so easy to grow that anyone can achieve spectacular harvests.
Girl Scout Cookies CBD : The most medicinal version of Cookies cannot be absent from this ranking, it always produces higher levels of cannabidiol than THC, and its large amount of terpenes causes a great entourage effect.
Gorilla Snow Ultra CBD : It is one of the few commercial seeds that produces more than 10% THC and CBD, but also forms large buds, a lot of resin, and a really intense aroma.
Green Poison CBD : The speed, the taste, and the production of the Poison but with a high concentration of CBD, so the effect is much less psychoactive, but much more therapeutic in general.
OG Kush CBD : Of the most complete plants on the market, with a 1: 1 ratio and an average of 10% of each of these cannabinoids, this natural medicine has come to the world to improve people's lives.
Amnesia CBD : Sativa seeds rich in CBD and with a profile of terpenes that enhance the effect of cannabidiol. Special variety for outdoor cultivation, where a tree with many beneficial properties is made.
If you have been wanting to read more information about the best genetics of this type, you can continue reading our article on the best medicinal seeds with CBD on the market .
Best CBD autoflowering seeds
High CBD automatic seeds are the best option for those who need to harvest cannabis buds rich in cannabidiol in the shortest possible time. Among all the offer that exists in the current market, these are the ones that we consider the best.
Gorilla Glue Auto CBD : As weed we could include it in the previous ranking, because it has nothing to envy to photodependent varieties. Intense flavor, a lot of resin, and ease of cultivation are other of its qualities.
Industrial Plant CBD : Fast and very productive plant, especially for inexperienced growers because it performs well even if conditions are not optimal. THC: CBD ratio 1: 2 and with a sweet and long-lasting taste.
Solodiol Auto : One of the few CBD-rich autoflowers that do not reach 1% THC, so they lack psychoactivity, but its therapeutic effect is very interesting to treat many diseases.
Purplematic CBD : The paradigm of modern cannabis breeding, since at the same time it is autoflowering, feminized, rich in CBD, below 0.5% THC, and all the specimens acquire dark tones.
Medikit Auto : The most medicinal auto from Buddha Seeds, a seed bank specialized in the creation of ruderalis genetics. It can reach 20% CBD, something that is not available to many plants.
CBD Time Auto : The automatic version of the CBD seed preferred by our followers. It never exceeds 1% THC, but at the same time it is capable of producing 15% to 20% cannabidiol.
CBD Auto Compassion Lime : With a 1: 1 ratio between THC and CBD and a spectacular citrus flavor, these CBD seeds from Dutch Passion will give you a high quality medical marijuana crop.
CBD 20: 1 : Its name says it all, and this strain of Fastbuds reaches around 10% CBD and stays on average with 0.5% THC. Its cultivation takes a bit longer, but it makes up for it with an extra production.
Black Domina Auto CBD : If the regular Black Domina already offers an excellent relaxing and medicinal effect, this CBD-rich replica could be directly called miraculous. Very resistant plants, special for novice growers.
Red Pure Auto CBD : Another car that has it all, good production, easy to grow, very nice colors, good calyx to leaf ratio, intense fruity flavor, and most importantly, high levels of CBD.
Where to buy CBD seeds?
If you were looking for a CBD marijuana seed shop, I have to tell you that you have been very lucky, because as you have seen, at Pevgrow we are experts in this type of cannabis, and in this category you will find the best selection of high CBD seeds of all the market.
Opinions and doubts about CBD seeds
Leave us your opinion or ask us any questions you have about this category and participate in the draw!
Among all of you who comment or send us your questions there will be a bimonthly draw for a 50 euros voucher to buy in Pevgrow. What are you waiting for? Write now and participate!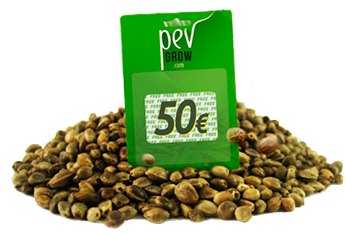 Customer Reviews