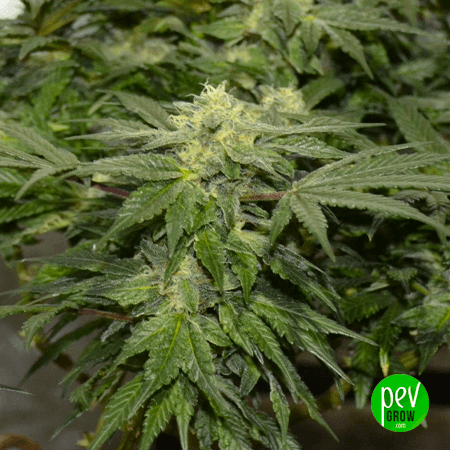 Mendo Breath are feminized marijuana seeds created by the bank Spain Bulk Seeds from a very special genetic line. These seeds are out of the ordinary, forming plants with a very striking appearance, fairly simple to grow, and the best thing is that they are the first feminized version to reach Europe.
What is the genetics of these seeds?
After growing 2 packs of Gage Green Genetics Mendo Breath F2 seeds, we found 2 very complete female phenotypes, which we saved as featured selections. By crossing both specimens we get feminized F3 seeds, which retain the same qualities that we like so much about this genetics, such as their colors, the type and amount of resin, and especially the very special terpenic profile. The origins of Mendo Breath are Cherry Pie Kush and Mendo Montage. Their chemotype is approximately 60% sativa and 40% indica.
What is Mendo Breath like in general terms?
It is a plant that stands out to the naked eye, some individuals show dark colors from the beginning of flowering, but those that remain green are also very attractive, since they develop many large and bright trichomes. It grows strong and at a good pace, although its structure is a bit ungainly due to the large branching that it forms, which gives it a certain appearance of a vine.
How are these seeds grown indoors and outdoors?
In indoor cultivation they require high light output to get the best results, since in this way they can assimilate more nutrients and the buds get fatter. In our tests we have verified that they perform better when pruned, because the production is distributed among all the branches, and each tip ends up with good-sized buds. You can put 9 plants / m2 in 11-liter pots, with 20 or 25 days of vegetative growth, and at least one apical pruning , although we prefer FIM.
Outdoors it does not require much attention, if you put it in a pot of at least 50 liters, or better yet on the ground directly, you will only have to worry that it does not lack food. To mold its structure you can use bonsai wire when they are small, or fix a structure that serves as a guide for the branches, and that you can later use as support for the buds.
When are Mendo Breath harvested?
It must be said that it is not a 100% homogeneous variety, so phenotypes can emerge that mature earlier than others. The earliest specimens finish their flowering in indoor cultivation in 8 weeks, but some can go until 10 weeks. In outdoor crops the harvest reaches at the beginning of October in the northern hemisphere, and at the beginning of April in the southern hemisphere.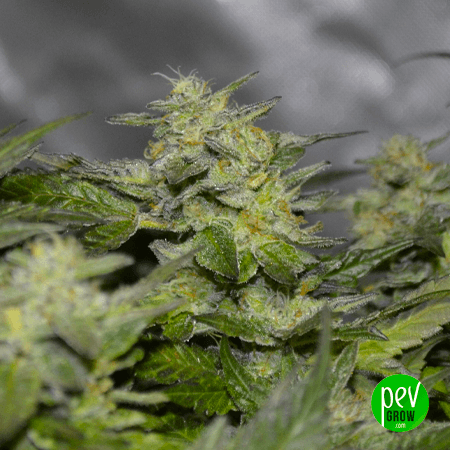 How much do these seeds from Spain Bulk Seeds produce?
The yield of buds in indoor cultivation is between between 14.1 oz per 3x3ft and 17.6 oz per 3x3ft (400 and 500 grams / m2), and outdoors each Mendo Breath can exceed 21,2 oz/plant (600 grams ) . If we talk about resin production it is better that you see it for yourself , because it seems incredible that trichomes appear even in the petioles of the leaves, really spectacular.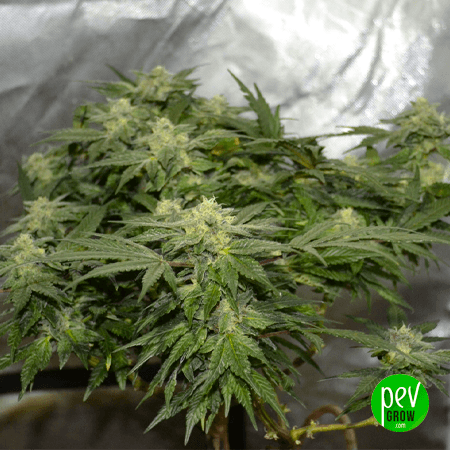 How is the aroma and taste of Mendo Breath?
As a worthy heir to the tasty Cherry Pie Kush, the aroma of Mendo Breath is reminiscent of the fruit cakes, very sweet, with hints of vanilla and chocolate. The flavor shows a sweet tone caramelizeddelicious, very consistent , leaving hints of red fruits that remain in the mouth and make you salivate.
What type of effect does its consumption cause?
has a very euphoric and stimulating start, especially for housework, listening to music, or spending a nice time with friends. As time goes by, you notice how the effect becomes more and more physical, it seems that your body weight increases because the muscles relax very noticeably, and in some cases or situations it can cause drowsiness.
Buy Mendo Breath feminized seeds at the best price online
This plant is the basis of the entire Cookies family, therefore it is responsible for the cannabis revolution that changed the market forever, and as soon as you try it you will understand the because. Order your seeds at Pevgrow and take advantage of the best quality / price ratio in the entire sector.
You may also be interested in: