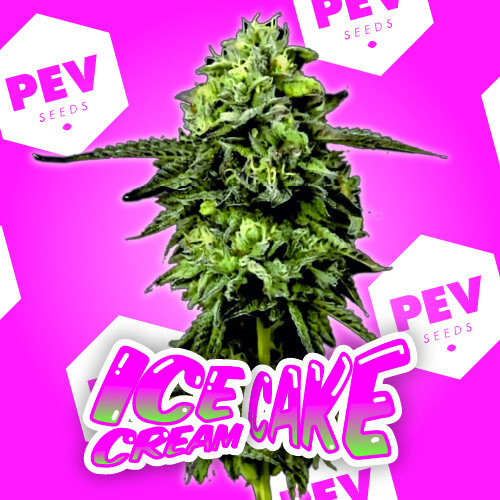 Ice Cream Cake is the result of the evolution of Cookie Fam, the cannabis family that has brought us the most successes over the last decade. This plant has come to stay, because it has all the desirable traits in a variety of marijuana, tasty, powerful, productive, beautiful, vigorous, and with a quantity of resin that floods all the buds.
What is the genetics of Ice Cream Cake?
We are facing a cross between Gelato # 33 and Wedding Cake, both direct descendants of Thin Mint Cookies. Gelato # 33 is for many the best selection of Gelato on the planet, it contains Sunset Sherbert and GSC Thin Mint, and its flavor is for framing. Wedding Cake is a clone of Triangle Mints renamed by the Jungle Boys , and it is a cross between Triangle Kush and Thin Mint Cookies.
What is this plant like in general terms?
It is a polyhybrid mainly indica, around 75% compared to 25% sativa. Its vegetative structure remains compact and dense, but when it enters flowering it stretches the nodes quite a bit, so it ends up looking more like a sativa hybrid. But the inflorescences are born very close together, and end up forming very dense buds, like those of the indica.
What is the best way to grow Ice Cream Cake?
If you are going to grow it indoors, I recommend applying the SCROG technique, since the formation of branches of the Ice Cream Cake adapts especially well to this method. If you dare to do it, remember that the ideal is to start pruning the plants from the fourth or fifth node, so that they begin to develop lateral branching as soon as possible.
Outdoors try to find a very sunny place to grow it, this girl loves solar radiation, so the more hours the better. Choose a pot of more than 25 liters, fill it with substrate rich in nutrients, and add root stimulator the first 3 waterings. From there nature will take care of helping you get a great harvest, frosted with resin, or rather frozen.
When is the Ice Cream Cake harvested?
Indoors well configured can be harvested with just 8 weeks of flowering, and I say well configured because stress can cause the harvest to be delayed. If you prefer the effect to be more cheerful and awake, don't wait more than 60 days after you change the photoperiod to 12/12.
In the open air it is harvested at the beginning of October in the northern hemisphere, fully ripe. Ice Cream Cake outdoor crops in the southern hemisphere usually wait until the first week of April for their optimal harvest.
How much does this feminized variety from PEV Bank Seeds produce?
We already know that the Wedding Cake is the Cookies with the best flower yield on the market. Well, Ice Cream Cake has inherited this trait, and in good conditions it can produce around 17.6 oz per 3x3ft (500 grams / m2) in indoor cultivation.
Each outdoor plant of this variety can give you a harvest of more than 35,3 oz (1000 grams) , but yes, to achieve this production you have to germinate in early spring and give it plenty of substrate and sun.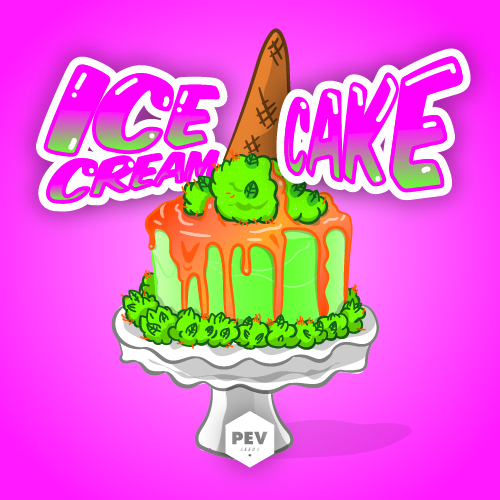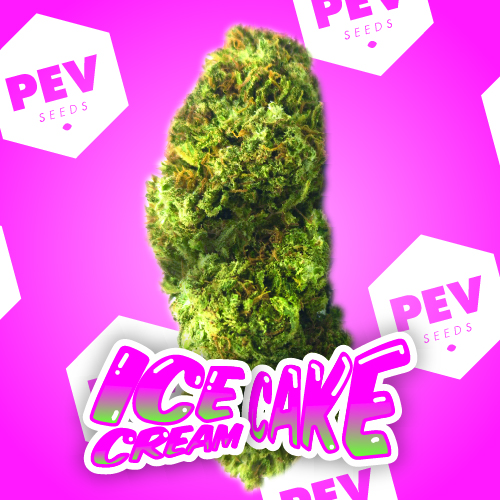 How is the aroma and taste of the Ice Cream Cake?
Its aroma is not very penetrating, until mid-flowering it can be considered a mild, but very successful smell, like a vanilla ice cream. This in the mouth translates into a very creamy and sweet flavor, with an undertone of truffle and dried fruits that are reminiscent of walnuts. Some phenotypes enhance the dairy sweet, but more similar to that of the Cheese variety, which reminds some of the taste of some yogurts.
What type of effect does its consumption cause?
Its effect clearly pulls towards the more indica side, instantaneous, forceful, with brain activity but physically very notable, with clear muscle relaxation that can be very interesting from a medicinal point of view.
If you stay active it allows you to perform tasks, but with more calm. On the other hand, if you throw yourself on the sofa it can make you very sleepy. Both doing things and at rest, the Ice Cream Cake will whet your appetite, so you can prepare some good muffin if you decide to grow this seedling.
Buy Ice Cream Cake seeds online at the best price
Go ahead and try the most advanced strain of the Cookie Fam, don't wait for it to become the most demanded seed, as happened with its parents or grandparents, now you can be the one that boasts of having the best herb in the USA.
You may also be interested in: