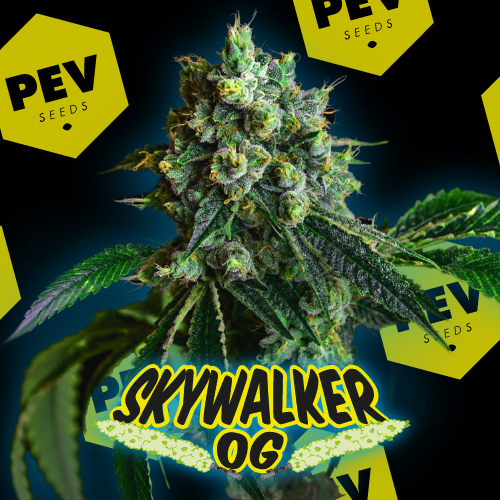 Skywalker OG are feminized marijuana seeds created by PEV Bank Seeds from one of the best clones that has arrived in Spain from USA. This plant is one of the most appreciated OG variations, do you want to know why? Well, do not stop reading ...
How is the Skywalker OG in general terms?
Your bushy and geometrically proportioned appearance will delight you, more compact and bushy than the vast majority of OG hybrids on the market. It produces a large central bud, accompanied by satellite branches that reach a good height, so they end up very well formed, since they are very exposed to light.
Its flowers are dense as few, medium volume but hard like the face of Donald Trump. During drying, the buds hardly lose their size a little, but the density seems to be enhanced, as well as its intense aromas.
What genetics do these feminized seeds contain?
The clone is supposed to come from a selection of a cross between Dutch Passion's Skywalker and one of the elite OG Kush cuttings that have been kept for many years in the USA. Skywalker is a combination of Mazar and Blueberry, almost 100% indicates, which contributes many of its genes to the offspring.
What is the best way to grow Skywalker OG indoors and outdoors?Indoors it is preferable to put 16 plants per m2 in 1,8 US gal (7 liter pots) , without pruning, letting them grow to 35 or 40 cm. Once this size has been reached, the photoperiod is changed to 12/12 to start flowering. This is because Skywalker OG barely doubles in size during flowering, and to achieve the best performance it is best to flower them at a good size.
But in outdoor cultivation it is another story, and the way of concentrating production on the main tip of this strain can be dangerous outdoors. For this reason we recommend doing apical pruning or FIM so that the buds are distributed throughout the entire structure of the plant. This also benefits that sunlight penetrates the lower parts better, which also form good flowers.
When does the harvest of this variety arrive?
Despite being quite indica in appearance, indoor flowering lasts up to 65-70 days, but believe me it is worth the wait, because it is a top quality product. In outdoor crops in the northern hemisphere it is harvested at mid-October, and in the southern hemisphere around April 15, fully ripe.
How much does the Skywalker OG produce?
The dry weight of the buds is average, around 15.8 oz per 3x3ft (450 grams / m2) in indoor cultivation. Outdoors each Skywalker OG can produce around 24,7 oz (700 grams), in places where it receives many hours and intensity of sun.
Resin production is very high, if you like cannabis concentrates you should try it, because there you will have a high and quality yield, since the return in solvent extractions can exceed 25%.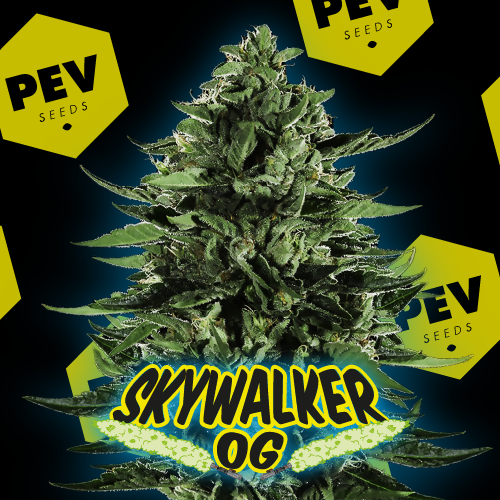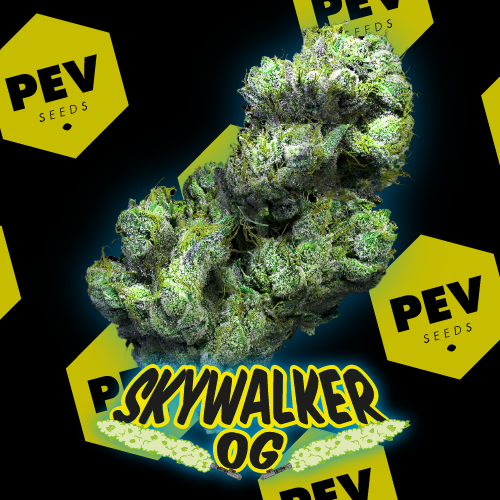 What does this marijuana taste and smell like?
The aroma is really powerful, it charges the air wherever it is, so we must put means to prevent it from betraying us. You can appreciate the earthy part of the Blue family, but on a sweet and citrus base, which is what remains in the mouth later. The flavor can be tasted for a long time, even after smoking, it is the kind that stays on the taste buds.
How is the effect of the yerba Skywalker OG?
If you have something important to do, do it before using this cannabis, because afterwards you may not be able to do it. You do not have to wait long to feel its effects, they arrive quickly and in a forceful way, very physical, noticeable at the muscular level throughout the body. Extreme relaxation and calm mind Can there be a better way to unwind after work?
For those who need marijuana to relieve pain, relax tension, fall asleep, or calm anxiety, it can be a great help, it can be considered a very medicinal genetics.
Buy Skywalker OG seeds at the best price
You have already seen all the qualities that this strain has, which we can finally enjoy in Europe as well. Don't miss the opportunity to be one of the first to grow these exclusive seeds and reserve them now.
You may also be interested in: