100 day satisfaction guarantee
Discreet delivery worldwide
Unlimited cash on delivery
Description
Play Text to Audio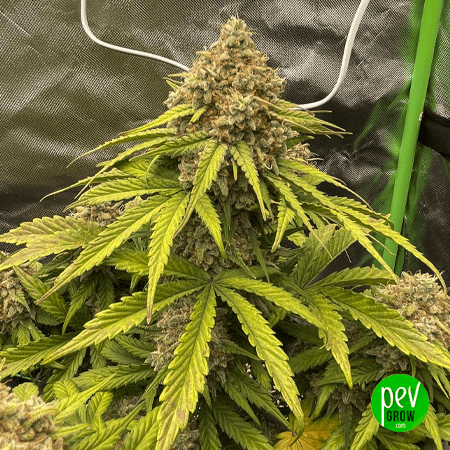 The Sherblato marijuana seeds from Spain Bulk Seeds are released as a feminized version of a polyhybrid that gives another twist to the world's fashionable genetics. These plants have everything you could want in a cannabis variety, it is fast, it produces well, its cultivation is not difficult at all, and it gives you an effect that can be considered magical, but I will not anticipate anything else, if you want to know what it is like. in depth, continue reading this…
What is the genetics of these seeds from Spain Bulk Seeds?
The breeders of this seed bank have replicated the crossing of this strain by seeing the quality of their specimens. They used the Sunset Sherbert reversed, and its pollen was used to pollinate the Gelato clone # 33, so it can be said to be a backcross of the tasty Sherb. His chemotype is mainly indica, around 75% compared to 25% of sativa.
What is Sherblato like in general terms?
It is a very strong variety thanks to the vigor it contains, so it adapts to different growing systems and situations, and anyone can get good results. It forms stems of medium thickness, with a wide distance between nodes and few leaves, although of considerable size.
In flowering it stretches its structure a lot, and quickly begins to develop flowers at all nodes, with visible resin from the third week of flowering. The buds are shaped like a golf ball, very hard and compact, and with a shiny and velvety appearance.
How are these feminized seeds grown?
In indoor cultivation it lends itself very well to the technique SCROG , putting 9 plants / m2 in 11-liter pots, with 4 or 5 weeks of vegetative growth.. It is good to wait until the plants have at least 4 nodes to do apical pruning or FIM, and approximately a week later to do normal pruning of the secondary branches. Thus the lower branches are equal in height to the higher ones and the light is distributed much better.
Outdoors you cannot lack soil if your intention is to achieve the highest production. A good idea is to plant them in mother earth, but if it is not possible, try to have pots of 50 liters or more. It is interesting to prune throughout the vegetative growth, they can be done until early summer without problems . Sherblato is a plant that supports a lot of food, but better if it is of organic origin to enhance its excellent aroma and flavor.
When are Sherblato harvested indoors and outdoors?
That depends on your personal tastes in terms of its effect, let me explain ... As a general rule they are cut with approximately 8 weeks of flowering in indoor cultivation, but if you prefer the effect to be more cerebral, euphoric, and stimulating , it is best to cut it a little before. On the other hand, if the relaxing, physical, and narcotic potency is more to you, wait until 9 weeks and it will be much stronger in this regard. Outdoors they are harvested at late September or early October in the northern hemisphere, and late March / early April in the southern hemisphere.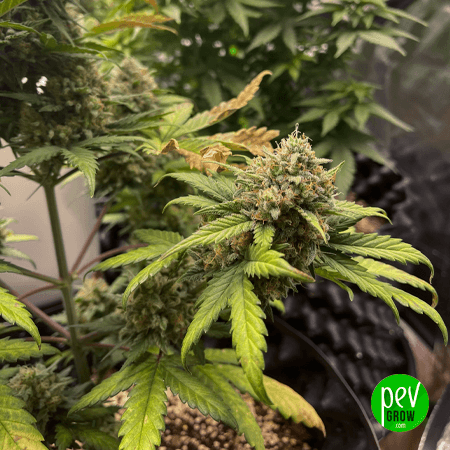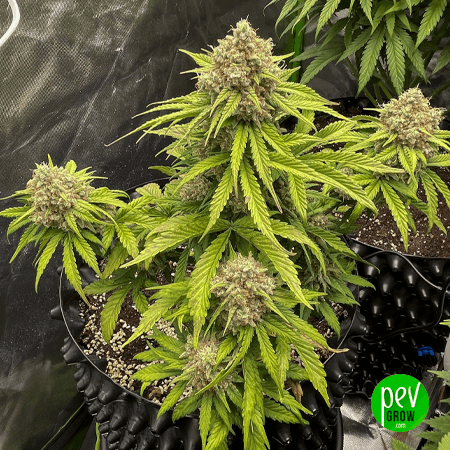 How much do these Spain Bulk seeds produce?
The production of buds is not bad at all, you can easily get from 14.10 oz per 3x3 ft to 15.8 oz per 3x3ft  (400 to 450 grams / m2 ) in indoor cultivation, and each outdoor Sherblato can yield more than 18 oz/plant (500 grams) . But if we take into account the production of resin, it must be said that this plant is undoubtedly one of the most interesting.
How is the aroma and taste of Sherblato?
If you like the Sunset Sherbert variety you will love its daughter Sherblato, because its organoleptic properties are very similar. It is a very pronounced aroma, fruity , citric, and above all sweet. The flavor when inhaling the smoke is very sweet, and until you exhale you do not perceive the thousands of fruity and caramel nuances so attractive.
How is the effect of this cannabis?
It is instantaneous, an overwhelming effect that puts you in another dimension with just a few puffs. At the beginning it is very euphoric, it eliminates the bad mood, it makes you happy, and it makes you want to do things, not to sit down. It has an analgesic point, and if you consume too much it can make you hungry and sleepy, but it is not very relaxing for the amount of genetics it contains.
Buy cheap Sherblato feminized seeds from Spain Bulk Seeds online at Pevgrow
Each and every person who tries this marijuana puts it as one of the 3 best they have tasted in their life, and we are talking about people who have had many years consuming. Make a hole in your next crop and try Sherblato, it may be the love of your life.
We remind our customers residing in France that cannabis seeds not listed in the European Community catalogue are products intended for genetic conservation and collecting, but not for cultivation. It is strictly forbidden to germinate them on French territory, except for those authorised by the European Union. We advise our customers not to violate the law in any way and we cannot be held responsible for their use.
Video: Sherblato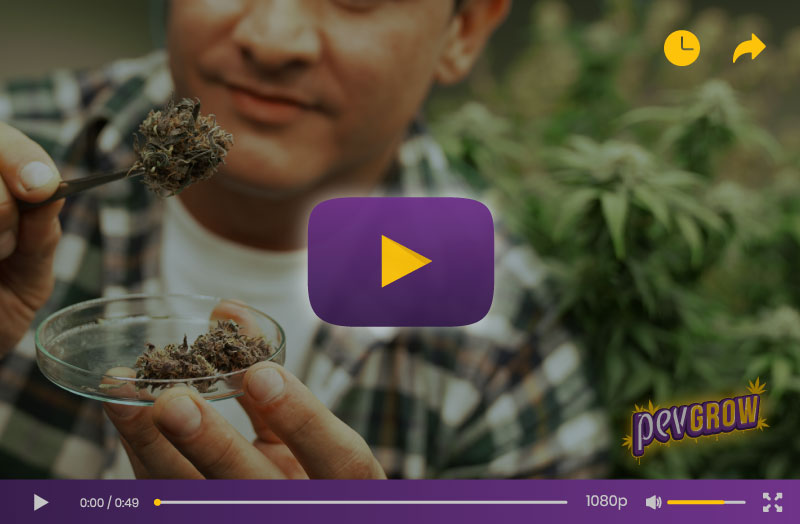 Data sheet and characteristics
Type:
Feminized
Banks:
Spain Bulk Seeds
Phenotype:
75% Indica / 25% Sativa
Harvest outdoor H.N:
End September/Early October
Harvest outdoor H.S:
End of March/Early April
Indoor production:
14.1 oz-15.8 oz per 3x3ft
Outdoor production:
18 oz/plant
Indoor flowering period:
8 weeks
Features:
Indica seeds
Resistant
Tasty
Very resinous
Effects:
Appetite
Euphoria
Psychoactive
Relaxing
Flavor and aroma:
Fruity
Lemon
Sweet
Symptoms:
Pains
Opinions and doubts about Sherblato
Leave us your opinion or ask us any questions you have about this seed and participate in the raffle!
Among all those who comment or send us your questions, there will be a monthly raffle for a €50 voucher for your purchases at Pevgrow. What are you waiting for? Write us and participate!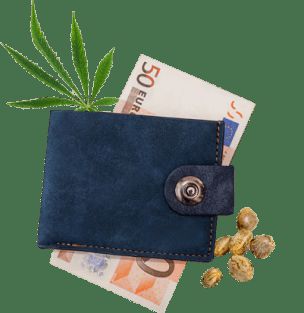 Customer questions Sherblato