Headband is a sativa-dominant autoflowering cannabis seed that acts slowly, but is able to disconnect and you can get it now at Pev Grow.
It comes from the cross between a Og Kush X Sour Diesel a magnificent combination that results in a strain that will completely envelop you with its dense and creamy smoke.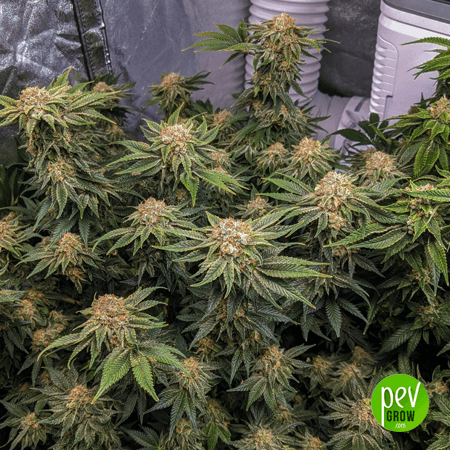 What is the structure of Headband Auto?
It is a resistant structure, with short internode distance, it is very similar to a Christmas tree, which can give you good harvests, with compact buds loaded with a lot of resin, its flowering is short and abundant.
Its leaves turn light green and depending on the temperature they may turn a little purple.
What does Headband Auto taste like?
The aroma and flavor of this herb is amazing, you will perceive citrus notes like lemon and at the same time sweet with a combination of oil, spices and exotic woods.
The smoke is totally captivating a mixture of skunk and diesel that does not go unnoticed and will immerse you in an absolutely fascinating experience.
What are the effects of Headband Auto?
It is not one of those strains that knock you down immediately, its effect is slow like a light breeze, but do not neglect it because it is powerful, it will take you to a state of total relaxation.
It will make you thoughtful on the sofa, you may feel a certain body heaviness all over your body and as its name gives it away, you will feel a certain pressure in your head like a buzzing that could last up to 2 hours.
This sativa version fights pain well and helps improve your mood, recommended to combat attacks generated by stress and also to relieve chronic muscle pain.
How is it grown?
You can grow it indoors by controlling the values of Ph and EC, its open structure that allows the passage of light to the entire plant you will see that the buds will develop in the fifth week, it will not require tutors, but if you take care of give it very good nutrients.
Place 9 or 10 plants per m2 so that you get the best out of your garden, we advise you to improve the substrate with coconut fiber.
If you are one of those who grow outdoors, sunlight improves its yield, the harvest will be ready to harvest at the end of September or beginning of October.
How much does Headband Auto produce?
It is a plant that by controlling the cold and humidity can give you 400 gr. per m2 indoors, and outdoors it can do even better if the weather is warm, its yield is about 200 gr. per plant.
Buy Headband Auto automatic seeds
Buy now Headband Auto automatic seeds from the seed house: Spanish Bulk Seeds, only here at Pevgrow.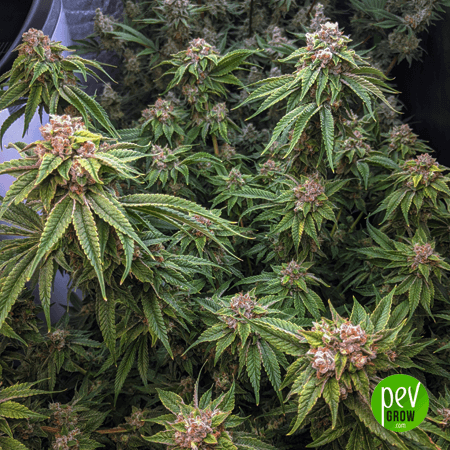 You may also be interested in: