Extractions of marijuana: Technical
0
150
Lovers of cannabis resin extractions using different methods to obtain this precious fruit. Its flavor and aromas are much more subtle and sweeter than the marijuana consumed traditionally.
The forms of marijuana are very diverse, from the most traditional and known as smoking it, to consume it as food, medicine and even extract resin plant that produces marijuana and consumed in different ways and for different purposes. Precisely the latter mode of consumption we speak today, more specifically, how to perform the extractions of marijuana. The most common techniques to achieve. We begin!
Why extract resin from marijuana
The reasons can be different. Some people do it because they like the flavor and sweet scent given off by the cannabis resin, the fact that consume the most common form. A flavor that is even nicer if the plant extract of well-cured.
But the advantages which are performed mainly extractions resin marijuana plants are:
less space,
is easier to store
elements are eliminated in the combustion process.
One of the aspects most valued by the current natural medicine is the percentage of THC achieved thanks precisely to the extraction of said resin. In fact, experts say that can reach up to 60%, so the results would be more optimal for the consumption of marijuana for medical purposes.
Resin extraction techniques
They are diverse and each person uses one that you are comfortable with or that the objectives are achieved. Also, every time they get to know new methods, thanks to advances in research lovers and experts in the field. Today we want to talk about some of the highlights, which are:
-Fresh frozen: is a resin extraction solvent. With it a product of very high quality, which is also suitable for dab (technique of vaporized cannabis resin) is achieved.
To carry out this technique requires that the product that we will extract the resin has been previously frozen and used directly after harvest, but this has been dried. Thanks to this technique less plant debris and the product you get is much more pure and aromatic as it retains better plant terpenes occur.
To carry out this type of extraction, we will need the following material: ice, water, bucket and bags or sieve to extract resin and a spatula, if possible, of silicone.
Once we have all the material we have mentioned previously frozen pot,
mix the water with ice and buds gently and manual 3-10 minutes.
Once this process will place the hub material on the sieve and leave to dry for a few days, until the color of its appearance is translucent. To be left dry. After these days we will have our product ready.
-Rosin Hash: despite being a relatively new technique, the truth is that is gaining many followers, thanks to the results obtained. In fact, people who have tried it ensures that the product obtained is similar in flavor, oil BHO. The resin extracted enjoys high quality and also the technique is not uncomplicated and inexpensive. In short, the resin is obtained by heat and pressure. I'll explain.
To carry out this extraction technique we will need: nonstick paper (can be perfectly oven), iron to straighten hair and a blade or needle. To protect our hands, we use a thermal glove or a tea towel to do the same effect.
Once we have all the material, the steps are:
wrap a piece of bud in the non-stick paper, preheat the plates.
Once they are hot we introduce the piece of paper with the bud between the two ends of the plate and press for 2-5 seconds. Experts say that the right time to remove the paper of the sheets is when we hear a slight crunch.
Once extracted, we find resin droplets are produced by heat. And we repeat the technique with the buds we want.
Once we're done with the extraction of resin from all the buds, we recommend that targets the paper on which every drop of resin in the freezer are, so then you can easily extract and can be used for whatever you want.
-Mechanically remove: besides them manually and, of course, more economical, also it exists the option to do so by prepared exclusively for this purpose, such as, for example, from Top Zeef. You can find it in Piensa En Verde, just by clicking here.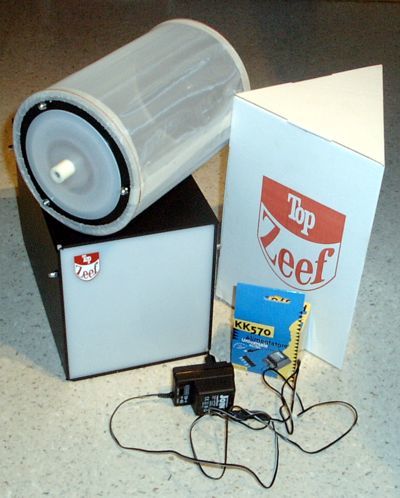 This appliance is designed to perform extractions of dry marijuana. If you are a regular at these techniques, of course, you worth the initial investment.
Which we offer in Piensa En Verde is very comfortable size and its use is really simple.
Moreover, not being very big, you can save anywhere in the house, without anyone suspecting. You can save assembled or disassemble each time you finish using it. Its case is small and allows you to be collected discreetly.
The same holds about six liters and that amount can be made ​​many products or combine several ideas, from oils, butters, to use it within our power or directly inhaled by known techniques of vaping.
By Noelia Jimenez Team Piensa En Verde