Reading Time
3
minutes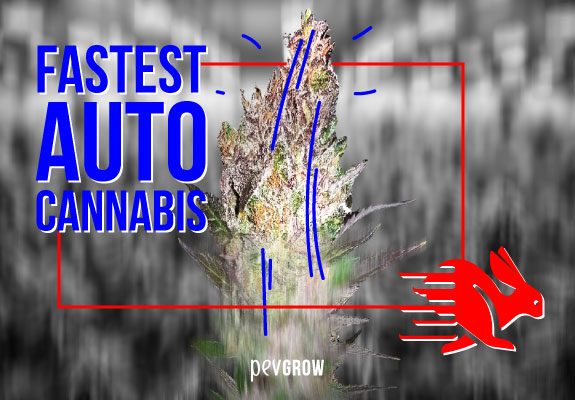 Automatic flowering varieties are the easiest to grow, resistant, adaptable, strong and especially fast. Some stand out for their large production, others contain a good aroma and taste, some are quite powerful, but in this post we will review the autoflowering genetics with a faster cycle. Are you in? Let's have a look at them…
🎯 What are the fastest growing Autoflowering varieties?
Autoflowering plants don't rely on light or dark hours to grow and flower like photo-dependent cannabis plants. Auto strains begin flowering once they reach sexual maturity, and it may come 3 or 4 weeks after germination.
The fastest autoflowering plants are those that bloom with only 20 days of growth. The problem with these plants is that they do not have time to reach a good size before they start to flower, so they are quite small.
👾 Fastest automatic seeds on the market
The first 100% autoflowering commercial varieties were Lowryder, which take just 60 days from seed to harvest. They are undoubtedly the fastest autoflowering cannabis plants in history.
From the Lowryder came the Lowryder#2, which needed a few more days to complete its cycle, but it is of higher quality. The vast majority of autoflowering strains nowadays come from crosses with Lowryder#2, and have a total growing cycle of 65 or 70 days or more
Loveryder Auto de Bulk Seed Bank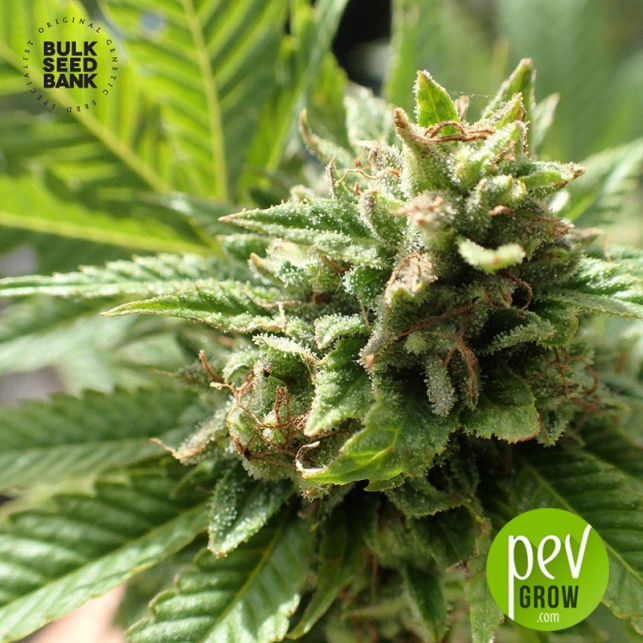 One of the fastest marijuana plants in the world! To achieve this impressive variety, the breeders have genetically fused a Lowrider #2 and a Ruderalis, resulting in a plant with a flowering time of only 6-7 weeks, with a very rich and powerful flavor, with an effect that will leave you really touched…
Features
Type : Autoflowering
Banque : Bulk Seed Bank
Génétique : Lowryder #2 x Ruderalis
Phénotype : 70% Indica / 10% Sativa / 20% Ruderalis hybrid
Cycle de culture : 60 jours
THC:14-19%
Among the descendants of the Lowryder, the fastest autoflowering varieties can be Grass-O-Matic's AutoMass and Dinafem's Critical Auto. These were two of the first autoflowering versions on the market and, although they were very fast, their quality was still not comparable to the current ones.
Don't rely too much on people telling you that you can harvest a cannabis plant in less than 50 days from germination, because it's impossible for it to be ripe or to have reached a good size.
🧐 Faster and more productive autoflowering seeds
These are the really interesting ones, the ones that offer a great balance between speed and performance. The automatic genetics that take the least time to produce a large crop usually have a whole culture cycle of 70 to 75 days, and among them the following stand out:
AutoMazar
Moby Dick XXL Auto
Magnum
Mamba Negra Autofloraison
Black Mamba Autoflowering from PEV Seeds has all the qualities you would expect from an autoflowering plant. Speed, resistance, power, production and great taste …
Features
Type: Autoflowering
Bank: PEV Seeds
Genetics:Tangie Dream x Skunk x Rudelaris
Phenotype:Hybrid Indica 60% / Sativa 40%
Indoor production:600 gr/m2
Outdoor production: 110 g/plant
Growing cycle: 70-80 days
THC:17-23% CBD: 0,05-0,10%
💻 How to make an autoflowering variety faster?
The ideal is not to force the plants during cultivation, but if you need to have weed as soon as possible there are some tricks you can use. However, you have to understand that a large harvest cannot be achieved in a short time, so you have to sacrifice production if you want to save time in growing.
One way to speed up the pace of cultivation is to plant the autoflowering seed in a small pot. When the roots realize that they do not have enough substrate they anticipate their flowering in order to be able to finish the cycle with the available nutrients.
If you want to be able to harvest a little earlier for some reason, you also have products like GHE's Ripen, which speeds up ripening by a few days in both auto and regular cannabis varieties.
⚠️ Conclusion
The fastest autoflowering cannabis plants are not the most interesting, except if for some reason you need to speed up cultivation. Nowadays there are automatic strains that need 1 or 2 more weeks of cycle, but they compensate with much more production, so they are much more profitable. Do you know any autoflowering seeds faster than those mentioned in this post? Please tell us, and help share it.
Cannabis Sinsemilla. Qu'est-ce que c'est, qui l'a inventé, comment est-il fabriqué et de quelles variétés s'agit-il ? →