Black Diamond by Spain Bulk Seeds are feminized marijuana seeds that stand out for their strength and resistance, ideal for those growers who have not been growing for self-consumption for a long time.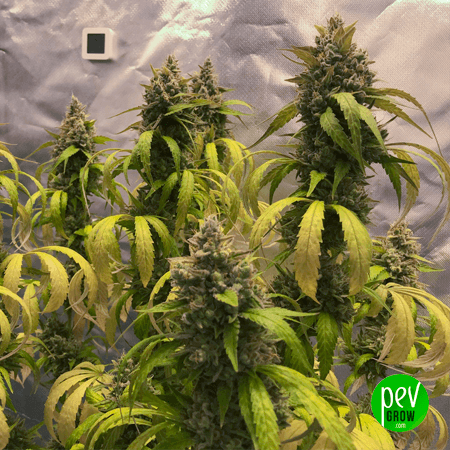 What is the genetics of these seeds from Spain Bulk Seeds?
Black Diamond only existed as a clone in Northern California, but when it hit the dispensaries its fame began to grow like wildfire. That is how it came to us, and after several tests with different pollen donors, the one that convinced us the most was Black Diamond x Black Domina , which is the genetics of these seeds. It is a polyhybrid mainly indica, about a 80%, compared to 20% sativa.
How is the Black Diamond morphologically speaking?
It is very compact and dense, with solid and thick trunks, and leaves with large, wide, and quite dark leaflets. In flowering it does not stretch much, it remains at a perfect height for indoor cultivation, and quite discreet outdoors. The resin is very sticky, and it covers every inch of the plant at the end of maturation.
How are these feminized seeds grown?
In indoor cultivation, undoubtedly an easy way to obtain a great yield is by applying the technical SOG , with 16 plants / m2 in 7-liter pots, and giving between 20 and 30 days of vegetative growth, depending on the final height you want to achieve.
Outdoors or in a greenhouse, it is important to germinate seeds early in the outdoor season so they have time to grow sufficiently, as they begin to flower earlier than other varieties. You need pots of 30 or 40 liters at least so that nothing prevents its development, and you have to be careful that the buds do not get wet, because due to their high density they can rot.
When are Black Diamond harvested indoors and outdoors?
In general they are quite fast in all the phases of the crop, and indoors they are usually ready after 8 or 9 weeks of flowering. Outdoors they mature during the first fortnight of October in the northern hemisphere, and if the grown outdoors in the southern hemisphere, the harvest will arrive between April 1 and 15.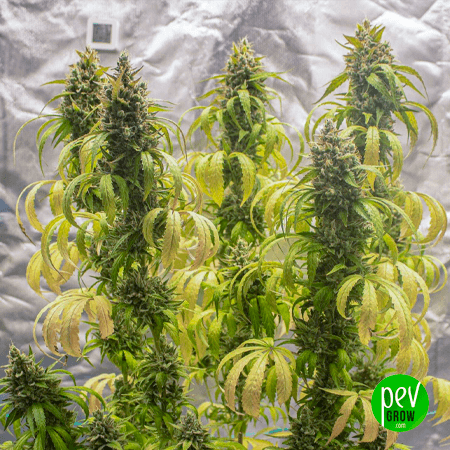 How much do these feminized seeds produce?
It is true that there are plants that can produce more, but Black Diamond have the ability to produce very well even when they do not have the most ideal conditions, so a person without much experience in cultivation has a better chance of succeeding with these seeds. than with more productive sativas. In indoor cultivation you can get between 15.8 oz per 3x3ft  and  17.6 oz per 3x3ft (450 and 500 grams / m2) without problems, and outdoors each plant will give you more than 18 oz/plant (500 grams) under normal conditions.
How is the aroma and taste of Black Diamond?
In its terpenic profile, the large amount of beta myrcene stands out, which provides a earthy aroma but loaded with sub-notes. In combustion it creates a very dense smoke, almost chewy, where the taste of red fruits of Grandma Blackberry predominates, maintaining the earthy background and with a toasted touch reminiscent of dried fruits.
What kind of effect does this herb have?
It is basically indica, with great calming effect in every way. It is a very appropriate medical marijuana for alleviating anxiety or nervous problems, as well as to see the problems from another point of view. It also works very well for those people who have a hard time falling asleep or are easily awake at night.
Buy Black Diamond feminized seeds at the best price online
This plant is a real gem, a rough diamond that anyone can finish polishing to have their own cannabis treasure. Remember that if you ask us for these seeds, you will have the best price on the market guaranteed, and as always the best attention and the most effective after-sales service.
You may also be interested in: