The feminized marijuana seeds Forbidden Fruit of the bank Spain Bulk Seeds are released in response to the demand for 100% female cannabis varieties, with American genetics, and especially with new flavors that surprise consumers.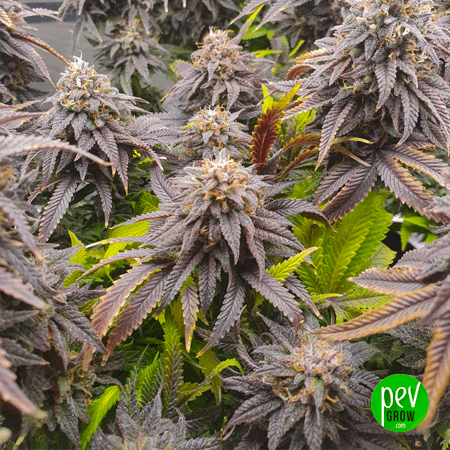 What is the genetics of these seeds from Spain Bulk Seeds?
We are facing a magnificent crossing of 2 very tasty strains, Cherry Pie and Tangie strain, and the final result could not be better, since it has mixed its terpenes and flavonoids to achieve organoleptic properties unimaginable a few years ago. . Its genetics are around 60% indica and 40% sativa.
What does the Forbidden Fruit look like?
It grows symmetrically and with little distance between nodes, forming a good plant mass in a short time. Its branching is medium but well developed, with many shoots that later become large flower clusters. Once it begins to bloom, it gives a considerable stretch, doubling its size and widening the distance between nodes to place its precious and precious buds there, since many end up with brushstrokes of colors.
How are Forbidden Fruit seeds grown?
In principle they do not pose any difficulty and can be grown indoors and outdoors in any type of medium. But there are ways to increase its yield, and in this case pruning goes very well. In indoor cultivation they produce very well when they put 16 plants / m2 in 7 liter pots, giving about 25 days of growth and around day 15 apical or FIM.
Outdoors you can go molding and training your Forbidden Fruit from a young age, with the intention that all parts of the plants receive as much light as possible. For this mission you can help yourself with bonsai guide wires, tie the branches to the same pot, or place some support structure, whatever you prefer. As you have more vegetative growth time, the ideal is to carry out several prunings, first to the main tip and then to the next higher branches. If you want to fully enjoy the genuine flavor of this genetics, fertilize with organic fertilizers and the last irrigations that are with plain water but abundantly.
When are Forbidden Fruit harvested?
Its flowering is normal, around 9 weeks in indoor crops, and during the first half of October outdoors in the northern hemisphere. Grown outdoors in the southern hemisphere, it is cut in early April.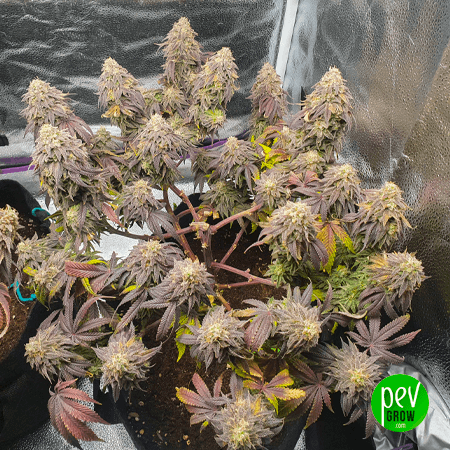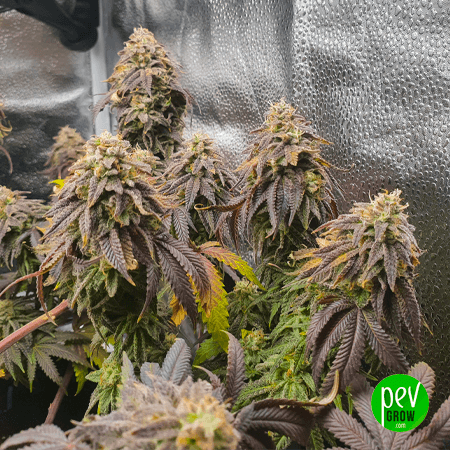 How much do these seeds produce indoors and outdoors?
If you grow with state-of-the-art LED lighting or powerful HPS, you can get more than 17.6 oz per 3x3ft ( 500 grams / m2 )in indoor cultivation. Outdoors each plant can give you more than 24,6 oz/plant (700 grams) , but for that it is necessary to germinate the seeds in early spring and transplant to mother earth before summer.
How is the aroma and taste of Forbidden Fruit?
Although its name suggests that it smells or tastes like apple, to us it is more like fruit salad, where lemon, berries or grapefruit are clearly perceived, with a very sweet and earthy bouquet, and a touch of pine.
What kind of effect does this cannabis have?
Very complete, its high THC content causes a rapid and euphoric high., with a lot of brain activity, and emotionally uplifting. Physically it is very effective to treat chronic pain or migraines, or to relax muscles, but it must be said that it can also make you fall asleep.
Buy feminized Forbidden Fruit seeds from Spain Bulk Seeds at the best price online
The forbidden fruit is here, and you who cannot resist trying the most original flavors of cannabis, you are already looking forward to having it in your hands . Order your seeds at Pevgrow and take advantage of the best quality / price ratio on the market.
You may also be interested in: