Ice Cream is a marijuana plant phenotype mostly indica, its effect is very powerful and generates a pleasant psychedelic effect that will drive you crazy.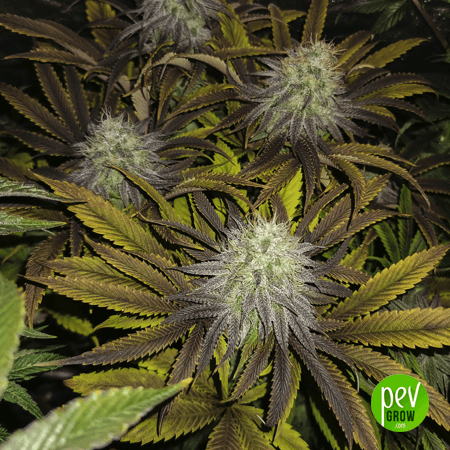 .
What is the morphology of Ice Cream like?
It is a strain that grows with many side branches,this particularity makes this genetics perfect for Scrog crops, its branches will spread quickly throughout the netting, it is a species of discreet size, if you want to grow it indoors will not require large spaces.
At the end of flowering shows orange pistils and buds bathed in trichomes that produce a shiny resin and high quality.
How does Ice Cream taste?
A creamy vanilla ice cream bathed with hints of pine and light touch skunk will take over your palate, its smell is very pleasant, if you love the aroma of skunk varieties will be totally pleased.
What effect does Ice Cream produce?
Its effect is intense at body and brain level, at first immerses you in a pleasant trip that will keep you a little active, but then a pleasant feeling of relaxation will clear your mind and body.
How do you grow Ice Cream?
If you live in a small apartment you will have no problem growing Ice Cream, you can choose to use your terrace and / or use a closet to start producing your own cannabis, this variety does not grow too much, with 7 liter pots you can comfortably plant your specimens.
Improve the substrate with bat guano or coco fibre, apply enough led light and it will develop quietly.
In outdoor crops let the sun do its work, you can use a netting to improve its structure, in mid-October harvest in the northern hemisphere and mid-April in the southern hemisphere.
How many grams does Ice Cream produce?
Under artificial light you can get 500 grams per m2 with 14 specimens in 7 litre pots, outdoorsyou will get 500 grams per plantwithout too much effort.
.