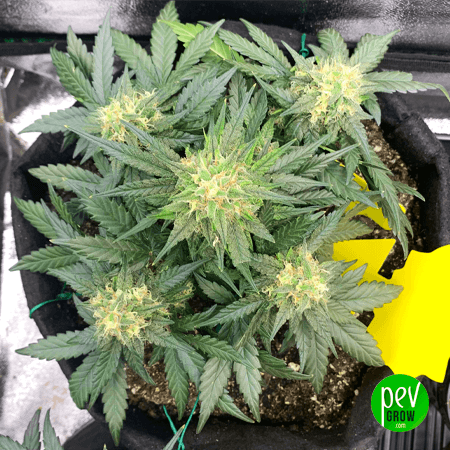 Monster Cookies by Spain Bulk Seeds are feminized marijuana seeds that produce plants with dark colored buds, an impressive amount of resin, fruity aroma and flavor, and an intoxicating effect that does not go unnoticed, as it is very appropriate to treat different health problems
What is the genetics of these feminized seeds?
The genetic recipe for these seeds is worthy of a chef with 4 Michelin stars, because it combines 2 ingredients of outstanding quality, Girl Scout Cookies and Grandaddy Purple. It can be considered a backcross of GDP, because This colorful plant is a fundamental pillar of the Cookies family. It is a polyhybrid with an 80% indica load, compared to 20% sativa.
What does Monster Cookies look like?
They are very controllable plants in indoor cultivation due to their compact morphology and their rapid flowering. It develops trunk and very resistant branches, with little distance between nodes, and medium / large dark green leaves, which as flowering progresses become more and more purple in some phenotypes. In pre-flowering it does not even double its height in many cases, it tends more to gain weight than to stretch.
How are these seeds grown indoors and outdoors?
In indoor cultivation it performs very well when grown under the SOG method , with 16 plants / m2 in 7-liter pots and 25 days of vegetative growth. Once the cycle is changed to flowering, the lower branches can be removed to enhance the production of flowers on the main tips. Doing so will end up with 16 buds the size of an arm each, which will give you a very good final harvest.
When grown outdoors, care must be taken with moisture in flowering, because the density of the Monster Cookies buds can cause the appearance of fungi. Here you can decide whether to prune the tip or let them grow as is, although with large outdoor plants we always recommend pruning.
When are Monster Cookies harvested?
Its flowering period can be considered standard, because in indoor crops it needs around 8-9 weeks, and outdoors it is cut at at the beginning of October in the northern hemisphere. In the southern hemisphere the harvest of these seeds usually arrives at the beginning of April.
How much do these seeds from Spain Bulk Seeds produce?
If we refer to the production of buds, it must be said that it is medium / high, because indoors it can reach 14.10 oz per 3x3 ft and 17.6 oz per 3x3ft (400-500 grams / m2), and outdoors a normal yield would be around 18 oz/plant (500 grams per plant) . But if we talk about the production of resin or essential oils, it can be said that it is one of the highest in the market for sure.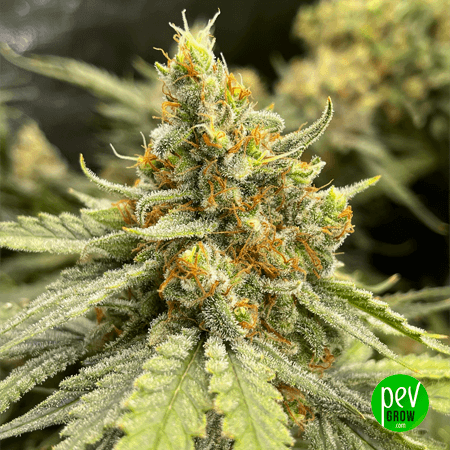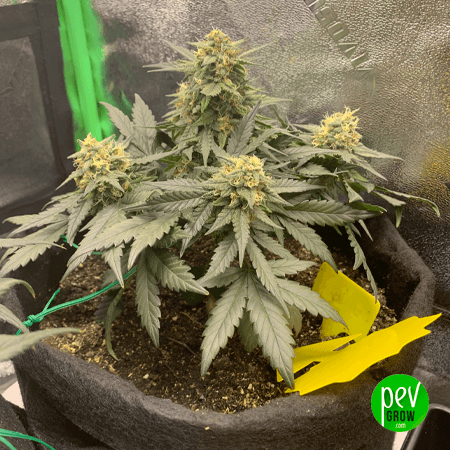 What kind of aroma and flavor does Monster Cookies have?
If you have ever tried Grandaddy Purple genetics, you can get an idea of the organoleptic quality of these seeds, because they are very similar in this regard. The aroma is of medium intensity during cultivation, but it immerses you in a wet forest with that earthy touch reminiscent of moss, and a background of red berries that feels delicious. In the flavor, the fruity part stands out, berries, raspberries, and especially the grape, which remains attached to the palate.
How is the effect of this marijuana?
Although its chemotype is mainly indica, the effect is only relaxing on a physical level, because it gives you a very active brain stimulation at the beginning. It is a special effect for your enjoyment in company, invites you to socialize, talk, laugh, making it ideal for playing video games, watching movies, etc. but always in an atmosphere of total relaxation.
Buy Monster Cookies seeds from Spain Bulk Seeds at the best price online
If you want to be one of the first people to try the feminized version of this impressive genetics, don't waste any more time, order your seeds at Pevgrow and you will enjoy one of the best strains of today with the best value for money.
You may also be interested in: