There are customers who, when choosing marijuana seeds to grow, focus on potency. There are also those who are more inclined towards speed, others focus on taste, and others on bud production, if you are one of the last ones what you are going to read is interesting for you.
The most productive cannabis varieties do not have to be the most commercial, so perhaps there are less productive varieties that are more interesting than others that offer a higher yield. For example, a genetics that produces 17,6 oz per 3x3ft (500 grams per square meter) in 8 weeks is more commercial than a strain that yields 19,4 oz per 3x3ft (550 grams per square meter) in 11 weeks, do you follow me?
In this case we're going to focus on the most productive seeds in general, no matter how long it takes to flower. Let's review marijuana strains that produce the most, both indica, sativa, hybrids, autoflowering, CBD rich, etc.
Indica seeds that offer more weight in the harvest are usually hybrids or polyhybrids that mix several of these genetics. Among the Landraces there are some like the China Yunnan that offer an incredible performance, mother of the Orient Express variety by ACE Seeds. Afghan seeds from the Mazar i Shariff region are also strains that produce a lot.
There are many commercials seeds to choose from, but if we had to pick a few, the Northern Lights or the Black Domina are 2 classics that produce above average. We don't know which may be the most productive indoor marijuana, but these are certainly among the most.
Usually sativa genetics have a higher yield, but they have the disadvantage of needing more time to mature properly. Among the pure sativas are those of Nepal, Congo and Jamaica Blue Mountain, which also squeeze the buds almost like Indica ones.
If you prefer sativa hybrids you have plenty, Sour Diesel, Amnesia Lemon or Moby Dick will give you a huge crop of flowers with high psychoactivity.
These strains perform better outdoors than indoors, you know sativas are the most productive marijuana plants outdoors. If you live in an area with a mild climate and these plants receive many hours of direct sunshine they will give you an incredible harvest.
At PEV Grow you will find the best selection of high yielding cannabis strains at the best price. We have a whole section dedicated to the plants that offer a higher yield, both indoors and outdoors.
If you're not sure which genetics might best suit your needs, don't hesitate to ask us. In our Online Growshop we have a team of professionals who will try to solve all your doubts in the shortest time possible.
Opinions and doubts about Productive
Leave us your opinion or ask us any questions you have about this category and participate in the draw!
Among all of you who comment or send us your questions there will be a bimonthly draw for a 50 euros voucher to buy in Pevgrow. What are you waiting for? Write now and participate!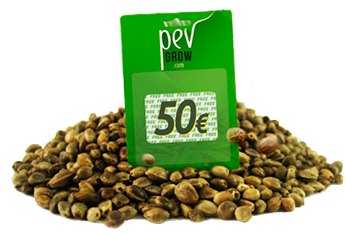 Customer Reviews