Autoflowering XXL seeds are automatic flowering cannabis seeds and are currently the best-selling in their category. These varieties are capable of producing large quantities of cannabis in a short time, its cultivation is very simple, and due to its characteristics you can get several outdoor crops a year, but ... What do we know about these fast high production plants?
How did XXL Autoflowering plants come up?
These genetics come from normal auto seeds, to get increase the size and harvest in these plants producers selected the most productive specimens within each generation. Little by little and for several generations, the large structure and the high production of flowers were becoming stable characteristics in the descendants.
The first attempts of automatic varieties with great production did not come out as expected, at the same time that the weight of autoflowering plants was improved, flowering and ripening time was also extended. These strains were called "Super-Autos", and although they gave a high harvest of buds, the cultivation cycle was extended to 4 months and even more, so the yield was not so interesting, don't you think?
Although normal auto seeds were developed in other countries, Spain was where they were most successful. Market demand for this kind of genetics encouraged many companies to take out their own
automatic flowering strains
. At first the customers complained about the low
production of these fast marijuana plants
, pushing most seed banks to work on the search and stabilization of 
high yield in autoflowering varieties.
Buddha seeds, Dinafem, Sweet Seeds and other seed companies managed to create a line of autoflowering XXL size seeds. Famous names now as Deimos, Big Devil or Haze XXL were a resounding success, getting to sell more than even many feminized.
How do autoflowering plants become more productive?
There are several ways to raise the production of automatic cannabis plants, for us the best option is to backcross the auto variety with the "elite" clone from which the line starts.
This way not only
improves the 
flower yield
, also enhances organoleptic qualities, chemotype, resin level, etc.
The backcross can be used to improve quality to a certain extent, since degeneration can also appear if this method is abused, and that's a bad thing we don't want to happen...
Most productive autoflowering indica seeds
Although the majority of auto varieties with great production contain sativa genes, in the market there are some indica varieties that have nothing to envy them, these plants are called autoflowering XXL indica seeds.
Deimos comes from the Northern Lights, one of the best indica genetics in history, and is one of the best-selling also as high-performance automatic copy. But it is not the only super productive auto indica seed in the market, we currently have a wide range and for us this is our ranking:
Auto Mazar (Dutch Passion)
Magnum ( Buddha Seeds)
Cheese XXL auto ( Dinafem)
Big Devil XL ( Sweet Seeds)
Auto Afghan Mass ( 00 Seedbank)
Most productive autoflowering sativas seeds
As with normal genetics, sativa seeds tend to grow and produce more than indica ones, so most automatic XXL are sativa dominant. There are enough to choose from because these seeds are as much in demand as the best-selling feminized ones. This is the top we recommend:
Amnesia XXL auto (Dinafem)
Moby dick XXL auto (Dinafem)
XXL beam auto (PEV Seeds)
Power Plant XXL auto (Zambeza seeds)
Beam XXL auto (Dinafem)
Most productive XXL outdoor auto seeds
To get a great harvest from autoflowering outdoors, it's just as important to choose a fast high production genetics, as the ideal time of year for your crop.
The best season to cultivate atoflowering seeds outdoors is in spring and summer, when more hours and intensity of sun we have. It is possible that a normal automatic produces better in this season than an XXL in winter. If we want to achieve the maximum harvest with automatic seeds in outdoor cultivation, it is best to combine a very productive variety with as much light as possible.
It is difficult to specify a single variety like the most productive autoflowering seed, any of the sativa XXL auto from the previous ranking will give you a huge outdoor harvest, also Devil XXL or Cream Mandarine XL auto for sure, if you grow them optimally and in the right season. If you are not sure how to do it I recommend you read on, below you will find growing tips to get a super production from automatic cannabis.
Our production record with a 
XL auto seed
 indoors is 9,5
 oz/plant (
270 grams), cultivated with an airpot in a
3x3ft
 cabinet (1m X 1m), with no more plants and with a 315w LEC equipment.
Outdoors we have harvested giant autoflowering specimens that looked like photodependent seasonal plants, some of almost 17,6 oz (half a kilo) of dry weed. The varieties that have given us the highest yield in less time, were surely the Green Poison XL auto or a great BCN Critical XXL auto, able to generate a large amount of weed in very little time, both indoors and outdoors.
In addition, if you need cheap and productive autoflowering seeds the G. Poison XL auto or the Big Devil XL auto from Sweet Seeds are sold in 25 and 100 seed formats at a discounted price. If you need more seeds, or want to get them at a cheaper price, the best is to buy auto XL seeds in bulk, being the Haze by PEV Seeds the best option you can find, try them and tell us, you won't regret it!
Most powerful productive autoflowering plants
We know that varieties descended from Ruderalis are less potent than the normal ones, but it is also true that during the last years have improved a lot in this aspect.
A few years ago it was unthinkable that an automatic reached 20% in THC content, however right now we have some that have overcome that barrier, and among all we select these 5:
Moby Dick XXL auto (Dinafem)
Auto Vesta (Buddha Seeds)
Calamity Jane (Buddha Seeds)
Sugar Black Rose Auto (Delicious Seeds)
Nevil Auto (Genehtik Seeds)
Curiosities of XXL autoflowering seeds

The most eye-catching thing about XL auto seeds is the exceptional hybrid vigor they have. Usually all autoflowering plants are very resistant in general, withstand better stress than other varieties, mistakes that others would suffer and they are able to assimilate more nutrients without problems.
But among all, XXL-size automatic seeds are the most vigorous, so are highly recommended for new growers who do not control well the E.C. or PH of the nutrient solution, as well as other factors that can slow down the plants' development.
How many XXL autoflowering plants can be placed per meter?
We usually put 25 copies per 3x3ft (square metre) in an indoor Sea of Green, but of course that is with cuttings that we can control their growth, and high size autoflowering seeds take up a lot of space. To take better advantage of its great performance it is necessary to have as much light as possible, so it is not necessary to put more than 9 plants in pots of 2,9 US gal (11 liters) per 3x3ft of cultivation.
If you choose very big flowerpot in indoor with less than 9 specimens you can fill all the space, we've been able to get more than half a kilo per metre with just 4 XXL autoflowering seeds, Don't you believe it?
In PEV grow we have a search engine of cannabis varieties make easier to buy XXL autoflowering seeds, feminized or of any other type of them, with it you will be able to filter the strains according to your interests or needs.
If you don't find what you're looking for don't hesitate to contact us, if we can get it you'll get it too, fast and at the best market price. I mean, who doesn't cultivate the best autoflowering plants on the planet is because he/she doesn't want to, and you're not going to be any less, right?
Opinions and doubts about Auto XXL
Leave us your opinion or ask us any questions you have about this category and participate in the draw!
Among all of you who comment or send us your questions there will be a bimonthly draw for a 50 euros voucher to buy in Pevgrow. What are you waiting for? Write now and participate!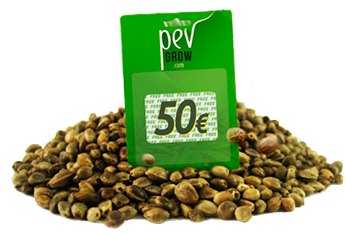 Customer Reviews