Reading Time
7
minutes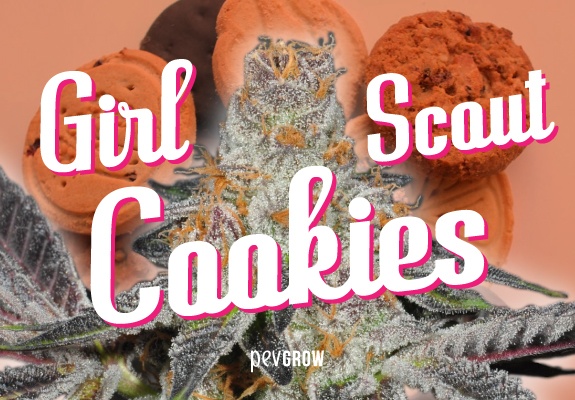 There are few varieties of cannabis that are easily identified by their taste or aroma, perhaps Cheese, Tangie, Gelato strain and some more. But strains that can only be recognised by their appearance were unknown until the arrival of Cookies, which you only need to see a dry or fresh bud and even a leaf to deduce that it is from this plant.
Since it was presented Girl Scout Cookies strain to the general public its fame has not stopped growing. There is no dispensary, club or coffee shop that does not offer on its menu some of the variants of this genuine weed, which has already left a legacy behind in the form of cannabis lineage. Where did it come from? Who were its breeders? What is its genetics? All these questions and some more have their answer in this article, so make yourself comfortable and enjoy.😜
🔥 What variety is Girl Scout Cookies?
It is a very special cannabis plant, really unique, because it has several features that were not seen until it appeared on the scene. Already from the early stages of growth you can see its uniqueness, with leaves of an exotic form, as it overlaps the central leaflet on the others, being one of the hallmarks of this genetics.
During flowering you can appreciate its other unique qualities, such as the aroma that gave it its name, or the thick layer of resin it produces on dark flowers and leaves, a set that gives it a very nice appearance, really original.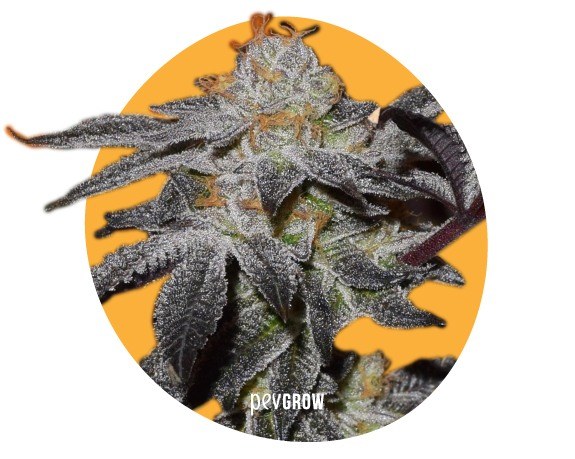 ✅ Who invented the Girl Scout Cookies variety? The History of the Cookie Fam
The origins of Girl Scout Cookies go back more than a decade, to the Sunset district of San Francisco, California. There, the Cookie Fam was forged, a collective of San Francisco Bay Area growers who breed cannabis varieties that can be considered a gourmet product.
This group of growers started with Flux and Jigga, the main breeder. Later Sherbinski joined, then the rapper Berner, and over time the Cookies family has grown steadily to become the most famous breeders in the world nowadays.
One of the keys to the fast rise of the Cookie Fam varieties was their wide dissemination through social networks, especially on Instagram and Youtube. Berner was a visionary when he created the Cookie brand in 2010, at that time he was already known for his music, and the fact that he appeared in the videos smoking Girl Scout Cookies, dressed in his new brand's clothes and singing its songs caused the popularity of this strain to soar. At that time, the ICmag forum was the reference for cannabic information worldwide, and began to spread a clone of GSC that was renamed "Girl Scout Cookies Forum" which also helped a lot in its propagation.
Currently the showcase of the Cookie Fam is based on the great dissemination that seed banks have on the Internet as Seed Junky Genetics, Sherbinski thanks to its famous descendants of Cookies, great growers like Jungle Boys, or Berner himself, who has climbed several rungs of fame over the years, even managing to rub shoulders with artists of his profession such as Wiz Khalifa, B-Real or Snoop Dogg.
What is the lineage of the GSC?
There is some controversy here, mostly because breeders have wanted to keep some of their ingredients secret, as Jigga told Chris Simunek of High Times magazine.
There is rumours that it may contain OG Kush, Durban Poison and Grandaddy Purple, although the official version is that it is a cross between OG Kush x F1 Durban. According to Jigga himself, the alleged breeder of the strain, F1 was a plant that they worked for its quality, but they called it that way as a reference, not because it was the 1 or first generation subsidiary of any particular cross. This plant was combined with Durban Poison, thus creating F1 Durban, which was later used to pollinate the clone known as OG Kush Florida cut.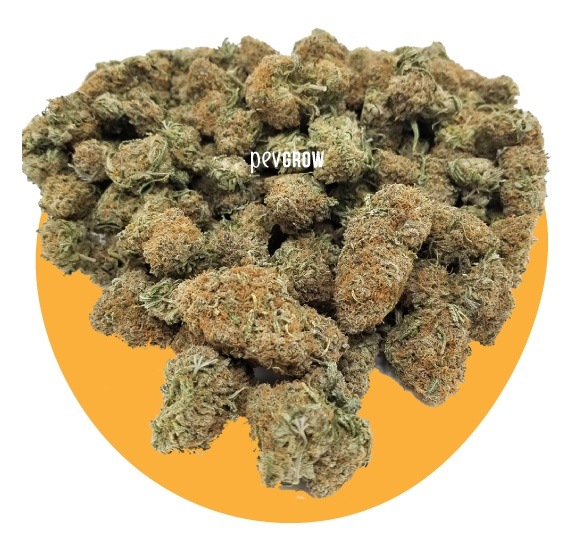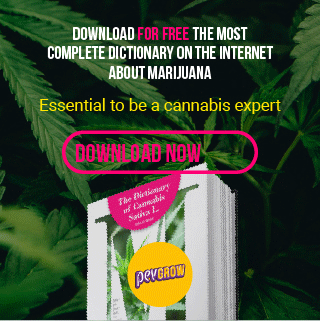 Free Download
Cannabis Dictionary
2023 Edition
Insert a correct email address
You must accept the privacy policy
SITE OF SHOPS ONLINE S.R.L with CIF: B98262777 and address for notifications in C/ VEREDA MAS DE TOUS Nº 22 LOCAL C, 46185 LA POBLA DE VALLBONA, VALENCIA, Phone: 961658271 Email: customer(at)pevgrow.com
At the name of Consulting we process the information you give us in order to provide the requested service, perform the billing of the same. The data provided will be kept as long as the business relationship is maintained or for the years necessary to comply with legal obligations. The data will not be transferred to third parties except in cases where there is a legal obligation. You have the right to obtain confirmation as to whether SITE OF SHOPS ONLINE S.R.L. is processing your personal data and therefore you have the right to access your personal data, rectify inaccurate data or request its removal when the data is no longer necessary
🚀 Girl Scout Cookies as a cannabis plant
This is a hybrid with a certain predominance of indica, 60% compared to 40% sativa, although it may seem otherwise, as this plant forms a tall and elongated structure, stretching the knots quite a bit and with little horizontal development.
It needs more attention than other genetics, mainly because it requires special fertilization in order to show its full potential, but this is also to a certain extent an advantage, as admitting more food makes it more difficult to over-fertilize.
In flowering you will not see bulky buds, that is not their strong point, but you may never have seen denser and heavier flowers than these before. The smell during this phase can cause problems, breeders filter twice the air in their growing rooms before evacuating to the outside, a fact to be taken into account.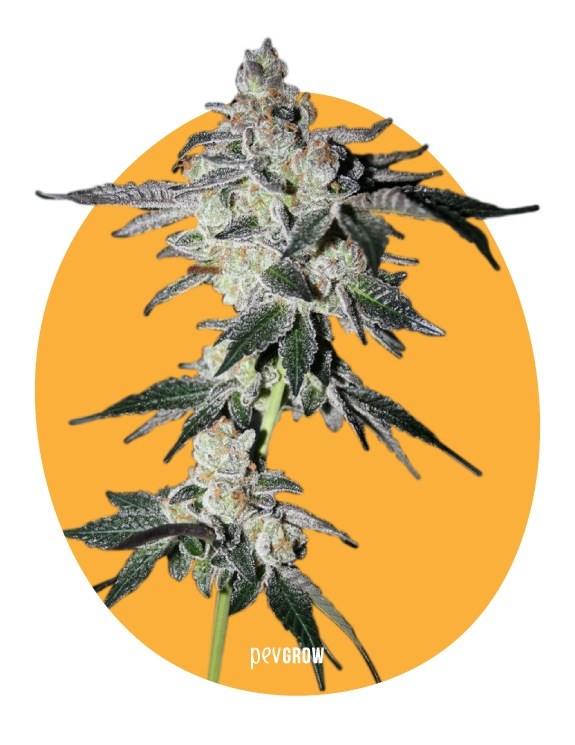 📖 Growing Girl Scout Cookies Indoors and Outdoors
The best way to take advantage of the morphology of this variety in indoor cultivation is to prune to try to control its vertical stretch, as well as apply low-stress methods such as SCROG, where it adapts perfectly. If you work with clones you can put 16 per 3x3ft (m2) in 1.8 US gal (7 liter) pots, with 20 days of vegetative growth during which you have to do at least 3 prunings.
The GSC likes a dry and rather warm environment, you must try that during the flowering cycle the humidity does not go up to 60%, and keep the temperature around 77º F (25º C.). It is possible that in indoor crops you need an extra of Calcium and Magnesium, as I said before, this plant eats a little more than average.
In outdoor cultivation you will need to prepare a large pot with quality soil, and if you want the Cookies to show their full potential take them out soon, in early spring if they are seeds and in mid-June if they are cuttings. As with many other varieties, this plant performs better if you add some support for its branches, otherwise there comes a time when they stop getting fat.
Cookies weight performance
The production of buds is not its most outstanding quality, but it more than compensates for it with the great yield of resin, cannabinoids and terpenes, since with less volume of weed you can consume the same amount of cannabinoids, so it has the same effect as consuming more weight from other varieties.
Indoors it can reach 12.3 oz per 3x3ft (350 grams/m2), and outdoors each plant can give you about 10.6 or 14.1 oz (300 or 400 grams) dry. The return in cannabic extractions and concentrates is also higher than with other strains, reaching almost 30% in extractions with solvents, 25% in rosin, and exceeding 10% in bubble hash.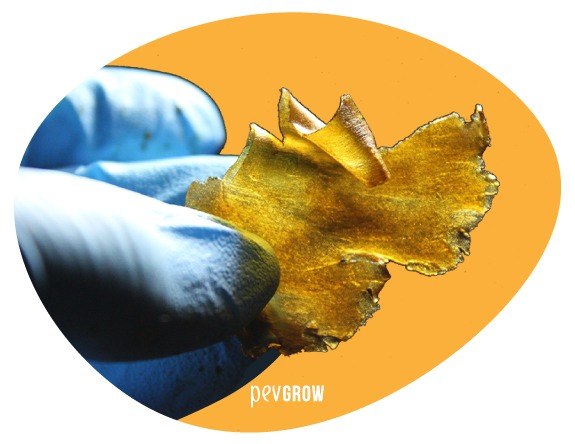 👌 Taste and smell of Girl Scout Cookies
The history of modern cannabis changed the day the Cookie Fam discovered the aroma of freshly baked cookies that gave off the buds of this gene. There were many varieties with a sweet, earthy, menthol or Kush aroma, but none combined terpenes, terpenoids and flavonoids in such a way to achieve an aroma so similar to the dough of certain desserts, so it was a real revolution.
The taste is sweet, smooth, creamy, with earthy tones and a citrus hint, and I really don't know if it's by suggestion or because it is, but it certainly tastes like cookies. Girl Scout cookies are not familiar in Spain, but if you have ever tried homemade cookies you can imagine this taste.
✨ Girl Scout Cookies like weed, effects and THC level
If I tell you that the THC level moves in a range between 18% and 28% you can imagine the power of this strain. You don't need to take more than 3 or 4 puffs of a joint to feel its effects, which begin with great euphoria and strong brain stimulation, which at first activates you but gradually becomes more introspective, as you begin to notice its physical benefits, which make you release all the muscle tension at once, feeling a good muscle relaxation and in many cases a voracious hunger.
This plant could have succeeded only because of its unique aroma, even its exotic appearance or great taste. But its effect gives it an extra quality that has helped a lot so that in addition to being a momentary success it will go down in history as it is doing, leaving a legacy that will never die.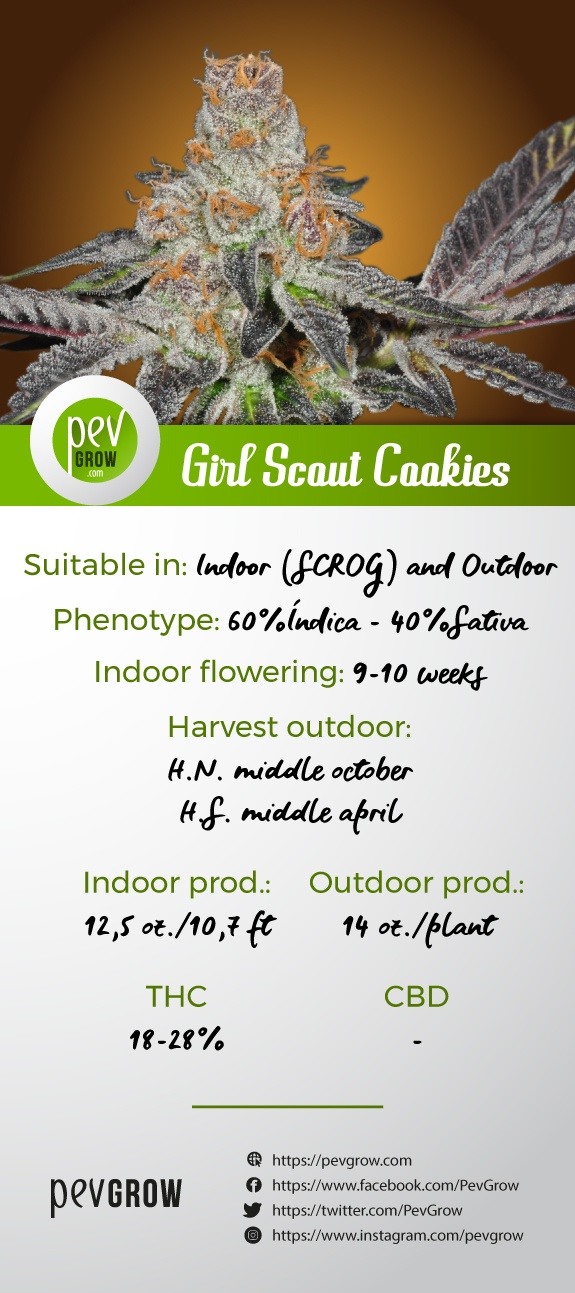 ⛳ Cookies hybrids, quality genes for an extraordinary lineage
All of the above qualities would have remained only in the cuttings that were spread, as is the case with many other elite clones. But fortunately the GSC is quite dominant in the crosses, bringing to the offspring many of the traits that made the original famous. A good proof of this is the amount of great Cookies crosses that have succeeded too, where we have to highlight the following ones:
Gelato: So far it is the highest Cookies' descendant, even to the extent of emancipating itself years ago to create its own cannabic family
Sunset Sherbert: Another creation from the Cookie Fam factory, experts in discovering new flavors in pot, in this case sorbet.
Animal Cookies: One of the best combinations between Cookies and OG Kush on the market, without a doubt, great taste and extreme power.
OG Cookies 'n Cream CBD: The cornerstone of Exotic Genetix bank and parent of other super weed like the Grease Monkey Strain.
Blueberry Cookies: When you mix 2 legendary varieties, you usually get impressive hybrids, and here's an example of that.
GMO Strain: Also known as Garlic Cookies or GMO Cookies, created by Mamiko seeds from the cross between Chem D and GSC.
Monster Cookies: Descendant of the Platinum Cookies and ascendant of the Alien Cookies, the mother of the M.A.C.
Girl Scout Cookies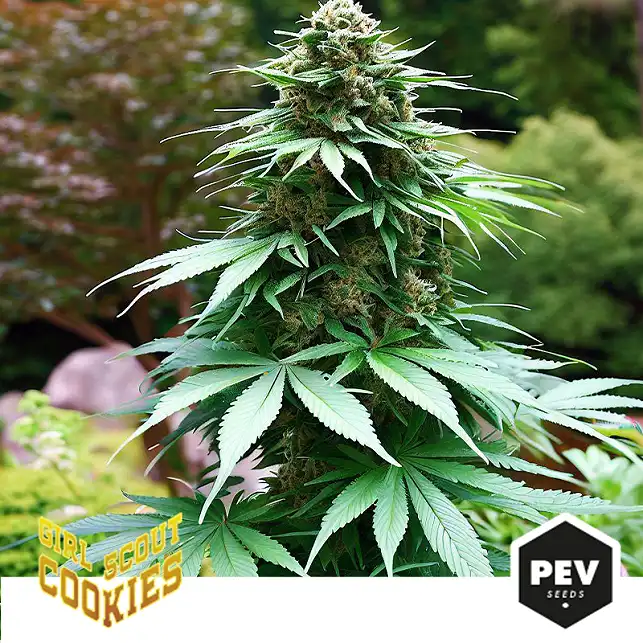 Girl Scout Cookies variety became popular as soon as it appeared. Everyone wanted to try it…
Features
Bank: PEV Bank Seeds.
Type: Feminized.
Genetics: Durban F1 X OG Kush, Kush, Og
Flowering period: 9-10 weeks
Phenotype: Hybrid
Harvest outdoor HN: Mid October.
Harvest outdoor HS: Mid April.
Outdoor production: 500-600 gr./plant.
Indoor production: 450-500 gr/m2
THC: 25%
⭐ Girl Scout Cookies seeds available in the market
Right now it is rare to find cannabis seed banks that do not offer seeds of this variety in their catalogue. Forum Cookies and Thin Mint clones have arrived in Europe, creating different feminized, autoflowering and even high CBD values versions.
If we had to choose just one of these replicas we would stick with the feminized PEV Bank Seeds' Girl Scout Cookies, as it encompasses all the desirable characteristics that catapulted this plant to the Olympus of cannabis: same appearance, identical smell and taste and its effect, only for experienced users.
So you know the best dessert you can order to enhance any meal, but don't let its name fool you, its smoke is smooth and creamy like cookies, but with a devastating power that if you haven't tried it yet I would put it on the urgent list.🍪😋
Die besten Skunk-Sorten aller Zeiten →