Reading Time
5
minutes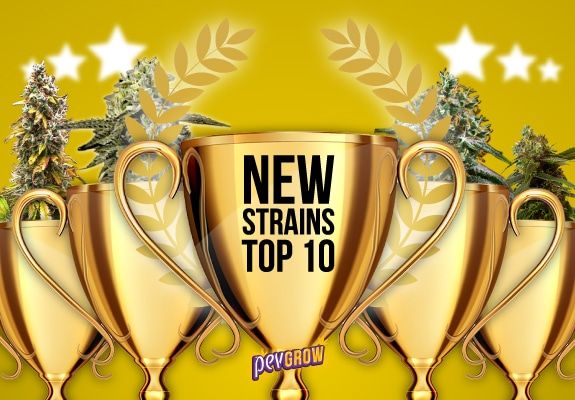 Many people ask us, what is the best marijuana strain of all those that have appeared in recent years? And that is a question that does not have a concrete answer, because as it happens with colors, flavors, music, etc. Each person has their own tastes and it is too subjective a matter to draw fair conclusions.
However, to try to be as objective as possible, we have carried out research based on the winning varieties of the latest cannabis competitions, those that have advanced the classics in terms of demand in dispensaries, coffee shops, consumer clubs and associations, and the ones that artificial intelligence and big data tools show us as the most searched in Google during the last five years. With all this data we have created a ranking with the 10 best new marijuana varieties.
✨ Top 10 new marijuana strains
1. Apples And Bananas
Excellent strain that emerged from the collaboration between 2 of the best breeders of recent years, Compound Genetics and the Cookie Fam. Its genetics are very complex, because among its ancestors there are strains such as Platinum Cookies, Grandaddy Purple, Blue Power, or the tasty Gelatti Strain. Apples And Bananas took third place in the High Times Cannabis Cup held in Nor Cal in 2021, as well as sweeping other cannabis competitions in America, and has established itself as one of the best new strains without a doubt
2. Ice Cream Cake
This genetics is the culmination of the entire Cookies lineage, the icing on the cake of a cannabis breeding journey that began with Girl Scout Cookies more than a decade ago, and after producing several champions, Ice Cream Cake Strain appeared as the variety most prominent of this family. It is a combination between Gelato #33 and Wedding Cake strain, and contains the flavor and colors of the first, and the production and power of the second. Her 3rd place finish at the 2021 High Times Cannabis Cup in Illinois coupled with her 2nd place finish at the last Emerald Cup make her one of the best new or late-breaking strains.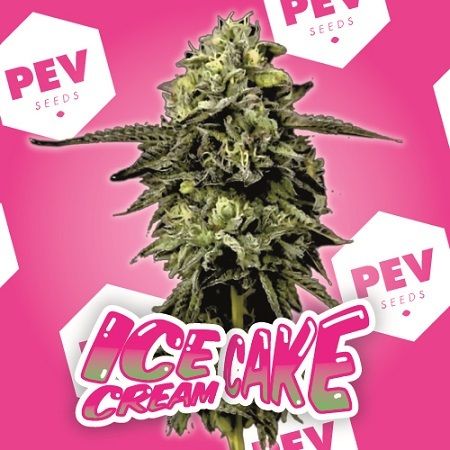 Buy Ice Cream Cake Strain
3. Gelonade
The creators of the already mythical Zkittlez strain surprised locals and strangers alike with this extremely tasty new variety obtained from the cross between Gelato#41 and Lemon Skunk. It stands out for the giant calyxes of its buds, its low proportion of leaves, the enormous amount of resin it produces, and as I told you before, a flavor reminiscent of lemon and banana sorbet that has captivated growers around the world. , as well as the judges of different cannabis competitions.
4. Tropicana Punch
What happens when you mix 2 delicious flavors? Usually a new delicacy is discovered, and that's what ONI Seed breeder Noodles must have thought when he decided to cross his Tropicana Cookies with the famous Purple Punch. Well, not only did it achieve its organoleptic objective, since in addition to obtaining a new tasty polyhybrid, Tropicana Punch has one of the most powerful effects of the moment, and has won awards in multiple cups, as well as being among the most sought-after varieties of what we have. from 2022, and it is one of the most recent genetics that has achieved the longest journey.
5. Runtz
Runtz and some of its new descendant varieties such as Rainbow Runtz, Banana Runtz, or White Runtz, have become the favorite marijuana seeds for millions of growers around the world. The secret of its success is based on the extraordinary quality of the parents that make it up, Gelato Weed Strain and Zkittlez, which has given it one of the most defined aromas, and above all an effect that leaves no one indifferent.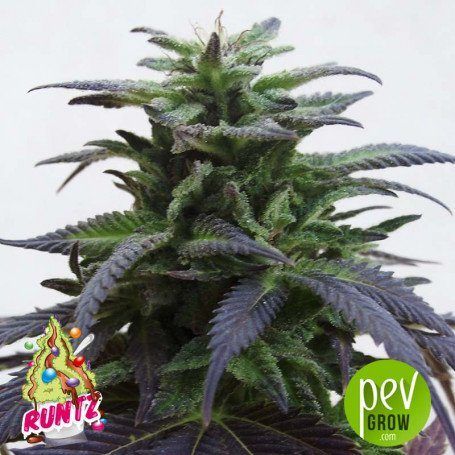 Buy Runtz Strain
6. Miracle Alien Cookies
Also known as MAC, and although it is not a new variety, since it appeared on the scene it has not stopped winning cannabis cups, including in the latest HTCC in Nor Cal. Originally created by Capulator from the cross between Alien Cookies, Starfighter, and a Colombian sativa, is one of the most consumed strains in dispensaries and clubs around the world for its intense flavor and special effect. Some time ago it was impossible to find seeds of this genetics, but luckily now we have available feminized seeds of the same quality as the original.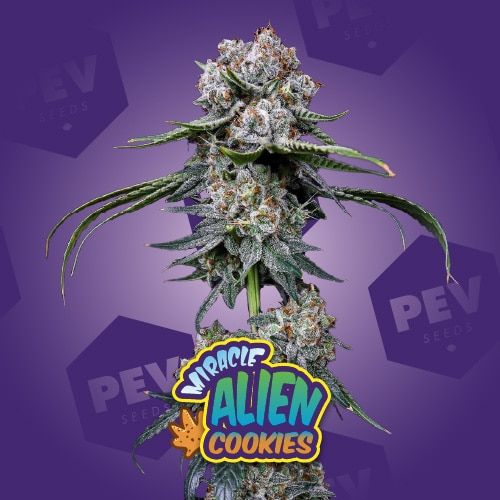 Buy Miracle Alien Cookies Strain (MAC)
7. Wedding Pie
Among all the new marijuana strains, Wedding Pie is the one that has increased its visibility the most in search engines, and the truth is that it is totally understandable, since this Cannarado Genetics plant formed from Wedding Cake strain and Grape Pie is conquering the palates of all cannabis consumers on the planet. Its effect is very relaxing, and despite not being the most productive plants you can find, its flavor and power have made it one of the future queens of cannabis.
8. Duct Tape
You may never have heard of it, because it's a relatively new strain created by Archive Seeds, but its world-renowned and massively consumed parents, Dosidos and Gorilla Glue Strain. It can be said that it has taken the best of each one of them, it has even surpassed the Gorilla in amount of resin and THC level, and its flavor fuses the gaseous touch with incense, pine and hashish to perfection. It is a very exclusive polyhybrid, but luckily there are already feminized seeds with this prestigious genetics..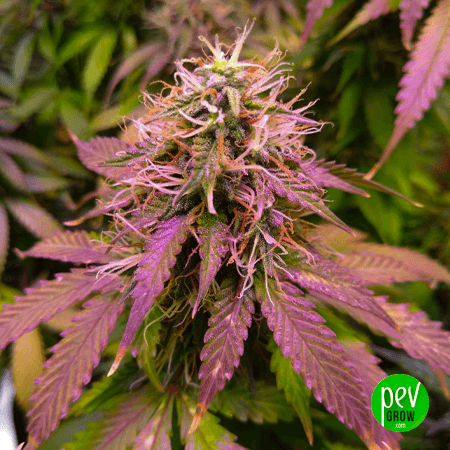 Buy Duct Tape Strain
9. LA Kush Cake
The most recent success of the Seedjunky Genetics factory, but we are sure that it will not be the last because this seed bank is responsible for many champion varieties in recent years. It is a combination of Wedding Cake with Kush Mints, and its buds are some of the most compact and resinous we have seen in our entire lives. In the flavor, menthol prevails but with sweet notes reminiscent of some types of pastries, but it must be treated with great respect because its potency may be too high for some consumers.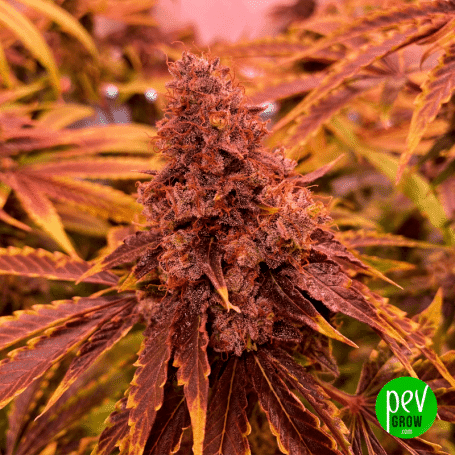 Buy LA Kush Cake Strain
10. Garanimals
Another new variety of marijuana practically unknown to the general public, but which has been placed among the top of the best valued in different portals for the sale of flowers and cannabis extracts. This plant contains Grape Pie and Animal Cookies among its genes, 2 separate champions that together have formed what could be considered the perfect hybrid. The taste is sweet as well as spicy, but what will go down in history is for its impressive effect, not suitable for consumers with low tolerance to THC.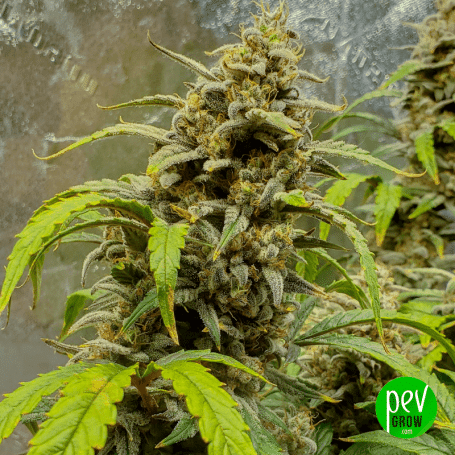 Buy Garanimals Strain
🚀 Conclusion
Every year hundreds if not thousands of new cannabis varieties appear, but only a few achieve success and are among the best. In this Top 10 of the best new varieties , you will surely find some that you had not even heard of, but I assure you that from now on you will find them in numerous weed seed banks and weed suppliers because they are conquering the market by leaps and bounds. If you liked this article, we would greatly appreciate it if you share it on your social networks, as this way the information will reach many more people.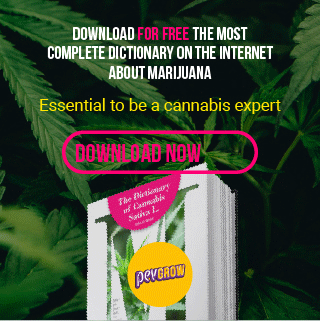 Free Download
Cannabis Dictionary
2023 Edition
Insert a correct email address
You must accept the privacy policy
SITE OF SHOPS ONLINE S.R.L with CIF: B98262777 and address for notifications in C/ VEREDA MAS DE TOUS Nº 22 LOCAL C, 46185 LA POBLA DE VALLBONA, VALENCIA, Phone: 961658271 Email: customer(at)pevgrow.com
At the name of Consulting we process the information you give us in order to provide the requested service, perform the billing of the same. The data provided will be kept as long as the business relationship is maintained or for the years necessary to comply with legal obligations. The data will not be transferred to third parties except in cases where there is a legal obligation. You have the right to obtain confirmation as to whether SITE OF SHOPS ONLINE S.R.L. is processing your personal data and therefore you have the right to access your personal data, rectify inaccurate data or request its removal when the data is no longer necessary
🔥 Frequently asked questions
How do you make a new variety of marijuana?
There are different ways to create a new variety, but the simplest is to cross 2 different genetics and stabilize the result through inbred crosses. If you want a new authentic variety from scratch, it is best to start with landrace strains, since in addition to being original, they usually transmit their best genes very well. In recent years we have seen new varieties based on other works, such as feminized, autoflowering versions, or versions rich in CBD and other minority cannabinoids. In these cases, it is enough to take an elite clone and introduce new genes through backcrossing techniques.
Where to buy seeds of a new cannabis strain?
Some of these new strains are only available as cuttings, and some dispensaries and clone nurseries in the US offer them, but the problem is that we can never be sure of their authenticity because we already know how many of these companies operate. At Pevgrow we have feminized and regular seeds of some of the varieties in this ranking, offered by different trusted banks, and some of them already have good reviews from growers who have tried them.
Die besten Skunk-Sorten aller Zeiten →