PEV Grow's bulk marijuana seeds can be feminized, medical, or auto seeds in bulk, but all are trusted and tested by our staff before release. We have a wide variety of famous genetics that are normally sold in packets of seeds, but here we offer them in bulk to reduce costs.
What are bulk seeds?
They are marijuana seeds that are sold in larger quantities than those offered in commercial packets. You could say that they are white brand seeds, because in general they are the same genetics as those that can be purchased from well-known brands, and not because they are lower cost means that they are of poorer quality.
*All
PEV
bulk cannabis seeds have undergone strict quality controls, ranging from manual selection of seeds to post-harvest analysis, through germination tests, stress tests, and cultivation in different media and environments.
Bulk or bank seeds?
If you are going to need few units I recommend you to buy from the bank, since most commercial brands offer germination guarantee and other advantages, so it is interesting to pay a little more in that case, and be more relaxed. But if you need more than 20 or 30 units you should buy seeds in bulk, because the savings are considerable, and even when a seed fails it is still more interesting.
Bank seeds do not guarantee success, and often the individuals that come out are not much like the buds of that variety that appear in the photos in the catalogs. Some brands respond to problems of hermaphroditism, lack of vigor, mutations, or other genetic problems, but many others do not even give explanations.
Cheap bulk seeds, but reliable
Not all bulk seeds on the market are quality,
sometimes you can find very cheap prices that once you try them you understand the reason for such an offer. I recommend that you buy all your seeds in specialized grow shops, which have many years of experience in the sector and you can see many reviews from customers who have already tried them.
Pevgrow bulk marijuana seeds are the result of more than a decade of work and collaborations with some of the most important breeders and producers in Europe. Our demands are so high that many varieties do not reach the market, in most cases because of their sexual stability, but also because of lack of homogeneity or vigour, or also because they are prone to pests and diseases.
Feminized seeds in bulk, the best sellers 
All our bulk seeds are feminized, regardless of whether they are autoflowering, CBD-rich, sativa, indica, or polyhybrids. We also have some feminized F1 bulk seeds, which are the most stable and uniform, such as Bubble Gum, White Widow, or Hashplant among others. You can even find fast bulk version seeds, like our Durban Poison Fast Flowering, the fastest sativa hybrid on the market.
Other interesting bulk seeds are the pure strains or landraces, because they are getting harder and harder to find. In that classification you have pure sativas like Thay Chocolate or Jamaican Lambsbread, or indicas like the potent Hindu Kush. But the best sellers are the polyhybrid bulk seeds, some european classics like Amnesia or Critical, and some additions with american genetics like the tasty Gelato.
Amnesia seeds in bulk
It has been for more than five years the best-selling cannabis genetics in Europe, and it is very likely that his reign will continue because it is difficult to find more complete varieties. It is the most powerful Haze hybrid, its potency is only suitable for experienced consumers, and its name is ideal because in many cases it makes you forget who you are.
Our Amnesia Lemon seedsin bulk contain THC levels that easily exceed 20%, and an extra limonene that enhances its effect. But if you consume marijuana medicinally and do not want to get high, it is best to choose the Amnesia CBD bulk seeds, as their psychoactivity is much lower, but their THC concentration is very high.
Amnesia bulk seeds are perfect for growers who want to get high yields of buds, because they are one of the few genetics that can overcome the barrier of gram / watt without problems. The flavor is very peculiar and marked, intense from the first puff to the last, less incensed than other Haze, but with many spicy, citrus, and woody nuances. If you love the Genetics Haze I recommend you read this article from our blog that talks about this mythical cannabis family.
Critical Bulk Seeds
The most commercial bulk cannabis seeds, those that produce the highest yields in the shortest possible time and in any situation. Its high resistance and versatility allow it to adapt perfectly to all growing systems and media, always giving good results. This is the main reason for the success of Critical bulk seeds, but not the only one, since its fruity flavour is liked by everyone, and the relaxing effect it gives you is impressive.
Our Critical + bulk seeds have very good ratings from some of the customers who have tried them, and that's not by chance, as everyone is happy with this weed. But if you prefer Critical hybrids in bulk don't worry, in this category you have Critical x Hindu Kush, Critical x Somango, and Critical Widow, which are Critical Bilbo crosses but in bulk, all excellent and with an unbeatable quality/price ratio.
Gelato seeds in bulk
This marijuana is conquering the world market like no other had done before, and already is in the top 3 of the most demanded bulk cannabis seeds in the world. Its taste is from another galaxy, sweet, fresh, creamy, an explosion of terpenes in your mouth that you can not stop tasting, and its spectacular layer of resin makes it perfect for processing cannabis extractions.
If you are interested in Gelato marijuana seeds in bulk, I advise you to try the Gelato Cake
, produced from the self-pollination of what we consider the best selection of this genetics, Gelato . Another good option that even comes out cheaper, are the cheap feminized Gelato seeds from Spain Bulk Seeds, with similar genetics and very good quality too. For more information about this delicious American genetics, be sure to read our Gelato strain article, you'll like it.
The best bulk seeds you can find here
You may find cheaper bulk seeds in other places, but I recommend you to inform yourself well before choosing what you are going to plant, because sometimes cheap is expensive. At PEV Grow we differentiate ourselves from the competition by offering a 100 days satisfaction guarantee, and ensuring the germination of the seeds, something you won't find elsewhere.
We don't have a list of 100 varieties of bulk seeds, because we only offer for sale those varieties that meet our quality standard. We carry out germination tests on each genetic monthly to check their viability, and we keep the seeds in airtight containers kept in a low temperature and humidity environment.
Bulk seed packets wholesale from just over 1 euro
The price of our bulk pot seeds varies according to the quantity of seeds you choose, with the cost decreasing as the number of seeds increases. If you think they can't be quality seeds because of their low cost I invite you to try them for yourself.
The reason for the low price is because these seeds do not involve advertising costs or packaging, something that is a high percentage of the final retail price of the seeds of commercial banks. The most important thing of the bulk seeds, like the rest of cannabis seeds, is its genetics, and in this case it is of first quality, exactly the same used by big brands of the sector.
Piensa En Verde bulk seeds reviews
If you want to get an idea of what a product you don't know is like, the best thing to do is to read the opinions of customers who have already tried it, and luckily most of our varieties have a lot of ratings and reviews. Below you can see some of the reviews of PEV's best selling bulk seeds:
Jack Herer
"I never thought a feminized could turn out this good. Medium height, controllable, various phenotypes but all resinous and compact bud. Super productive, strong branches and impressive smell and effect, this is blessed glory at a bargain price."
"This is a robust plant that I had no trouble dealing with. Planted outdoors it was able to withstand frost and it didn't take much for me to get it to give me a great yield."
"Very good would highly recommend it"
Critical Plus
"Excellent quality, amazing germination, definitely a very good variety"
"Simply excellent"

Bruce Banner

"beautiful and very productive plant although the best thing is its extreme potency"

"the bruce banner is simply one of the best plants I've ever had"

"Tremendous plant and very easy to plant I recommend it for novice growers tremendous specimen..."

Gorilla Glue

"The yield of this seed has pleasantly surprised me. Very pleased. "

"Gorilla vip a variety that pleasantly surprises you with its strength and psychoactivity..Producing a great well-being..... Relaxation... Very good for the good vibes..And the quiet and unhurried recreation..Very interesting for fibromyalgia....And other chronic diseases.."

"I loved this seed a tremendous quality and very successful in production."

OG Kush

"for me it is very special,because of its great physical and mental Power,leaving my body in a GENIUS state!!!"

"Variety that I know and appreciate very much .. very happy with the seeds received"

"Impressive how fast it flowers, the quality that comes out and the amount of yield it produces. 100% complete"

Haze XXL

"I didn't know this seedbank and I am pleasantly satisfied, Haze XXL is a pure sativa with a delicious tropical fruit taste. I recommend it 100%."

"A sativa that delivers a high. Thanks Pev Seeds"

"Tremendous buds full of lots of resin"

Frequently asked questions about bulk seeds

Which ones?

What are the best bulk seeds?

004* The best bulk marijuana seeds are those that have been tested in different growing conditions, always obtaining good results. To consider which are the best we value the ease of cultivation, yield, potency, organoleptic properties, resistance to stress, speed of flowering, and other minor issues. Taking all that into account, from our point of view these are the 10 best bulk seeds:.

Critical Plus
Amnesia Lemon
Critical Plus
Gelato
Jack Herer
Gorilla Glue
OG Kush
Bruce Banner
Bubble Gum
Girl Scout Cookies
White Widow

What is the cheapest seed?

The cheapest bulk seeds are those of the Spain Bulk Seeds line, which cost just over 1 euro when ordered in larger quantities. Within the category of the cheapest marijuana seeds, you have available some classic genetics such as Northern Lights, White Widow, Black Domina, or Hindu Kush, which have been proving their reliability and quality for decades.

What are feminized bulk seeds?

They are marijuana seeds that have been treated so that only female specimens come out of them, and they are sold cheaper than usual because they are usually purchased in larger quantities, and they are not advertised and do not come in flashy packages, so their price is much lower than that of the commercial ones.

Where to buy seeds in bulk?

You are in the best marijuana bulk seeds shop of the internet, because here you will find the best selection of cannabis genetics of all types. Indicas, sativas, F1 hybrids, polyhybrids, rich in CBD, American genetics fashionable, the most acclaimed classic varieties, and all of them in bulk seed format.
At Pevgrow we are specialists in the sale of bulk seeds, thanks to our extensive experience in the sector allows us to have direct contact with many producers, and every year we test many varieties, until we have the most exclusive catalogue of cheap cannabis seeds on the market. Now you just have to choose the one you like the most and enjoy the best seeds at the lowest price.
Opinions and doubts about Bulk seeds
Leave us your opinion or ask us any questions you have about this category and participate in the draw!
Among all of you who comment or send us your questions there will be a bimonthly draw for a 50 euros voucher to buy in Pevgrow. What are you waiting for? Write now and participate!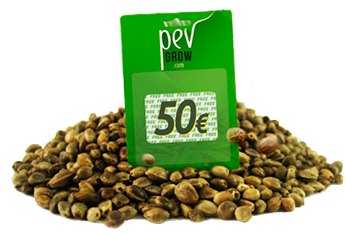 Customer Reviews