Reading Time
9
minutes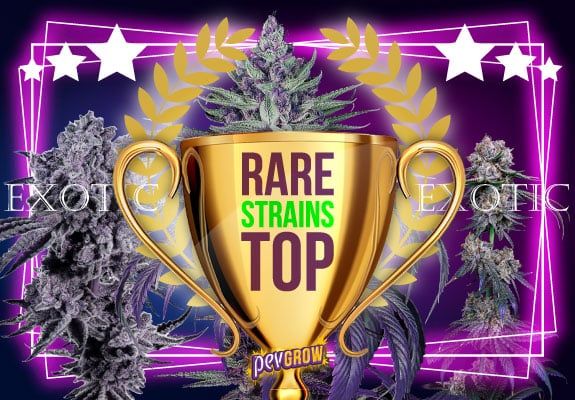 Today we have a large number of cannabis genetics of all kinds, from pure varieties, hybrids, polyhybrids, etc. Many consumers get carried away by trends and prefer the mainstream strains of the moment, but there are others who put originality first and are always looking for the most exotic marijuana plants. In this article we will see a list of exotic or rare weed varieties available today, I hope you enjoy it.
⭐ What is exotic marijuana?


It is a type of cannabis that for one reason or another is far from the usual, either because of its colors, aroma, flavor, morphology, or effect, although we also consider exotic marijuana those that are difficult to find. This weed is not as popular as trendy genetics can be, but if you think about it carefully it can become much more interesting because you can find unique traits or details that are impossible to discover in the most common strains.
⛳ What makes an exotic herb?
Morphology: Some cannabis plants show a type of leaf that is not the typical one of 7 or 9 separate and serrated leaflets, in fact some of them produce leaves that do not directly look like marijuana. There are also others that form very particular buds, so much so that they are easy to recognize with the naked eye, and there are even some that combine a leaf and bud morphology totally different from the most common, to the point of being able to go practically unnoticed at first glance.
Colour: It is one of the most sought-after strange traits in cannabis, surely because of how striking are the plants that have leaves and/or buds that are blue, purple, red, pink, black, etc. Within the rare types of weed, the colorful ones could be the most available because right now almost all seed banks have some genetics with exotic colors in their catalogs.
Organoleptic properties: Sweet, citrus, or incense aroma and flavor is quite normal in cannabis, but have you ever tried a smoke flavored with chocolate, cookies, cheese or fuel? Over the last few years, organoleptic properties have appeared for all tastes, which, in addition to improving the taste, can vary their potency thanks to the entourage effect.
Medicinal properties: Since medical cannabis began to be legalized in several countries around the world, all kinds of research began to be carried out, which has facilitated the appearance of new varieties that contain a special chemotype. Right now we have rare herbs available that are rich in CBD, CBG, THCV, CBDV, or even a combination of several of them.
Rare genetics: In the 1960s, 1970s and 1980s, dozens of pure strains or landraces were collected from many corners of the world, from South America, Asia, or Africa among other places. Once the first hybrids such as Original Haze, Skunk#1, or Northern Lights Strain began to become popular, the pure ones were left aside because the new creations surpass their predecessors in various aspects, but luckily a few years ago they began to look for again in different parts of the world those rare genetics that show qualities different from commercial hybrids and polyhybrids.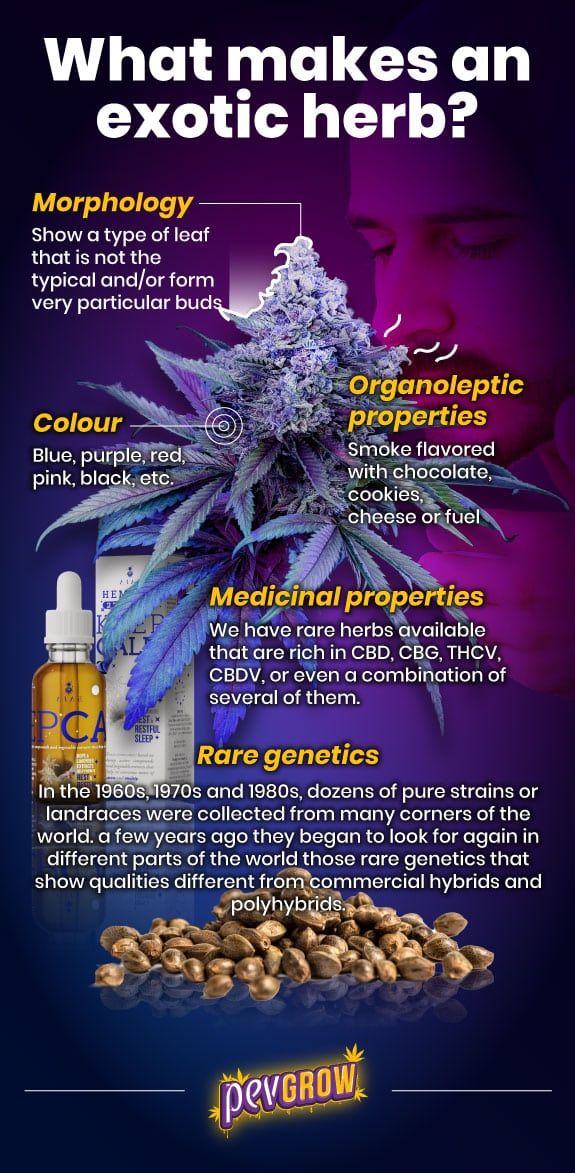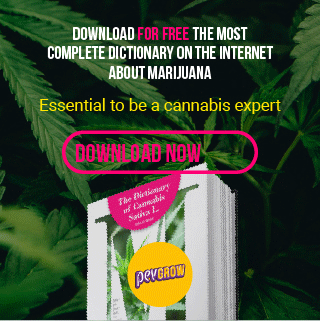 Free Download
Cannabis Dictionary
2023 Edition
Insert a correct email address
You must accept the privacy policy
SITE OF SHOPS ONLINE S.R.L with CIF: B98262777 and address for notifications in C/ VEREDA MAS DE TOUS Nº 22 LOCAL C, 46185 LA POBLA DE VALLBONA, VALENCIA, Phone: 961658271 Email: customer(at)pevgrow.com
At the name of Consulting we process the information you give us in order to provide the requested service, perform the billing of the same. The data provided will be kept as long as the business relationship is maintained or for the years necessary to comply with legal obligations. The data will not be transferred to third parties except in cases where there is a legal obligation. You have the right to obtain confirmation as to whether SITE OF SHOPS ONLINE S.R.L. is processing your personal data and therefore you have the right to access your personal data, rectify inaccurate data or request its removal when the data is no longer necessary
✨ Exotic Marijuana Strain Names
At this point we are going to try to classify the different rare types of weed depending on each quality that we have seen previously, because thanks to the work of searching, selecting, breeding and stabilizing the strange traits, today we have a large amount of exotic marijuana seeds available on the market. In this way you will be able to compare between different names of rare herbs within the trait that you put before the others.
Exotic Purple Yerba Varieties
Pakistán Chitral Kush: This is a pure indica strain from Pakistan, so it is surely one of the first exotic colorful marijuana strains in history. It is not completely purple, as most specimens keep the leaves green, but the flowers are a very striking hue and are capable of producing top quality hashish with beautiful purple highlights.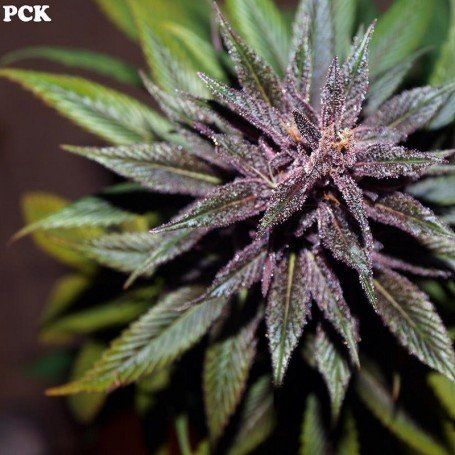 Buy Pakistan Chitral Kush Ace Seeds

Purple Haze: It was the first famous purple marijuana hybrid, a variation of the mythical Original Haze that showed a clear dominance of the Colombian used in the cross. Jimy Hendrix's song of the same title helped spread his fame, but he wasn't referring to the cannabis strain when he composed this famous '60s song.
Grandaddy Purple: Within this list of colorful exotic weed varieties, it is the one with the most intense colors and the most medicinal effect. It is not as old as the previous ones but it is already more than 20 years old, it is a favorite in many dispensaries, and it is the genetic base of some of the best polyhybrids of today, such as Girl Scout Cookies or Purple Punch among others.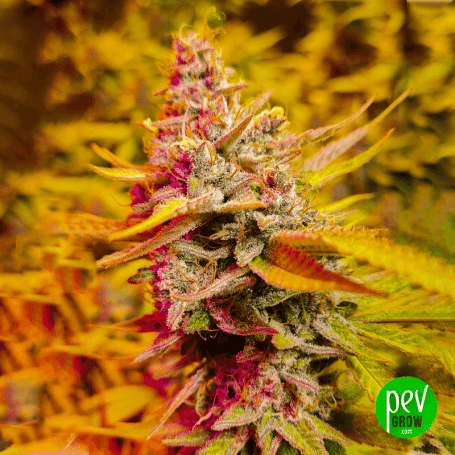 Buy Grandaddy Purple Spain Bulk Seeds
Purple Punch: It is surely the most demanded variety of marijuana with exotic colors today, and the truth is that it is not surprising because it is really special. The breeders of the Symbiotic Genetics bank made it fashionable and crossed it with other great strains to create other champions such as Mimosa or Wedding Crasher, among many others.
Best exotic marijuana strains for their morphology
Duckfoot: Named for the type of leaf it generates, because when the leaflets overlap, it reminds of the duck's foot with the skin membranes that join its "fingers", very different from the iconic cannabis leaf. It is a pure Australian variety from which hybrids such as Hawaiian Duckfoot or Frisian Duck have emerged, but its flavor and effect can be considered very mild.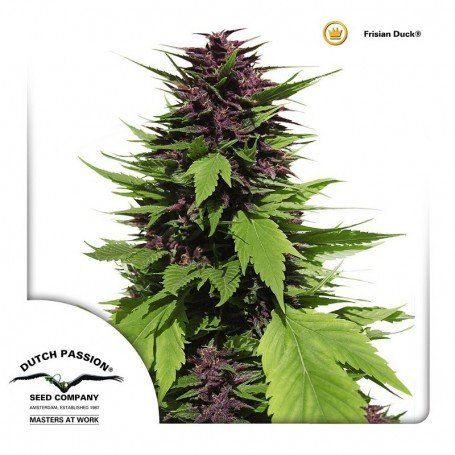 Buy Frisian Duck Dutch Passion

Australian Bastard Cannabis: Also known as "ABC", "Bindi Buds" or "Cannabis Australis", it is a very exotic mutant IBL variety due to the morphology of its lobed leaves and even its buds. From our point of view, it is a better strain than Duckfoot in general, with a greater amount of resin, a more powerful effect, and a flavor and aroma that is not bad at all in this crazy and exotic weed.
Freakshow: Another super exotic mutant marijuana strain, created by the Humboldt Seed Company bank from an unknown sativa hybrid, although we think it may be related to Australian Bastard Cannabis due to the strange morphology of its leaves. It is a special plant not only for its exoticism, since for a sativa it is very fast, and its organoleptic properties are different.
Doctor Grinspoon: Dedicated to the great Lester Grinspoon, a doctor known in our world for his faith in cannabis as medicine. It is a pure sativa of unknown origin, from the so-called old family heirlooms or heirloom. The particularity of this strain is the morphology of its buds, which look more like a bunch of grapes emerging from the branches.
Marijuana with the rarest medicinal properties
CBG Time: One of the first cannabis strains rich in cannabigerol (CBG) and without a doubt the best of all the commercial ones. This genetics from PEV Seeds concentrates up to 15% of this cannabinoid, and the percentage of THC remains at an incredible 0.1%, so we cannot speak of a psychoactive marijuana, and only its therapeutic effects and its excellent citrus fruity flavor.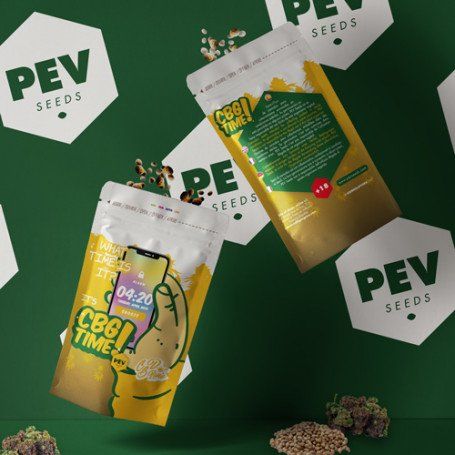 Buy CBG Time Pev Bank Seeds
Novarine: The Elite Seeds bank could be considered an exotic marijuana brand because in its catalog it has many strains that, due to their chemotype, are out of the ordinary in the cannabis seed market. Novarine produces practically the same amount of THCV as THC, and for this reason its effect is different from what we are used to.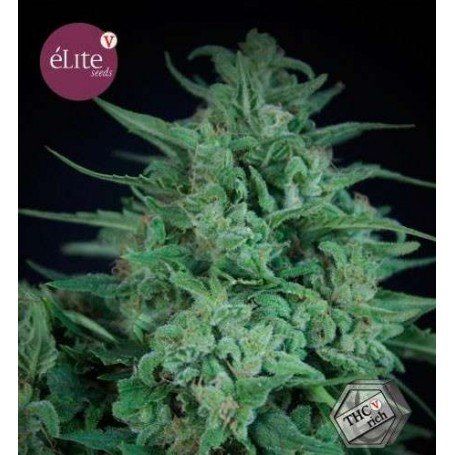 Buy Novarine THCV Elite Seeds
Auto CBD-Victory: The first autoflowering commercial cannabis strain rich in CBDV, which produces between 4% and 6% of this medicinal cannabinoid so rare to find in nature. It is one of the most exotic weed varieties because it is automatic flowering, feminized, with high levels of CBD and CBDV, and it does not get high because it hardly produces THC.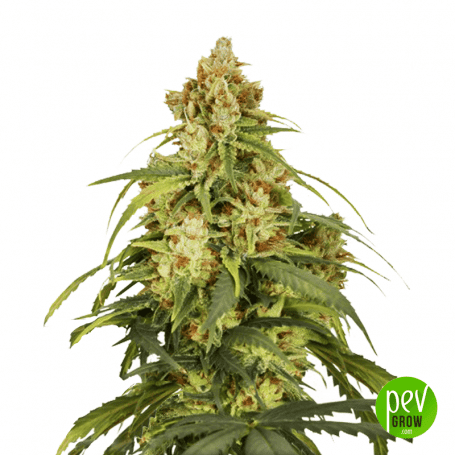 Buy Auto CBD-Victory Dutch Passion
Quatrovarín: A type of real exotic yerba mate because it is unique in the world. Another creation by Iñaki, a biologist from the Canna Foundation and a breeder from the Elite Seeds bank, specialized in searching for and stabilizing minority cannabinoids. The Quatrovarin chemotype shows a CBDV:CBD:THC:THCV ratio of 3:5:4:4, a very exotic medicinal product never seen before.
👌 Cannabis varieties with the most exotic organoleptic properties on the planet
Chocolate Thai: Pure Thai variety that became one of the favorites in the 70's and 80's thanks to the quality of its sativa effect and especially for its aroma and taste of dark chocolate. Some current varieties such as Gorilla Glue or Chocolope XXL Auto have this strain among their ancestors, but if you have the opportunity to try the authentic one, you will enjoy one of the most exotic herbs in history.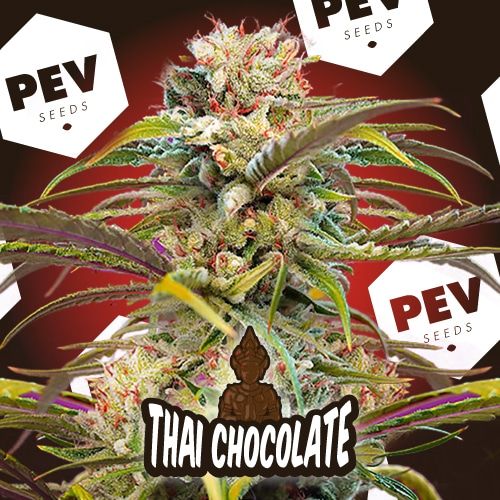 Buy Chocolate Thai Strain
Banana Kush: When banana-flavored marijuana appeared, it marked a before and after in the cannabis scene. Created by the breeder Crockett through a cross between Ghost OG and an old Skunk/Haze phenotype, in addition to its exotic organoleptic properties, the exaggerated amount of large resin it produces should be highlighted.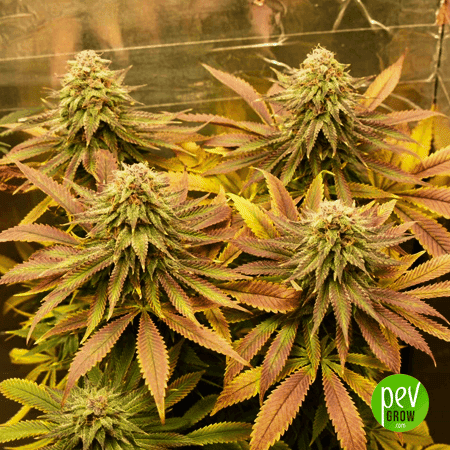 Buy Banana Kush Spain Bulk Seeds

Girl Scout Cookies: If we had to choose only one exotic grass variety from history, we might choose Girl Scout Cookies for its cookie and vanilla aroma and flavor, its striking colors, the low proportion of leaves it produces, the massive density of its buds, or the large amount of resin that covers the flowers and leaves.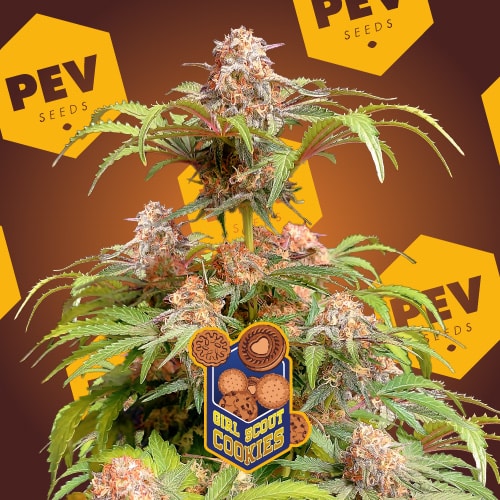 Buy Girl Scout Cookies PEV Bank Seeds
New York Diesel: This genetic descends from the Original Diesel, which already had a certain aroma and flavor of fuel, but the breeder Soma crossed it with his male Hawaiian/Afghan and the touch of gasoline was greatly reinforced. It is so special because it does not leave anyone indifferent, normally either you love its flavor or you do not like it directly, with no middle ground.
📲 Exotic marijuana seeds for sale
Below you can see a list of rare or exotic marijuana seeds that will surprise you with their unique traits. If you are tired of the usual weed, take a look at these varieties and reserve the seeds that you are going to grow in your next indoor or outdoor.
Guava Cake: If you like exotic tropical fruity flavors you have to try the Guava Cake variety. A cross between Guava Gelato and Zkittlez Cake, it is considered one of the tastiest marijuana plants of all time.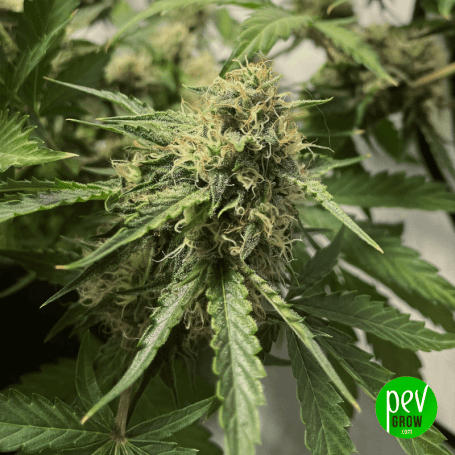 Buy Guava Cake Spain Bulk Seeds
Chocolate Thai: All the power of Southeast Asian sativas and the excellent aroma and flavor of chocolate but with the advantage of modern feminized seeds. If you were left with the desire to try this exotic classic genetics, now you have the opportunity to do it in the simplest way.
CBG Time: Many people have tried CBD-rich strains, but CBG is still not as common and for some illnesses it may be the best option. CBG Time is special for 2 types of consumers, those who want to enjoy exotic marijuana due to its cannabinoid profile and those who want to enjoy a good flavor without getting high.
New York Diesel: It is one of those strains that you have to grow at least once in your life for its aroma and flavor so particular. Although it became famous for its organoleptic quality, it is important to know that its cultivation is very simple, it yields very well, and it gives you a very special effect because some specimens produce CBD.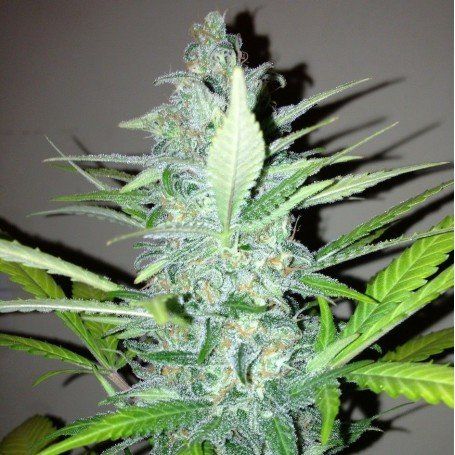 Buy New York Diesel Pev Bank Seeds
Peanut Butter Breath: Marijuana strain with an exotic peanut butter flavor. It is an original combination between Dosidos and Mendo Breath F2, which in addition to its sweet taste hides a concentration of THC that can exceed 25%.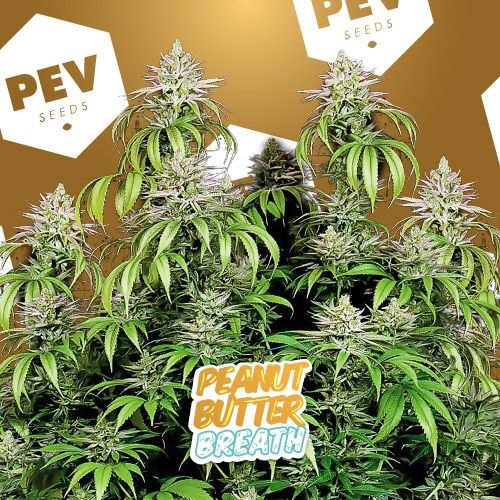 Buy Peanut Butter Breath Strain PEV Bank Seeds
Quatrovarín: For lovers of exotic marijuana strains for its type of effect, since by combining the medicinal and psychotropic properties of up to 4 different cannabinoids, the entourage effect is incomparable. If you have not been able to improve your health problems with other strains, try Quatrovarín and compare.
Freakshow: One of the biggest advantages of Freakshow is that it can go unnoticed in guerrilla grows, as it doesn't look like a cannabis plant until the buds start to fatten up. If you like to make your own cannabis crosses, with these seeds you can give other varieties a freaky touch.
Grandaddy Purple: One of the most exotic marijuana seeds of all time, and it is also complete in every way. Intense purple colors, fruity flavor, high production, great adaptability to different environments and cultivation systems and the most medicinal effect you can imagine.
Pink Plant: If you like exotic colorful marijuana, you have to meet Pink Plant Strain, a genetic that combines purple buds with pink pistils, a real spectacle not only for the eyes, since it also emanates a floral and fruity perfume that usually everyone likes it.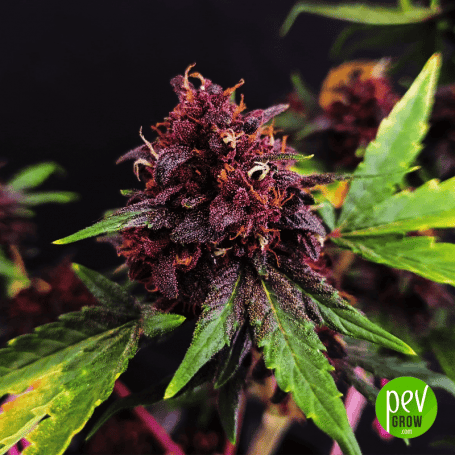 Buy Pink Plant Spain Bulk Seeds
Duckfoot: The exoticism of the Duckfoot marijuana variety is not only in its famous duck foot-shaped leaf, because it is also a rare genetics that is rarely used to create new hybrids. Like Freakshow and ABC, these plants are ideal for outdoor growers to camouflage their grow.
🔥 Conclusion
Today we have seen the most exotic marijuana and marijuana seeds strains on the planet, those with an unusual cannabinoid profile, striking colors, strange aroma and flavor, or unusual leaf or bud morphology. Yerba Rara fans can now choose from many different genetics, and in this article we have seen the best of today.
👾 Frequent questions
How are exotic marijuana plants grown?
In general, they are grown exactly the same as the rest of the strains, but it must be taken into account that many of the exotic varieties are pure genetics that normally require fewer nutrients than commercial polyhybrids. When growing medicinal varieties or those with an exotic taste, it is recommended to use organic fertilizers to get the best end product.
How much THC do exotic weed varieties have?
That depends on the variety, the phenotype analyzed, or the type of cultivation, among other things, but to give you an idea, I will tell you that in general they produce less THC than modern strains. However, there are some exotic marijuana strains with high levels of THC, such as Doctor Grinspoon, Freakshow, or Peanut Butter Breath.

Alan Martínez Benito
CEO of Pev Grow, expert grower with more than 20 years of experience.
In constant struggle for the regulation of cannabis, mainly in the medicinal field.
See more posts
How to remove the smell of marijuana in the best way →