Reading Time:
7
minutes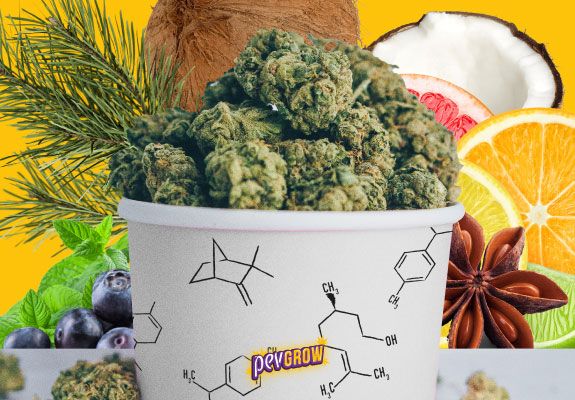 Every day there are more people who use terpenes in their daily life to obtain all kinds of benefits, to better concentrate, calm down, relieve pain, treat inflammation, improve depression, and for many other reasons. In cannabis you can find all kinds of terpenes, therefore there are varieties of marijuana that can help us improve our quality of life, but many times we do not know which ones may be better for each moment.
For this reason we have thought that you might like to have a chart that shows the most common cannabis terpenes, the varieties where you can find them, the properties of each one, the benefits they provide us, and the ideal temperature for vaporization.
👾 Cannabis Terpene Chart
Join the Pevgrow cannabis family in our:
Variéties
Smell
Properties
Benefits
Vaporization
Limonene
Limoncello

OG Kush

Sour Diesel

Durban Poison

Amnesia Lemon

Citric

Lemon

Orange

Grapefruit

Lime

Insecticide

Antibacterial

Antifungal

Antioxidant

Antidepressant

Anxiolytic

Anti – stress

Antinauseas

176 º C
Caryophyllene
Gorilla Glue

Chemdog

Sour Diesel

White Widow

Girl Scout Cookies

Soiced

Spicy

Fungicide

Receptor activador CB2

Analgesic

Anti – inflammatory

Anxiolytic

Motivating

Anticoagulant

160 º C
Mircene
Blue Dream

Grape Ape

Purple Urkle

Northern Lights

OG Kush

Herbal

Earthy

Antibiotic
Relaxing

Anti – inflammatory

Anxiolytic

Antioxidant

Antinauseas

168 º C
Pinene
Skunk

Cereal Milk

Harlequin

Lavender

Critical Plus

Pine

Fir tree

Insecticide

Antibiotic

Antimicrobial

Bronchodilator

Expectorant

Anxiolytic

Analgesic

155 º C
Eucalyptol
GMO

Dutch Treat

Bubba Kush

Animal Mints

Blue Dream

Mint

Eucalyptus

Repellent

Insecticide

Antiseptic

Antimicrobial

Antipyretic

Analgesic

Anti – inflammatory

Expectorant

Antitussive

Hypoglycemic

176 º C
Linalool
Zkittlez

Skywalker OG

Lavender

L.A. Confidential

Dosidos

Floral

Lavande

Antipileptic

Regeneranting

Contraceptive

Sedative

Anxiolytic

Anti – inflammatory
Anticancerígeno

Analgesic

198 º C
Terpineol
Jack Herer

White Widow

Girl Scout Cookies

Amnesia

Sensi Star

Herbal

Floral

Pine

Citric

Comforting

Repellent

Antibacterial

Antifungal

Sedative

Antioxidant

Cardioprotective

Anticancer

Narcotic

219 º C
Humulene
Gelato

Candyland

Gorilla Glue

Wedding Cake

Sunset Sherbert

Earthy

Wood

Hop

Herbal

Spices

Antibacterial
Anti – inflammatory

Antitumor

Anorexic

Antioxidant

Anticancer

198 º C
Ocymene
Orange Cookies

Sour Diesel

Clementine

Dutch Treat

New York Diesel

Candy

Herbal

Wood

Citric

Antiseptic

Antiviral

Anti – inflammatory

Antioxidant

Antidiabetic

65 º C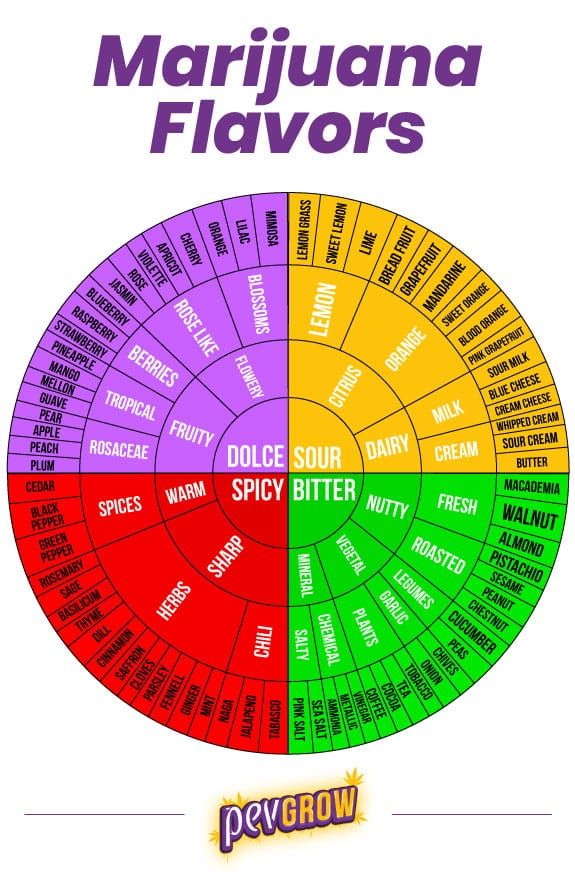 🔥 Best terpenes to treat anxiety
There are several terpenes with anxiolytic properties, and this is one of the most common effects of cannabis in general. Among all of them, we consider limonene, caryophyllene and myrcene to be the most effective in this regard, and they are also the most present in modern marijuana varieties, so it is a good idea to choose OG Kush or Sour Diesel seeds to calm anxiety or punctual states of nerves.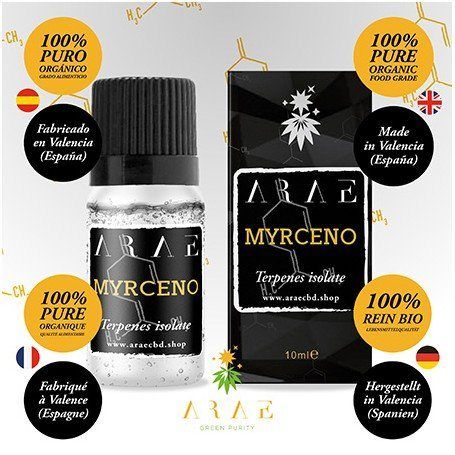 Buy Terpene Mirceno
🎯 Best terpenes for pain relief
In this case, both terpenes with analgesic and anti-inflammatory properties can work well, so there are quite a few that can help us relieve pain. To combat pain in localized areas with inflammation, arthritis, or chronic pain, the best terpene may be linalool, followed by caryophyllene. Myrcene, for its part, demonstrated in a study with mice in 1990 that it can inhibit certain types of pain. Some strains like Zkittlez or Skywalker OG can be perfect for pain relief.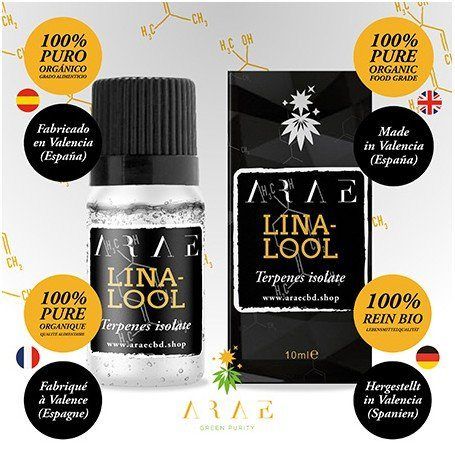 Buy Terpene Linalool
🧐 Best terpenes to avoid nausea
It is suspected that caryophyllene may be good for treating nausea, but both limonene and myrcene have been shown to be very effective in this regard, and for this reason we think they may be the best option as an antiemetic and anti-nausea solution. If you are looking for marijuana seeds of varieties that can help you avoid vomiting or feeling sick, try Blue Dream or White Widow, which in addition to improving health, their effect helps to see problems from a more positive point of view.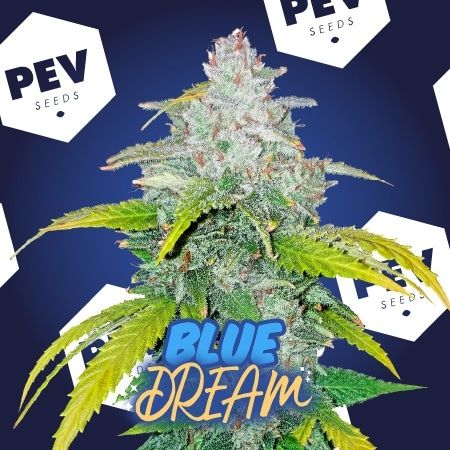 Buy Blue Dream Strain
➕ Best terpenes to relax and sleep well
As with anxiety, a good part of today's cannabis terpenes and varieties help to fall asleep, some due to their clearly sedative or narcotic properties, and others that cause such relaxation that they end up causing sleep. Of all of them we are left with Linalool and terpineol, but it is best that they come from a mainly indica variety to achieve the greatest entourage effect, such as L.A. Confidential, Sensi Star, or White Widow among others.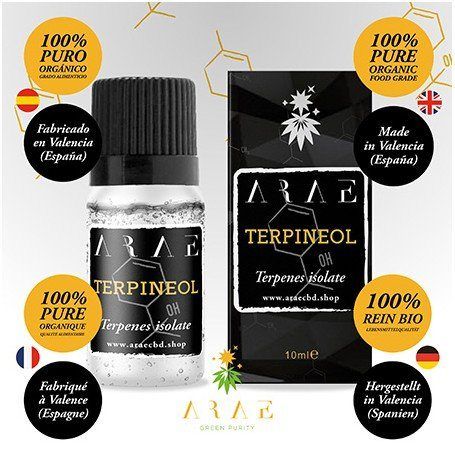 Buy Terpene Terpineol
🚀 Best terpenes to treat ADHD and improve concentration
To treat attention deficit hyperactivity disorder, varieties rich in terpenes can be used to help us concentrate. It seems that pinene is the most suitable terpene to improve focus and concentration, closely followed by terpineol, and although this is not entirely clear, it is possible that sativas perform better than indicas for this mission. If you want 2 perfect strains to improve attention for people with ADHD, try Critical Plus or Jack Herer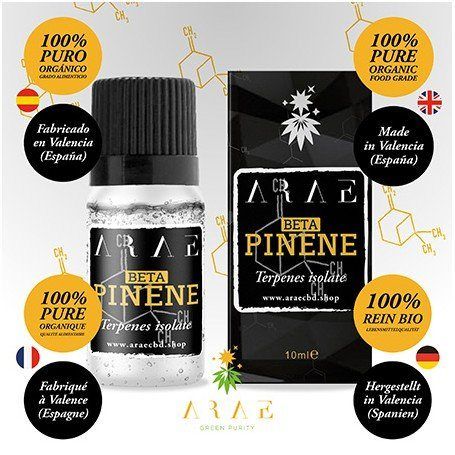 Buy Terpene Pineno
✨ Best terpenes to combat depression and increase happiness
Sadness can lead to depression, and depression can come from anxiety, so limonene, myrcene, or caryophyllene can work well, especially limonene. But if the depression is caused by stress, linalool can be more effective, which also relieves anxiety, so the best varieties to treat depression and enhance happiness can be Zkittlez, Lavender, or Do-si-dos, among others.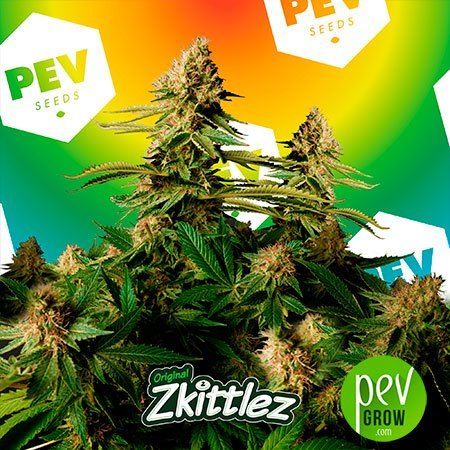 Buy Zkittlez Strain
⛳ Best terpenes to relieve menstrual problems
Premenstrual pain and menstrual cramps can affect the quality of life of millions of women every month, but luckily medical cannabis can be very useful to prevent, alleviate, or directly eliminate this suffering. Until a few years ago it was thought that the most effective varieties in this field were those with very high THC, but since the appearance of genetics rich in CBD they have displaced the previous ones in the treatment of pain. It seems that regardless of cannabinoids, strains rich in caryophyllene and linalool are the best option for this type of pain, and among them Gorilla Glue and Girl Scout Cookies stand out for their effectiveness. If you don't tolerate THC well, try Cannatonic or CBD Time for similar effects without noticing strong psychoactive effects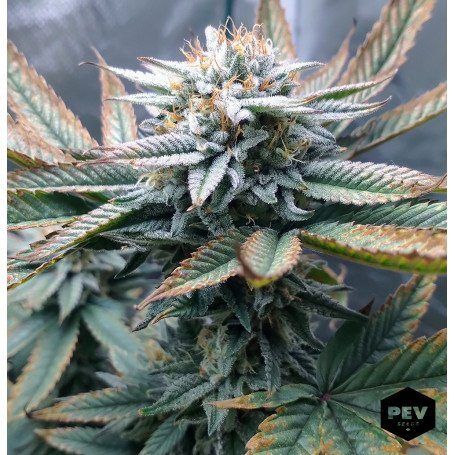 Buy Girl Scout Cookies Strain
⭐ Best terpenes to treat neuralgic and neuropathic pain
Linalool reduces the excitability of cells in the spinal cord that transmit pain signals to the brain, and increases levels of adenosine in the brain (a central nervous system depressant), something that helps relieve nerve pain like no other terpene. For its part, caryophyllene activates the CB2 receptor, and it seems that it can also be good for calming neuropathic pain. At the moment we think that the best variety of commercial marijuana to eliminate pain related to the nerves or in the central nervous system may be the powerful Do-si-dos.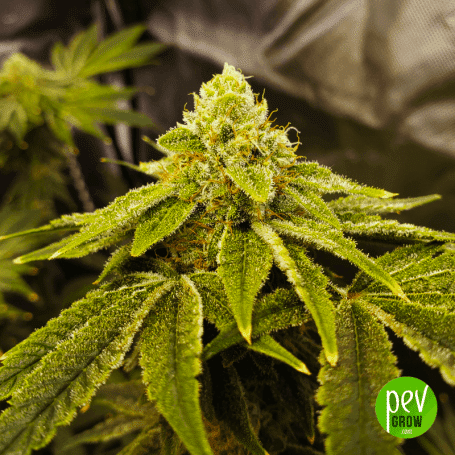 Buy Do-si-dos Strain
📲 Best Terpenes to Improve PTSD (Post Traumatic Stress Disorder)
Several studies have shown that pinene, limonene and linalool can be effective in treating post-traumatic stress disorders, but as with relaxation and falling asleep, stress relief is another of the most common effects of cannabis Also post-traumatic stress. We believe that the best strains to combat PTSD should contain a combination of some of these terpenes added to a high content of THC, CBD or both, and within all of these, both Purple Punch and Blue Dream may be ideal.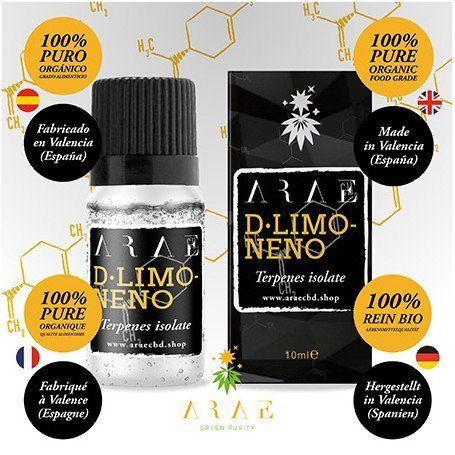 Buy Terpene Limoneno
🎬 Best terpenes to suppress appetite
Although whetting your appetite is another of the more normal effects of marijuana, there are some varieties that contain terpenes that have just the opposite effect, that is, they inhibit or suppress your appetite. Both limonene and humulene can be used in diets because they have this ability, and if combined with a THCV-rich chemotype the entourage effect will maximize appetite suppression and even gradual weight loss. THC-Victory or Dough Varin can be 2 special genetics for people who want to control their weight or avoid the munchies
Buy Terpene Humuleno
☕ Terpenes to fight against cancer
It is a pity that there are so few studies on the matter, because some of them are very encouraging, since it has been shown that some cannabinoids can selectively induce cancer cells to commit suicide. Regarding terpenes, caryophyllene showed cytotoxic activity in lung cancer and ovarian cancer cell lines through the induction of cell cycle arrest and apoptosis. From our point of view, strains with high levels of THC and caryophyllene may be the best to fight cancer progression, and among all of them Chemdog or Sour Diesel may be perfect.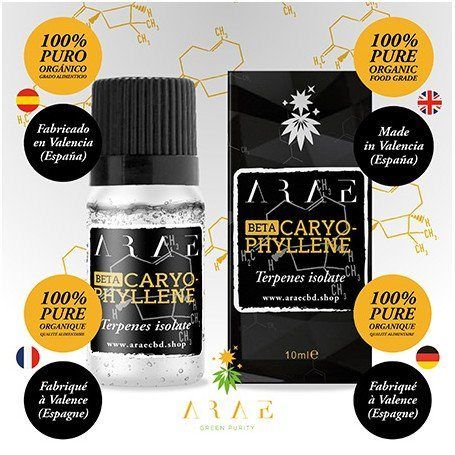 Buy Terpene Cariofileno
📖 Terpenes to alleviate the effects of menopause
Many women experience hot flashes, mood swings, weight gain, or sleep disturbance when they reach a certain age and begin to feel the effects of menopause. In the USA and other countries, cannabis is being used more and more to better cope with these effects, and some women claim that it helps them lower their body temperature to relieve hot flashes and night sweats, regulates their sleep, or improves their mood. The problem is that it is difficult to find a single terpene or variety of cannabis that relieves all these symptoms, since they are very varied. The ideal would be to combine different chemotype profiles, for example, a caryophyllene-rich strain such as Sour Diesel to prevent hot flashes, a linalool-rich strain such as Zkittlez to regulate sleep, and a limonene-rich sativa such as Amnesia Lemon to improve mood. mood and mood swings.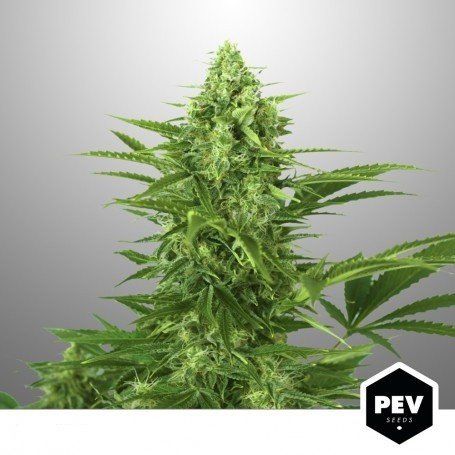 Buy Amnesia Lemon Strain
👌 Conclusion
Marijuana terpenes can help us improve our quality of life, increasing our happiness, helping us fall asleep, relieving different types of pain, calming anxiety and nerves, eliminating stress, etc. But as you may have seen, not all terpenes offer the same effects, and even the combination with cannabinoids is very important to maximize the entourage effect. It is also important to know that each person is different, and just as opiates do not suit everyone, the same thing can happen with cannabis, so this article can serve as a guide, but it is best to try different chemotypes to check which one best suits your needs.
Terpenes mixing instructions (PDF)
⚠️ Frequent questions
Can terpenes be bad for you?
Used correctly, not only are they not bad, but they can be very good for our health, as we have seen, but there are cases in which terpenes can become toxic or cause other problems, especially when they are used in their pure form or too much. concentrates. In high concentrations, terpenes can relax blood vessel walls, causing hypotension and dizziness. Concentrated forms can be toxic to our cells, causing irritation, pain, inflammation, and more. The ideal is to dilute the terpenes to never exceed a concentration of approximately 5%, otherwise they could cause dermatitis, rhinitis, or even asthma attacks in people with respiratory problems.
Are terpenes safe for dogs?
Totally safe, they are 100% natural and there is no risk of addiction or side effects, since they act in a similar way to what they do in humans. According to a recent study conducted by The Canadian Broadcast Corp, terpene-producing plants can be very effective in treating various types of pain in dogs, so not only are they safe, they can be a great treatment here too. In addition to pain, cannabis terpenes can be used to whet the appetite, improve sleep disorders, and combined with certain cannabinoids also to prevent and stop seizures caused by epilepsy.
The best hash in the world, all different types →