Fertilizers for growing marijuana
0
268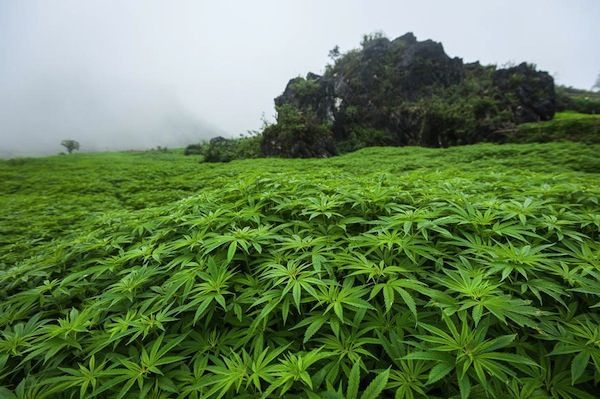 Plants need nutrients to grow and the fertilizers are contributed. They should be used at specific times and also will depend on use, type of crop to be carried out and if done indoors or outdoors.
Plants are like humans in many ways: they need air and water to develop and grow. Sometimes also they need nutrients that contribute to its development vitamins missing them grow healthy and strong and deal with plants, like humans against possible virus or disease.
It is precisely those nutrients from what we talk about today, namely fertilizers. Of different brands and varieties available in the market and how and when to use them in our culture, depending on the crop that we have chosen to grow our plant or if the crop is done indoors or outdoors. We begin!
Wide variety
As stated above, the variety of nutrients on the market is really wide, but so are the differences between them. Hence it is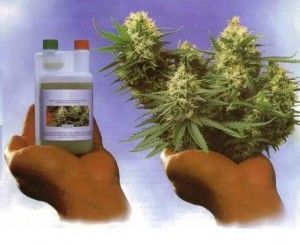 essential to read well what type of crop have been designed: it is that they have nothing to do fertilizer for crops in hydroponics, substrate ground or coco or the like, for example. So these products are also divided on that basis. Something that has all its logic when you consider that, for example, if we cultivate the ground, and it provides many nutrients to the plant, however, not be the case of crops in hydroponics, they will need many more nutrients.
Of course, it is also true that some are prepared for all kinds of farming techniques. However, since Piensa En Verde we suggest that if you are one you usually use a type of always growing or almost always, the better you'll probably go for the one that is specific to the technique that always employ and not a generic, and the former will always be much more effective than the latter.
How to use fertilizers
Another aspect that is essential in cultivating a plant, as far as fertilizers are concerned, is the time of use. As we have said so far, it will also vary depending on the type of culture technique we use, but more or less precise moments in which all kinds of culture: at the time of germination of the seeds, which will drive the root growth (the amount will clearly indicated in the fertilizer itself); in the growing season and in the flowering period. Most, if not all crop types, hindering the use of fertilizers 1 or 2 weeks before the harvest of marijuana.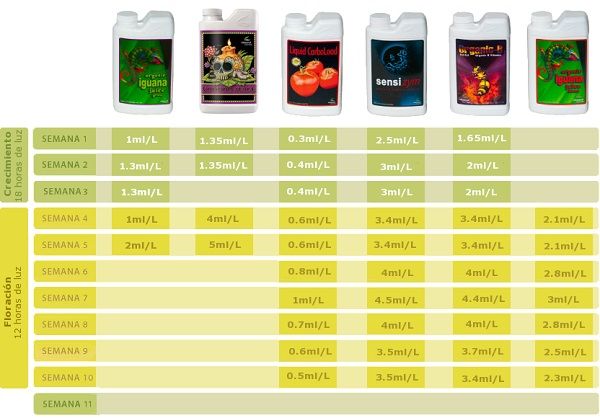 From here, each of the technical demands of their own amount of fertilizer, in addition, if a pest or disease problem arises, you can also make use of fertilizers to deliver nutrients to the plant that is missing.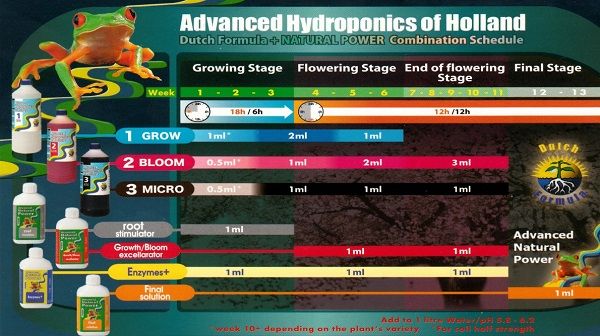 In any case, what do have to be clear is that the use of fertilizers is always punctual type (for specific times) rather than continuous use, as it could be or light irrigation and other basic aspects of culture of marijuana.
Choice of fertilizer
Now that you know what kind of fertilizer and when you use it to make your plant grow strong and healthy, we would like to talk to some particular products. Fertilizer you can find in our online store and houses or brands they belong: characteristics and uses.
Canadian biotechnology company which manufactures some of the best fertilizer market and you can now get in Piensa En Verde.
A company created by the lack of correct levels in existing fertilizer so far and working by and for the excellence of fertilizers.
Some of its products include the following: the pack Sensi Grow A+B, which is suitable for any marijuana cultivation technique, but is particularly suitable for the growth phase of plants. Organic B, as its name suggests, is of organic origin and has vitamins B-1, B-2, B-3, B-5, B-6, B-7 and B-12, protein and minerals that make the plant to grow vigorously.
Its products can be used with any type of substrate and also in hydroponic and aeroponic cultivation. Originally from the Netherlands, as the name implies, among some of the products that the company can find in our shop Piensa En Verde, products include three Dutch Formula Grow 1, Dutch Formula Bloom 2 and Dutch Formula Micro 3.
Each one should be applied in each of the phases that we mentioned at the beginning of this text:
the first product is used from germination to flowering, bringing vigor and a robust structure to the ground; the second is used in the flowering stage to achieve denser, large resinous buds, and finally, the third product, which is used throughout the cycle and which serves to regulate the pH of the ground and cause the leaves these are green, and the result of excellent aromatic and flavor. The price of these three products is really affordable and very effective.
This company has been manufacturing mineral and organic fertilizers of the highest quality.
Some of the products you can find in our shop we would like to make special mention of the following: Bio Nova Dedicated Pack Tierra, suitable for use throughout the development of the marijuana plant. It includes the following products:
Soil SuperMix, ideal for crops on land; Pk 13-14, high in phosphorus and potassium contributes to energy and plant nutrients; BN X-Cel complement ideal for the growth of the marijuana plant; The Missing Link, which allows fill gaps that have the plant during its development, making it strong against fungi and other pests; BN Zym, which converts waste in nutrient and lastly the root stimulator, BN Root.
This company is located in the Netherlands, but its products are known and are distributed worldwide. Surely the best evidence of its effectiveness. Its products are ideal for the most demanding growers, who do not want their crops between products with chemicals, all are of biological origin.
Among those you can find in Piensa En Verde include:
Kit fertilizer for indoor growing and is particularly suitable for those making crops hydroponically and never get your plants have enough nutrients to develop the best possible quality; its outdoor cultivation kit, also suitable for hydroponics and plants brings a high level of protein, helping turn outer substrate rich in organic matter; Finally, it notes the starters pack, which has all the necessary fertilizers to cover the entire development cycle of the plant and do so simply and effectively, for growers who do not have much experience in the field of cultivation of marijuana.
Canadian company that has spent 20 years dedicated to the production of these products and excellent results to growers who try them.
All nutrients are easy to use, so they are highly recommended for people who do not have much experience in the field of self-cultivation of marijuana.
Some of its products include:
Bio Gold Green Planet, which is indicated for the first phase of plant growth, during germination, so that the roots grow strong and its GP starter pack, with all the materials required for the plant to have the nutrients it needs, from cultivation until harvest.
Besides those mentioned above, you can choose from many more in our section of fertilizers. Happy farming!
By Noelia Jimenez Team Piensa En Verde