Reading Time
7
minutes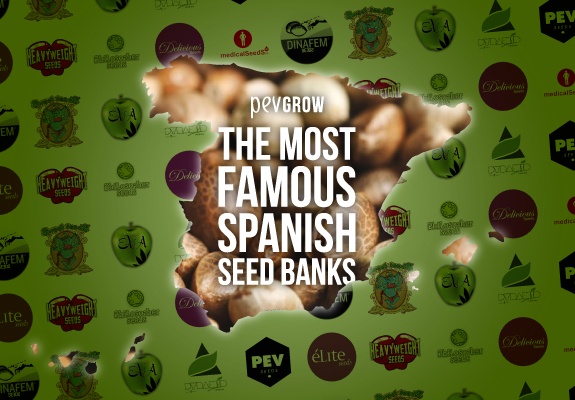 The commercialization of cannabis seeds in Spain is relatively recent, which is why it's very useful to know a little more about the most famous Spanish seed banks. Knowing where to find a variety and unique cannabis seeds is a great advantage when looking for quality in the planting of our crops, since the results we obtain will depend directly on it. Factors such as seed certification give us a very good guarantee that we are buying genetic material that we can trust and invest without risking our money. Spain is making great progress in terms of the options we have to get marijuana seeds, in fact, Spanish cannabis seed banks are booming in recent years. On this issue, the most important thing to consider is that the process of selection, hybridization, feminization and conservation of seeds is done in a correct way. We can say that, if we are in Spain and we want to venture into the cultivation of medical marijuana for our own use, we can already use these Spanish seed banks, from which we've prepared an excellent selection that you can go to below. Join us!.?    
Dinafem

  It's the pioneer of its class in Spain and very famous worldwide. Dinafem dared initially to compete with their Dutch parents with products that have no reason to be envied internationally in terms of quality and variety. Dinafem has created varieties as famous as Original Amnesia, Cheese Auto and its successful Moby Dick, which in 2010 put Dinafem on the map as a producer of high quality seeds worldwide. The Eppendorf tubes are a brilliant idea used by Dinafem to maintain humidity at an appropriate level during the shipment of the seed, using silica gel for this purpose.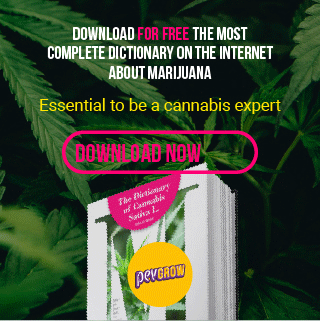 Free Download
Cannabis Dictionary
2023 Edition
Insert a correct email address
You must accept the privacy policy
SITE OF SHOPS ONLINE S.R.L with CIF: B98262777 and address for notifications in C/ VEREDA MAS DE TOUS Nº 22 LOCAL C, 46185 LA POBLA DE VALLBONA, VALENCIA, Phone: 961658271 Email: customer(at)pevgrow.com
At the name of Consulting we process the information you give us in order to provide the requested service, perform the billing of the same. The data provided will be kept as long as the business relationship is maintained or for the years necessary to comply with legal obligations. The data will not be transferred to third parties except in cases where there is a legal obligation. You have the right to obtain confirmation as to whether SITE OF SHOPS ONLINE S.R.L. is processing your personal data and therefore you have the right to access your personal data, rectify inaccurate data or request its removal when the data is no longer necessary
PEV Seeds

  If we're talking about Spanish banks, it's inevitable to qualify PEV Seeds as a seed bank with an impeccable track record and evolution. And not only because of the quality of its seeds, customer service and the exclusivity of its genetics have made me opt for this young marijuana seed bank. In their catalog you will find the most exquisite autoflowering and feminized varieties of the European and American market. The technicians have taken advantage of knowledge obtained in other agricultural areas to apply them in the production of cannabis, which has given them exceptional results that put them at the forefront in a very changing market. Their great experience in handling first class genetic material has led them to create varieties that produce above average, with great resistance and adaptability. Good examples of our star products are the Excalibur CBD variety, the Bruce Banner 3 and the Thay Chocolate. The PEV Seeds catalog is divided into 4 seed lines :
Premium American Line: where the best-selling marijuana varieties are found in the United States.
European Old School Line: European old school varieties.
The Breeder's Choice: where the most special and personalized experiments of expert breeders are reserved.
CBD Line: auto and fem varieties with high cannabidiol content, there are even varieties with ratios between THC and CBD of 1:20.
Sweet Seeds

  The sweet scents and exceptional flavors make Sweet Seeds one of the best Spanish seed banks and, although initially they started only with feminized seeds, innovation hasn't stopped. Its seeds work very well, both outdoors and indoors, providing versatility and very good results. The rigorous process of selection and conservation of Sweet Seeds' seeds offers us an excellent 95% germination, demonstrating the degree of responsibility that this bank has with its customers. They have been in the international market since 2005 and, among the varieties they offer, we can mention the popular Do-Sweet-Dos, Sweet Gelato Auto and Sweet Cheese XL Auto, among many others.    
Eva Seeds

  Among the Spanish marijuana seed banks, we can say that Eva Seeds has been developing as one of the best, initially focused on producing feminized seeds. In fact, diving into its products, we can find the TNT Kush CBD variety that is special for people looking for medicinal properties. Its main characteristic is that it doesn't have a great psychoactive effect. In this bank we can get seeds for beginners who want to enter the world of cannabis cultivation, that is, seeds that are quite easy to grow and maintain. Among the varieties that we can name from Eva seeds, the Gorrilla Candy, Jamaican Dream and the Monster seeds stand out.    
Kannabia

  In its career, Kannabia has obtained a very good reputation with pure and hybrid varieties of excellent germination percentage and unique flavors with pleasant scents that have participated in many competitions. We can say that it's one of the Spanish cannabis seed banks that demonstrate a high sense of responsibility with people who use marijuana for medicinal purposes. That's why in Kannabia they have developed 3 different varieties for this type of consumption. It's appropriate to mention that in this seed bank, in addition to being able to buy the variety of marijuana that we're looking for, they also offer us the opportunity to buy mix packs, perfect to try with different types of seeds in a single package.    
Delicious Seeds

  It's a Spanish seed bank that was born in Valencia and has managed to find its balance of flavors, gaining many followers in such a competitive market. Delicious Seeds, in addition to offering us an extensive catalog of hybrid varieties, also puts regular seeds on the table for those who wish to make their own varieties through crosses. If what we're looking for is cannabis for medicinal purposes, in Delicious Seeds they've taken care of that by offering us varieties that are a bit softer and better suited to all types of patients. Among its most popular varieties we can mention the sweet Caramel, the aromatic Cheese Candy and the productive pump Critical Sensi Star.    
Samsara Seeds

  In Samsara Seeds they've been in charge of experimenting with plants around the world, getting very good results in cannabis for medicinal purposes. Their genetic experience has led them to obtain excellent quality marijuana for all kinds of clients, thus fulfilling the expectations of those seeking new smells and stronger experiences. The organoleptic properties that we can obtain in varieties like The Alchemist are high range, in addition to the flowering time being relatively short in relation to similar ones. Another variety that we cannot forget to mention is the Punky Lion, an indica example of the quality that they've been able to develop in Samsara Seeds.    
Pyramid Seeds

  Pyramid Seeds set out to offer varieties focused on productivity and profitability. This is possible thanks to a high percentage of germination which gives great satisfaction to cannabis growers who decided to place their trust in this seed bank.. They offer competitive prices that present them as an excellent option in the country to meet our highest demands. The development of its feminized and autoflowering varieties can be compared in quality and performance with those produced in other banks worldwide. Based on the Spanish weather, they've managed to create plants that are very resistant to heat and have a really exquisite production due to the amount of scents and flavors that these beauties can produce.    
World of Seeds

  The main idea of World of Seeds is to get varieties that have been used ancestrally around the world and create with them safe hybrid strains that give good results production wise. Its wide collection of varieties is organized based on the 5 continents, offering the best of each of them with each seed. In addition to marketing with hybrids, in World of Seeds we can get pure seeds, which is great for research purposes in plants of this type. On a medicinal level we can say that they have enough variety in plants with very good quality to meet the necessary standards in this sector.    
Elite Seeds

  They are specialists in biotechnology and plant improvement with genetic processes developed in the Science Park of the University of Valencia, which have given them great results in recent years. Among the varieties they have for sale, we can highlight the high levels of THCV and CBDV in seeds such as La Rica and Llimonet Haze that make them very appealing to their customers. They have put themselves to the study of different varieties to be applied to novel medicinal therapies. In Elite Seeds they haven't forgotten to function as a platform to promulgate improvements in the process of legalization of cannabis in Spain, tearing down stigmas around the issue.    
Heavyweight Seeds

  When we talk about Heavyweight Seeds what comes to mind is productivity and profitability with euphoric and amazing genetic varieties and crosses, as well as enviable stability. Among their products, they have varieties that stand out for having strong and lush scents and flavors, which they've managed to obtain from a long path and research that put them at the forefront of the Spanish market. One of the specimens that has made them very successful is the GoldMine which main features are having high production and being quite resistant.    
Philosopher Seeds

  Philosopher Seeds are specialized in high performance feminized autoflowering, which satisfy customers who demand quality products and profitability while still offering pure species. They've been in the market since 2008, although its creators have been researching varieties from around the world since the mid-90s, which makes them a fairly consolidated institution. They offer a catalog with prices for all budgets, presenting themselves as a viable option for lovers of good cannabis. Among its most sought after products we can mention the Black Bomb, the exotic Tropimango and the exuberant Happy Mix.    
Medical Seeds

  To mention Medical Seeds is to talk about a seed bank that has managed to represent the quality of Spanish cannabis growers. This is thanks to the selection of the best cuttings to obtain a material that, truthfully, satisfies the most demanding palates. Javier Ruano, a breeder with large experience, is the founder of this bank that has specialized in creating varieties of great quality and homogeneity, focused on medicinal uses. It's one of the banks where you'll get marijuana seeds in Barcelona, since its headquarters are located in that city. The Canadian Kush and Prozac are available in its extensive catalog of seeds.    
Conclusion
    Here concludes this compilation of the most famous Spanish seed banks. You may be confused with all the names in English, but we assure you that they are 100% Spanish banks. PEV Seeds is the bank that we know best, logically, since we're part of it and know firsthand about the tenacity, affection and advanced techniques during the selection of seeds that our staff puts into practice. In the same way, all the Spanish banks that we've named also offer a first class service, which is making Spain a worldwide reference in the production of unique and exceptional quality cannabis seeds. Spanish cannabis seed banks will not disappoint you when it comes to offering you the best and most famous varieties of hybrids and pure marijuana species from around the world. They are the best legal option for you to acquire seeds with the best value for money, whether you need special levels of THC or CBD, or require specific flowering times. In your case, have you had any experience that you want to tell us about these Spanish banks? Would you recommend any?. ? We would love to hear your comments. We would also appreciate if you share this post on your social networks. We'd love for many more people to know the excellent quality of the Spanish cannabis market and the most outstanding Spanish cannabis seed banks. Don't let them miss it!.?      

Alan Martínez Benito
CEO of Pev Grow, expert grower with more than 20 years of experience.
In constant struggle for the regulation of cannabis, mainly in the medicinal field.
See more posts
Die besten Skunk-Sorten aller Zeiten →