Reading Time
11
minutes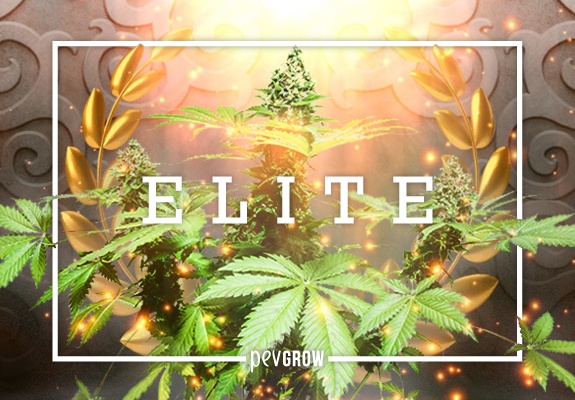 Since it began to spread In the indoor cultivation of marijuana,mother plants of the best phenotypes of the varieties that were cultivated. Until then it was impossible to maintain genetics for more than one season, but thanks to the light photoperiod that allows indoor cultivation, we can now enjoy the best cannabis specimens that have appeared in the last 4 decades.
In this post we are going to try to collect what we consider to be the best elite marijuana clones that have emerged in the world, arranged chronologically. Interesting right? Well, let's go…
👌 G13 (Airbone)
If the history of this plant is real, it would be the longest-lived elite clone we have in the world. They say she came out of a Mississippi government research program, and although her genetics are unknown, she looks like an Afghan-type indica. Neville Shoenmakers obtained one of these cuttings and crossed it with Original Haze among other males, giving rise to another very famous elite clone in the Netherlands, G13-Haze. In some states of the USA there are people who claim that they continue to preserve this genetics, but there are also many people who say that it disappeared, or that it never existed directly … Who knows?
☕ Northern Lights#5
Possibly, together with G13, it is the oldest cutting that is preserved worldwide. Emerging near Seattle almost 40 years ago, this individual traveled to the Netherlands with Neville along with other Northern Lights Strain selections and other varieties, and since then it has been part of the genetics of thousands of poly hybrids. Apparently it looks like an Afghan indica, very compact and with a large central bud, but in this case with extraordinary vigor, an exaggerated amount of resin for the time, and a much more psychoactive effect.
In this video I show you the characteristics of the variety. Northern Lights Auto – PevSeeds:
📖 Trainwreck
Also known as Arcata Trainwreck because it is thought that this elite clone appeared in this city belonging to the Emerald Triangle of California, approximately 4 decades ago. Supposedly it is a cross between Mexican, Thai, and Afghani, with a sweet, citrus, pine, and spicy aroma, and a very euphoric, stimulating, and creative effect. This genetics is widely used medicinally due to its great ability to alleviate pain in some types of patients.
🚀 A5 Haze y C5 Haze
Both born in Holland and descendants of Northern Lights # 5, but each of them crossed with a different Haze male, Haze A and Haze C, one more similar to Colombian and the other to Thai but the 2 very good. These elite selections of different Northern Lights # 5 x Haze were used to create some of the best poly hybrids of all time, including Jack Herer or Super Silver Haze among others. There are still several seed banks working with these cuttings, which are already almost 35 years old but continue to bring vigor to all the genetics with which they are crossed.
✅ Exodus Cheese
Selected more than 30 years ago by a squatter in London, this is a stinky phenotype of Skunk strain that became very famous for its peculiar and intense aroma of aged cheese. It is a selected clone that is very easy to grow, which performs well in any growing system both indoors and outdoors, it forms very hard but not very large buds, although distributed throughout the structure. At present, different clones with the name of Exodus Cheese circulate, but some are false as is the case with other famous cuttings.
🔥 Indiana Bubblegum
Like most mythical cannabis genetics, Bubblegum has a somewhat uncertain origin, although there seems to be a fair amount of consensus that it emerged in Indiana in the late 1980s. This tasty elite clone spread throughout the United States , and even won some cannabis competition in California before leaving for Holland thanks to Adam from TH Seeds. Little is known about its genetics, but it is suspected that it may be a Skunk / Afghan cross or vice versa.
🎯 Grandaddy Purple
Strain developed by the breeder Kes Estes, who crossed Purple Urkle with Big Bud and continued working on these genetics until obtaining an indica strain with an incredible analgesic and narcotic effect. One of the things that most attracts the attention of this American elite clone is the intense purple color of its calyxes, although its delicious flavor is also worth mentioning. Although it has been on the scene for more than 30 years, it is still fashionable today.
👾 Chemdog (Chem#4, Chem D, Chemdawg 91, y Chem's Sister)
The cannabis strain that has produced the most champions comes from some seeds that appeared in the weed that a guy sold to Chemdog at a Grateful Dead concert in the early 90's At first they selected Chemdawg 91, Chem D, and Chem's Sister, but years later an even better phenotype appeared, Chem # 4. These varieties changed the marijuana market worldwide, since hybrids such as OG Kush, Bubba Kush, Sour Diesel, Girl Scout Cookies, Purple Punch, Wedding Cake, and many other genetics of the most famous of today are descended from them.
📱 Strawberry Cough
Popularized by famed High Times magazine contributor and grower Kyle Kushman, though raised years earlier by a Vermont strawberry farmer. It is said that among the strawberry plants some genetic plants were hidden, indicating that over the years they were acquiring the sweet aroma and fruity flavor. This variety was called Strawberry Fields, yes, like the song by The Beatles, but this cultivator was not convinced by its heavy effect, so he decided to cross it with Original Haze. From this cross came a phenotype that contained the intense touch of strawberry but with a top quality sativa effect. When this clone came to Kyle Kushman in 1999 it changed his life, and he began to spread it throughout the United States, and later throughout the world.
🎬 Amnesia Hy-Pro
Possibly the most cultivated elite marijuana clone in all of Europe, very powerful, with an intense flavor, and good production. It was selected more than 20 years ago by the Dutch fertilizer company Hy-Pro, and although the origin is not clear, it seems to be that it is descended from Super Silver Haze. This plant has created its own cannabis lineage, and today it continues to be a favorite for many consumers, and still one of the best sellers in Amsterdam coffeeshops. The name comes in handy for its extreme psychoactive effect, which can make you forget even the name.
🧐 OG Kush (SFV, Tahoe, Ghost, Larry, y otros)
The favorite daughter of the mythical Chem, the favorite of rappers, actors, and other influential stoner artists, the perfect marijuana for many. There are several elite clones OG Kush, the best known are San Fernando Valley (SFV Og), Tahoe, and Larry (Larry's Lemon OG), but there are other very good ones like the Ghost Og, Triple OG, or Abusive to say a few of them. As yerba it has everything, tight and very resinous buds, a flavor that everyone likes, and a very high THC content that causes a first quality effect.
⭐ Critical Bilbo
Selected in Bilbao (Spain) 20 years ago by the owner of a grow shop from a single package of Critical Mass Mr. Nice Seedbank. It is the elite cutting that has won the most cannabis competitions in Spain and the most consumed herb in this country in recent years by far. It really has it all, very fast flowering, great yield, resistance to stress, good effect, and a very intense fruity flavor, even without curing. The only problem is that tolerance develops quickly, and for some people the taste can be cloying, but it is an elite clone of 10.
In this video I show you the characteristics of the variety. Critical Plus – PevSeeds:
💻 Sour Diesel (Riri)
This tasty elite clone was selected by a French grower from Sour Diesel IBL seeds. from Reservoir Seeds. It is a perfect representation of Sour genetics, elongated plants, with a wide distance between nodes, giant calyxes, a low proportion of leaves, a large amount of resin, an excellent flavor, and a euphoric and stimulating effect like few marijuana products. From this cutting some polyhybrid of a special category have come out, and it is that in addition to good weed it usually contributes its best features to the offspring.
⚠️ Girl Scout Cookies (Thin Midnt, Forum, y Platinum)
The precursor elite clones of the entire Cookies family, the lineage in fashion today thanks to varieties such as Gelato, Sunset Sherbert, Runtz, or Wedding Cake. Both Forum Cookies and Platinum Cookies are said to be descended from Thin Mint, as this is considered by many to be the original Girl Scout Cookies, and the others arose from seeds found in Thin Mint herb. Be that as it may, it must be recognized that it is an impressive marijuana, with very striking colors, resin up to the stem, unique taste of freshly baked cookies, and THC percentages that exceed 25% on many occasions.
➕ Gorilla Glue#4
This elite American clone spread around the world in record time, and it's hard to find stickier marijuana. It came from accidental pollination, and its genetics contain Chem Sis, Sour Dubb, and Chocolate Diesel, so it can be said that it is part of the Chem family. It produces very well indoors and outdoors, has a fast flowering cycle, and its cultivation is not complicated at all. The smoke is very dense and with many nuances, where citric, earthy, pine, and fuel touches stand out, but one of the things that people stand out the most is its potency, since it reaches 25% THC.
In this video I show you the characteristics of the variety. Gorilla Glue 4 – PevSeeds:
📲 Zkittlez
Surprising for its intense and long-lasting caramel flavor, this super clone created and selected by Terp Hogz in collaboration with 3rd Gen Family has earned the respect of the entire cannabis industry in no time. Cross between Grape x Grapefruit and another variety that has not been revealed, the mixture of fruits that is tasted in the mouth is unparalleled with any other variety of marijuana. It produces an impressive amount of resin, and is quite tough overall.
In this video I show you the characteristics of the variety. Original Zkittlez – PevSeeds:
👌Purple Punch (Alpha Cut)
Originally created by Supernova Gardens, this selected cutting from a cross between Larry OG and Grandaddy Purple began to triumph when it came into the hands of breeders at the Symbiotic Genetics seed bank. The Jungle Boys gave him the final push thanks to his popularity on social media, which served as a springboard to global fame. To be perfect it would only need to improve the performance, but it more than makes up for it with an excellent flavor, a large and exuberant amount of resin, and its overwhelming effect that affects the body and mind.
👾 Gelato (#1, #25, #33, #41 y #45)
The most famous will surely be the phenotype # 33 but those who have tried them all say that they can be considered first division. Variety created by Sherbinski by crossing Sunset Sherbert and Girl Scout Cookies, which despite not being as powerful as most members of the Cookies family, its flavor, appearance, and amount of resin make Gelatos worthy of being considered great. elite clones.
🚀 Wedding Cake
To date it is one of the last elite marijuana clones that has conquered the whole world. Cross between Triangle Kush and Thin Mint Cookies, it was originally called Triangle Mints, but the growers collective Jungle Boys renamed it after discovering its genuine and delicious sweet vanilla notes. Within the Cookies family it is one of the members with the highest overall production, with large volume buds but good density, and completely covered in resin, as it could not be otherwise with these genes..
✨ Other Historic American Elite Clones
⛳ Other Mythical European Elite Clones
⭐ Conclusion
As you can see, the majority of elite clones in recent years have emerged in the United States, especially in California, since cannabis was legalized. In this country great selections have been made, some of more than 1000 copies, and obviously the chances of finding something special increase as well.
Die besten Skunk-Sorten aller Zeiten →