If you have been growing for a short time it is possible that you still don't control all the parameters well, and you don't get 100% of a cannabis variety. Luckily, there are a few genetics that are easier to cultivate for several reasons.
These are the strains suitable for beginners, varieties that withstand stress better than most, strong plants capable of withstanding mistakes that we all make when we start our journey in weed growing.
Easy-to-grow Indica Genetics
In general Indica breeds are easier to grow than sativa or hybrids. Among other things, their flowering period is shorter, but also because they enjoy greater resistance to hydric and light stress.
Among Indica cannabis seeds easy to grow some of them stand out as Hashish Plant from PEV Seeds, Industrial Plant by Dinafem or Black Domina X Black Domina from Spanish Bulk Seeds, but you have many more to choose from.
The easiest sativa plants to grow
I would never recommend a pure sativa to a beginner, but if you are new to the world of self-cultivation and want to enjoy the sativa effect there are some hybrids that can satisfy you. Jack 47 from Sweet Seeds, Moby Dick from Dinafem, Sour Diesel from DNA Genetics or John Herer from PEV Seeds will satisfy your desire to enjoy psychoactivity without worrying about its cultivation.
It can be said that these plants are hybrids of sativa marijuana easy to grow, so they are more appropriate for novice growers.
If you want to encourage yourself with pure sativa strains better try outdoors or greenhouse, also depending on where you live, but indoors is difficult to cultivate this kind of plants.
You can also filter by medicinal cannabis seeds with high levels of CBD easy to grow, there are genetics rich in Cannabidiol suitable for the hands of inexperienced growers, plants that although they do not receive 100% of the care they need they end up performing well, and those are the ones we're interested in right now.
Dinafem's Industrial plant CBD is one of them, with Northern Lights genes that give it extra resistance. WorldPharma's Skunk CBD is also a good choice thanks to its Skunk ancestors, one of the most suitable strains for those who start in the world of self-cultivation.
If you want a economic solution besides easy cultivation you do not have to worry, we have CBD Widow 2018 at a price of scandal. With this variety is not difficult to achieve a high production of medicinal flowers, sure you will get it.
Varieties with easy rooting
If you are starting to make cuttings it is important that you know that not all varieties take the same time to take root. If for cultivation we recommend to start with autoflowering and indica varieties, for cloning cannabis are better sativa strains and sativa hybrids.
When selecting a mother plant this factor is very important, many times we only look at the production, flavor or flowering time as desirable features, but if we are going to take many cuttings from a plant, it is interesting that it is
easily and quickly rooted.
Easy harvest cannabis
When it's time to harvest we realize that sometimes it takes a lot, and other times we finish very quickly. How can this be possible? Because there are some varieties that produce a lot of leaves and others that are almost all flowers.
The varieties that have a good calyx/leaf ratio, that is quantity of calyxes related to leaves, are what we call strains of easy harvest. They are modern hybrids because this characteristic has to do with production, and the fact that cannabis production or yield is an interesting factor only has to do with prohibition.
In this category, descendants of Chemdog stand out, especially the OG Kush line, but there are more and more genetics of this kind to choose.
In PEV Grow you have this whole section specially dedicated for you, something that very few Grow Shops do, dedicate a whole category for new growers. A lot of people think they can't get great results when they start in the world of growing cannabis, but that's not always true.
In our Online Grow Shop we care that our customers always get the best performance, so we offer these seeds easy to grow. If after reviewing all the genetics we've collected in this section you can't decide for any in particular, tell us, we will be happy to help you.
Because there's nothing better than getting help when we need it most, for us a satisfied customer is an accomplished goal, and we want you to be one of us too, so don't wait any longer and choose your variety now
Opinions and doubts about Easy to grow
Leave us your opinion or ask us any questions you have about this category and participate in the draw!
Among all of you who comment or send us your questions there will be a bimonthly draw for a 50 euros voucher to buy in Pevgrow. What are you waiting for? Write now and participate!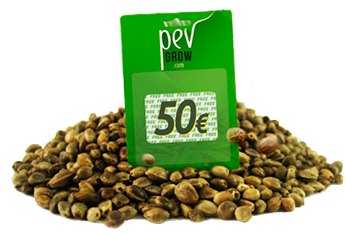 Customer Reviews